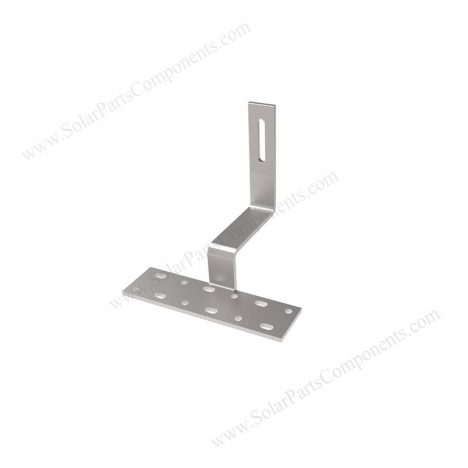 Curved Tile Roof Hooks, Non-adjustable, Side Mounting
Product Type: Solar Curved Tile Roof Hooks

Product Model:SPC-IK-01

Material: Aluminium, Steel

Max Wind Load : 60 m/s

Max Snow Load : 1.4 KN / M 2

Application: Pitched Tile Roof Installation
Contact by Email
Product Description :
Our solar curved tile roof hooks are good solutions for residential or commercial roofing solar panels installation.
It's designed nonadjustable with preminum quality 304 stainless steel.
The installed structure is for side mounting aluminum rails.
Using our Spanish roof hooks, solar penels can be quick installed for pitched or even roofing.
This solar roof hooks are suitable for most kinds of Roman, Spanish, clay tiles.
Advantages :
Our solar curved roof tile hooks can be easy and quick installed by using our hexagon socket head bolts and T sliding blocks ;
Widely application: fits for even or sloping roofing surface;
Our QC team can keep reliable good quality this non-adjustable roof hooks, anti-corrosion, wind-resistance ;
Offer 10-Years Warranty for our side mounted rails roofing hooks.
Choosing our solar roofing hooks, pre-assembly for Spanish roof tile, Roman roof tiles and Clay roof tiles, SUS 304 + Al6005-T5 . Great choice for pitched tile roofs .
Parts and Components for Solar Curved Tile Roof Hooks, Non-adjustable, Side Mounting :
Stainless 304 Hook;
Hexagon socket head bolts;
T sliding nut block;
Hexagonal Socket head bolt;
Spring Washer
Sharp-point screw
Installation Guidance for this solar roman tile roof hook:
(1) Uncover Roman curved tile with tools carefully;
(2) Install our SUS304 solar roof hook with wood screws;
(3) Cover clay tile again after solar hook are well fastened;
(5) Fasten other mounting kits to PV modules: mid / end clamps, aluminum rails …
More type of tile roof hooks both adjustable and non-adjustable are available for our factory. Please feel free to contact us, our website: www.solarpartscomponents.com
Brief Descriptions :
Solar Mounting Components – Curved Tile Roof Hooks, Non-adjustable, Side Mounting
Item type:
Solar Curved Tile Roof Hooks
Type :
Roof Hooks (SPC-IK-01)
Installation Site :
Pitched Roof
Profile Material :
SUS 304 Stainless Steel
Fasten Parts :
Stainless Steel / Aluminum T Sliding Nut
Color :
Silvery or according to customer requirements
Wind Load :
60 m / s
Snow Load :
1.4 KN / M2
PV Modules :
Framed, Frameless
Module Orientation :
Portait and Landscape
Standards :
AS/NZS 1170
DIN 1055
GB50009-2012
IBC2009
TUV
JIS C 8955 : 2011
International   Building Code IBC 2009
California   Building Code CBC 2010
Warranty
10 years
Designed LifeSpan
25 years
Packing Details :
Inner :
Bubble bag+inner box+Carton
Outer :
Wooden Box, Steel Pallet, MDF, etc
Solar Roof Tile Hooks SPC-IK-01
How do you secure a solar panel to a tile roof with model SPC-IK-01?
Q:
"How can I secure solar panel to tile roof with Solar Curved Tile Roof Hooks, and where can I purchase them? I am in the USA,"
A:
"You can directly contact our sales person.
Just send me web link / photo / quantity / address…
We'll come back to you prices with freight cost later."
Q:
"I am looking for the Solar Curved Tile Roof Mounted System- side Mounted Hook, SPC-IK-01"
A:
"Appreciated for your inquiry about our Solar Curved Tile Roof Hooks , Non-adjustable, For Side Mounted Rails, SPC-IK-01.
I have sent price with freight cost to your email.
Below are information for our Solar Curved Tile Roof Hooks , Non-adjustable, For Side Mounted Rails, SPC-IK-01 for you reference:
Model SPC-IK-01 is the most widely used clay tile roof attachment solution on the market, suitable for most clay tile roof, no damage to the roof during installation;
We add a flashing plate (optional) to the base of the hook and no chance for leaks. The parts can be pre-assembly on factory to save your installed time on site.
Features and Benefits for SPC-IK-01:
Non-adjustable accessory base and multiple solar module accessory options;
Corrosion-resistant material;
Quick and simple installation;
Complete configuration of parts and rails to save extra procurement;
Fully pre-assembled;
Reliable with mulitple hole patterns and slotted connections for adjustable.
Installation Instruction for SPC-IK-01:
Remove the tiles from the area in which will be installed. Locate and mark the rafters;
Place the hook and pre-drilled two holes;
Remove the hook, clear the debris, and fill the pre-drilled  holes with sealant;
Place and mount the hook using the solar screws.
Thank you and have a wonderful day!"
How to install solar panels on tile roof with hooks ?
Installation Guide for Solar Roof Hooks Model : SPC-IK-01
Installation Guide for Solar Roof Hooks Model : SPC-IK-01,
This SUS304 stainless steel bracket fits Spanish / Roman / Curved tile roofing profiles, side mounted .
How to install this solar bracket on clay tile rooftop ?
Please refer to installing manual operation list for this PV module brackets on clay roofing
Which kind of roofing can matched this non-adustable solar hooks ?
This non-adjustable SUS304 stainless steel PV module bracket is used for CLAY / ROMAN / CURVED roofing .
Comparing other roof tops, this is a kind of popular type .
Difference between non-adjustable and adjustable roof hook
Non-adjustable solar tile roof brackets Installation
Non-adjustable solar tile brackets  is fixed arm height and cost-effective for clay roofing mounting .
Hot sale solar panel hooks for Spanish roofing
Factory direct solar tile roof hooks wholesale for Roman / Spanish / Clay curve tile roofing .
Tile Hooks for double pitched roof project
One tile roofing mounting project with our SUS304 hooks
Model : SPC-Tile-Hooks-001C
Drawing for Side Mounted Clay Tile Roof Hook - SPC-Tile-Hooks-001C
Non-adjustable, Side Mounted Solar Panel Hooks for Clay / Roman /Spanish / Curved tile roofing
Model : SPC-Tile-Hooks-001C
Drawing for Side Mounted Curved / Spanish / Roman Tile Roof Hooks?
Drawing of Solar Roof Hooks and Brackets for Spanish Roofing
Solar panel Spanish tile hooks SPC-Tile-Hooks-001 sizes, dimension, profile details :
Features of this solar tile roof mounting system Hook
Tile roof hook is totally factory direct, most cost-effective price with easy installation for panels. The tile roof mounting system is specific designed according to the AS/NZS 1170 standard, guarantee solar panel's stability.
Solar Tile Roof Hooks SPC-IK-01 Parameters
PARAMETERS for our solar panel roof hooks model : SPC-IK-01
Item No.
Parameters
SPC-IK-01
Item type: Solar Tile Roof Brackets
Installation Angle : 0° ~ 60°
Installation Site : curved tile roofing
Profile Material : SUS 304
Net Weight : 1.45 (lb) / 656 [g]/pcs
Packing :  Carton box [540 x 220 x 200 mm / 60 pcs]
Applications : Solar Roman / Spanish / Curved Roofs Installation
NOTE : Produce as Drawing