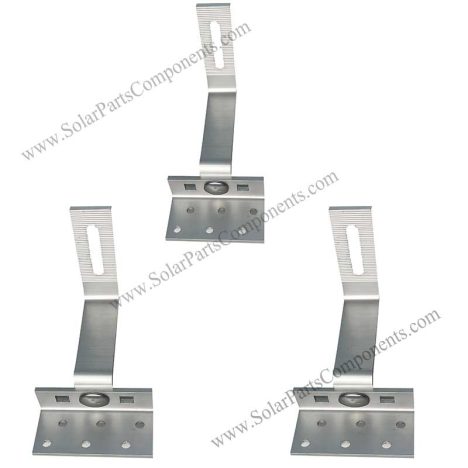 Tile roof brackets for solar
Product Type: Tile roof brackets for solar

Product Model: SPC-IK-AL02

Material: Aluminum alloy, rubber

Max Wind Load : 60 m/s

Max Snow Load : 1.4 KN / M 2

Solar Module Orientation: Landscape / Horizontal

Application:  Unframed / Bifacial / Frameless modules
Contact by Email
Details:
Tile roof brackets for solar products are precision forged from high-quality aluminum profile AL6005-T5. Compared with stainless steel hooks, which:
lighter in weight, saving costs in transportation, and reducing the pressure on the roof in installation; relatively low ductility, high strength, and not easy to deform; low density and corrosion resistance It is extremely durable, so it is more suitable for use in the photovoltaic bracket installation industry.
Tile roof brackets for solar panel, the solar aluminum hook manufacturer combines the advantages and disadvantages of various related products on the market and take the essence and discard the dregs. The bottom of this product is designed to be adjustable laterally according to the installation position. The narrow base design saves material costs; the upper handle has a corrugated design to provide a specific anti-slip effect.
The hook products produced by tile roof brackets for solar mounting supplier manufacturers are widely suitable for various installation situations on the market. Innovating on the original basis is one of the best choices for the public.
Features:
High-quality aluminum profiles;
Light weight;
High strength and not easy to deform;
Extremely corrosion-resistant;
The bottom can be adjusted laterally.
SPC is a professional solar parts components manufacturer with more than ten years of professional experience in this field, providing reliable solar products. A professional team of designers innovatively designs products based on the advantages and disadvantages of products on the market. The quality of all types of products is strictly implemented in accordance with industry standards. Factory sale directly, welcome to consult!
Brief Descriptions:
Solar mounting component-Tile roof brackets for solar
Item type:
Solar Mounting Brackets
Type:
SPC-IK-AL02
Installation Site:
Tile Roof solar panel mounting
Profile Material:
PV Modules:
Framed, Frameless
Color:
polishing
Module Orientation:
Horizontal / Vertical
Standards:
AS/NZS 1170
DIN 1055
GB50009-2012
IBC2009
TUV
JIS C 8955:2011
International   Building Code IBC 2009
California   Building Code CBC 2010
Warranty
10 years
Designed Lifespan
25 years
Packing Details:
Inner:
Bubble bag + inner box + Carton
Outer:
Wooden Box, Steel Pallet, MDF, etc
[contact-form-7 id="4″]
Details:

Tile roof brackets for solar products are precision forged from high-quality aluminum profile AL6005-T5. Compared with stainless steel hooks, which:

lighter in weight, saving costs in transportation, and reducing the pressure on the roof in installation; relatively low ductility, high strength, and not easy to deform; low density and corrosion resistance It is extremely durable, so it is more suitable for use in the photovoltaic bracket installation industry.

Tile roof brackets for solar panel, the solar aluminum hook manufacturer combines the advantages and disadvantages of various related products on the market and take the essence and discard the dregs. The bottom of this product is designed to be adjustable laterally according to the installation position. The narrow base design saves material costs; the upper handle has a corrugated design to provide a specific anti-slip effect.

The hook products produced by tile roof brackets for solar mounting supplier manufacturers are widely suitable for various installation situations on the market. Innovating on the original basis is one of the best choices for the public.

Features:

High-quality aluminum profiles;
Light weight;
High strength and not easy to deform;
Extremely corrosion-resistant;
The bottom can be adjusted laterally.

SPC is a professional solar parts components manufacturer with more than ten years of professional experience in this field, providing reliable solar products. A professional team of designers innovatively designs products based on the advantages and disadvantages of products on the market. The quality of all types of products is strictly implemented in accordance with industry standards. Factory sale directly, welcome to consult!

Brief Descriptions:
Solar mounting component-Tile roof brackets for solar
Item type:
Solar Mounting Brackets
Type:
SPC-IK-AL02
Installation Site:
Tile Roof solar panel mounting
Profile Material:
PV Modules:
Framed, Frameless
Color:
polishing
Module Orientation:
Horizontal / Vertical
Standards:
AS/NZS 1170
DIN 1055
GB50009-2012
IBC2009
TUV
JIS C 8955:2011
International   Building Code IBC 2009
California   Building Code CBC 2010
Warranty
10 years
Designed Lifespan
25 years
Packing Details:
Inner:
Bubble bag + inner box + Carton
Outer:
Wooden Box, Steel Pallet, MDF, etc

[contact-form-7 id="4″]