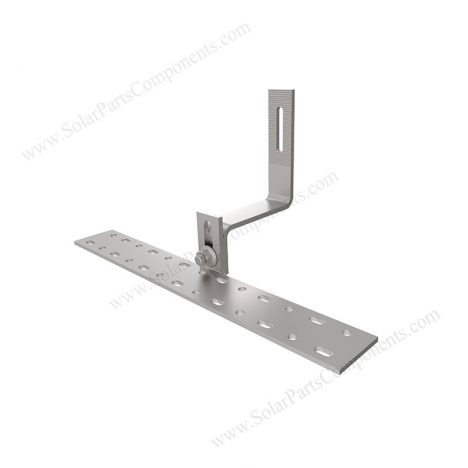 PV Tile Roof Hooks, Height adjustable, Side Mounted
Product Type: Solar PV Tile Roof Hooks

Product Model:SPC-IK-06

Material: A2 Stainless Steel

Max Wind Load : 60 m/s

Max Snow Load : 1.4 KN / M 2

Application: Pitched Tile Roof Installation
Contact by Email
Product Description:
Solar tile roof installation can ensure efficient installation and reduce labor time on the roof. The pv roof hooks are carefully designed to be compatible with almost all side mounting rails, can be installed quickly and easily and ensure precise alignment, can achieve durability and structural integrity in all environments, and provide excellent shock, wind and snow resistance to all component's performance.
The perfect installation of the hook is a key prerequisite to ensure the quality and durability of the entire system and the entire roof. The hook can withstand the load and can withstand the harsh environment. It ensures excellent assembly and array alignment, so integrity can be built in every installation.
Solar pv roof hooks provide flexibility for solar installation. Made of stainless steel, it can be used for all your residential solar installation Spanish tiles. Roof hooks provide the fastest and cheapest way to Install rooftop photovoltaic arrays on tiled roofs.
Feature of solar pv roof hooks, SPC-IK-06:
1. Designed for residential and commercial tile roof applications;
2. Withstand wind speed up to 60 meters per second;
3. Robust design and high-quality stainless steel materials;
4. The height of the hook can be adjusted and the installation site can be adjusted;
5. Unique and innovative hook can be installed quickly and easily;
We provide multiple hook solutions for all the most common roof types. The tile roof mounting system can accommodate various framed or frameless modules, and is suitable for most types of roofs with different hooks. The innovative hook enables quick and easy installation of tile roof brackets. The pv tile brackets suitable for Roman, clay and curved tiles. Designed to be height-adjustable, you will be able to adjust the height at the installation site. The rail connection groove can accommodate standard wooden bolts. The hook is a strong load-bearing structural attachment.
Different types of roof hooks can meet different tile roof requirements. We provide all kinds of solar hooks, fixed type, single gear adjustable, double gear adjustable. Please contact us for more information what ever Spanish  Flat and Asphalt tile roof or other special roofs. Our website: www.solarpartscomponents.com.
Brief Descriptions:
PV Roof Mounting Hooks – SPC-IK-06
Item type:
PV Rooftop Mounting Bracket
Type:
SPC-IK-06
Installation Site:
Tile Roofing Top
Profile Material:
A2 / SUS304
Fasten Parts:
Timber Screws / Expansion Bolts
Wind Load:
60 m / s
Snow Load:
1.4 KN / M2
PV Modules:
Framed, Frameless
Module Orientation:
Portrait and Landscape
Standards:
AS/NZS 1170
DIN 1055
GB50009-2012
IBC2009
TUV
JIS C 8955: 2011
International   Building Code IBC 2009
California   Building Code CBC 2010
Warranty
10 years
Designed Lifespan
25 years
Packing Details:
Inner:
Bubble bag+inner box+Carton
Outer:
Wooden Box, Steel Pallet, MDF, etc
Installation Manual for Solar Roof Hooks SPC-IK-06
Solar PV Roof Hooks, side mounted, SPC-IK-06
This Solar PV Roof Hooks is suitable for a variety of roof types on the market, and the height of the hook is adjustable. The following is a related inquiry:
Q:
We are Jordan Climate Change Consultancy CO. works in renewable energy
fields  specially in PV solar System .
I would like to request a quote for a 250 pcs of the Fixing Hooke for roof
tiles and how much it will cost us  to ship this order by air.
We look forward to hearing from you.
A:
Appreciated for your inquiry about our solar tile hooks.
Can you let me know which model you like ?
If you can let me know more details of your roof mounting project,
I can let your engineer recommend one model for you.
Q:
we need to quote us prices for the two models below :
1.Solar PV Roof Hooks, side mounted, SPC-IK-06.
2.Solar Curved Tile Roof Hooks, Adjustable, For Side Mount Rails,SPC-IK-03.
A:
The factory price please see at attached.
Just let me know which model you prefer.
Q:
thanks for your quotation, We are very glad to work with you.
Solar PV Tile Hooks quick mount
Solar PV Roof Hooks, side mounted, SPC-IK-06,provide a fast and easy to mount PV modules on tile roofs and protect against water intrusion.The bottom height adjustable,makes more easy to install the solar panels in the same level.
The dimension of the bottom plate is 350mm(13.79″) x 50mm(1.97″).It is a strong loadbearing solar roof attachment.
Solar PV tile roof hook professional manufacturer,good quality product,competitive price,perfect service, welcome send us inquiry anytime.
How to using this Solar PV Roof Hooks ?
How to install this Solar PV Roof Hooks ?
Adjustable solar tile roof hooks supplier products are used in the installation process with medium pressure, side pressure, track, connector and other products, the installation is the same as most hooks, with three wood screws to fix the bottom of the hook,
and then use the clamp bolt assembly to install the track above the hook, medium pressure and side pressure are used to fix the solar panel above the track.
Adjustable solar tile roof hooks