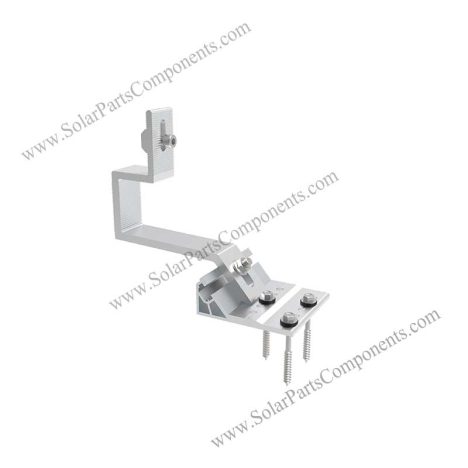 Tile roof brackets factory
Product Type:Solar Panel Mounting bracket

Product Model:SPC-IK-AL01

Material:AL6005-T5

Max Wind Load : 60 m/s

Max Snow Load : 1.4 KN / M 2

Solar Module Orientation: Landscape / Horizontal

Application:  Unframed / Bifacial / Frameless modules
Contact by Email
Details:
Tile roof brackets factory producting the most popular solar installation component at present. The high-quality aluminum material is different from most stainless steel hooks on the market. Even with the thicker and wider shape design, the overall weight has a great advantage in stainless steel hooks, which can greatly reduce the pressure on the roof and make the roof installation safer. It makes the hook even if it is widened and thickened, but it is not bulky and very light. The thickened aluminum structure brings high-strength stability and excellent corrosion resistance to the hook. The surface of the product is anodized, which is not easy to corrode and enhances its performance. The bottom is hollowed out, and the overall appearance is beautiful. Aluminum hook is a popular product suitable for the current solar installation.
Tile roof brackets wholesale provides the hook with higher strength against wind and snow and stronger stability, according to the widened and thickened design. During the processing of the product, it has undergone strict process treatment according to industry standards, and the surface has been anodized to provide support for the corrosion resistance of the hook. The performance is enhanced, which can ensure a long service life of the hook, and the overall appearance is beautiful.
The connection between the upper part and the bottom of the tile roof brackets supplier's hook has a corrugated design, and the corrugated depth is greater, and the friction force is also strengthened. The curved part of the base is hollowed out to save material costs. The connection between the base and the handle is locked with T-shaped bolts. The corrugated design also prevents the hook from sliding. The height of the bottom can be adjusted according to the thickness of the ribs. Tile roof brackets corresponds to the side installation track, and the installation method is not much different from that of the ordinary hook, which is simple and easy to operate.
Tile roof brackets Features:
Beautiful appearance;
Narrow base design;
Aluminum material, light weight;
Widened and thickened appearance design, strong stability;
Deep corrugated design increases friction.
Tile roof brackets wholesale product of solar bracket accessories is a product designed by SPC in combination with various factors. The hook is suitable for various regional environments with different climates. A team with more than ten years of experience in the production of solar bracket accessories can provide price and quality assurance for the product,
Products are sold directly by manufacturers, eliminating intermediate links, factory prices, sufficient inventory, and fast delivery.
Welcome to click our website for more details: https://www.solarpartscomponents.com/
Brief Descriptions:
Solar mounting component-tile roof brackets factory
Item type:
Solar Panel Mounting bracket
Type:
SPC-IK-AL01
Installation Site:
Tile Roof solar panel mounting
Profile Material:
AL6005-T5
PV Modules:
Framed, Frameless
Color:
Silver
Module Orientation:
Horizontal / Vertical
Standards:
AS/NZS 1170
DIN 1055
GB50009-2012
IBC2009
TUV
JIS C 8955:2011
International   Building Code IBC 2009
California   Building Code CBC 2010
Warranty
10 years
Designed Lifespan
25 years
Packing Details:
Inner:
Bubble bag + inner box + Carton
Outer:
Wooden Box, Steel Pallet, MDF, etc
Details:

Tile roof brackets factory producting the most popular solar installation component at present. The high-quality aluminum material is different from most stainless steel hooks on the market. Even with the thicker and wider shape design, the overall weight has a great advantage in stainless steel hooks, which can greatly reduce the pressure on the roof and make the roof installation safer. It makes the hook even if it is widened and thickened, but it is not bulky and very light. The thickened aluminum structure brings high-strength stability and excellent corrosion resistance to the hook. The surface of the product is anodized, which is not easy to corrode and enhances its performance. The bottom is hollowed out, and the overall appearance is beautiful. Aluminum hook is a popular product suitable for the current solar installation.

Tile roof brackets wholesale provides the hook with higher strength against wind and snow and stronger stability, according to the widened and thickened design. During the processing of the product, it has undergone strict process treatment according to industry standards, and the surface has been anodized to provide support for the corrosion resistance of the hook. The performance is enhanced, which can ensure a long service life of the hook, and the overall appearance is beautiful.

The connection between the upper part and the bottom of the tile roof brackets supplier's hook has a corrugated design, and the corrugated depth is greater, and the friction force is also strengthened. The curved part of the base is hollowed out to save material costs. The connection between the base and the handle is locked with T-shaped bolts. The corrugated design also prevents the hook from sliding. The height of the bottom can be adjusted according to the thickness of the ribs. Tile roof brackets corresponds to the side installation track, and the installation method is not much different from that of the ordinary hook, which is simple and easy to operate.

Tile roof brackets Features:

Beautiful appearance;
Narrow base design;
Aluminum material, light weight;
Widened and thickened appearance design, strong stability;
Deep corrugated design increases friction.

Tile roof brackets wholesale product of solar bracket accessories is a product designed by SPC in combination with various factors. The hook is suitable for various regional environments with different climates. A team with more than ten years of experience in the production of solar bracket accessories can provide price and quality assurance for the product,

Products are sold directly by manufacturers, eliminating intermediate links, factory prices, sufficient inventory, and fast delivery.

Welcome to click our website for more details: https://www.solarpartscomponents.com/

Brief Descriptions:
Solar mounting component-tile roof brackets factory
Item type:
Solar Panel Mounting bracket
Type:
SPC-IK-AL01
Installation Site:
Tile Roof solar panel mounting
Profile Material:
AL6005-T5
PV Modules:
Framed, Frameless
Color:
Silver
Module Orientation:
Horizontal / Vertical
Standards:
AS/NZS 1170
DIN 1055
GB50009-2012
IBC2009
TUV
JIS C 8955:2011
International   Building Code IBC 2009
California   Building Code CBC 2010
Warranty
10 years
Designed Lifespan
25 years
Packing Details:
Inner:
Bubble bag + inner box + Carton
Outer:
Wooden Box, Steel Pallet, MDF, etc