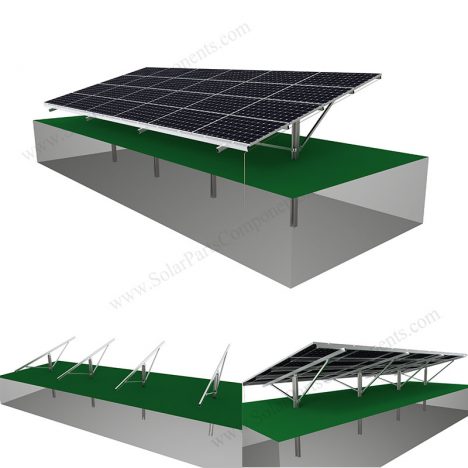 PV Module Ground Racks
Product Type: Ground Mounting Racking

Product Model: SPC-JA-4H-PCW

Material: Aluminium, Carbon Steel

Max Wind Load : 60 m/s

Max Snow Load : 1.4 KN / M 2

Solar Module Orientation: Landscape / Horizontal

Application:  Ground
Contact by Email
Product Description:
The "π" shape galvanized pole is the core component of the entire pile ground mounting systems for solar panels, used as structural support in the horizontal and vertical applications of buildings. They are also the most space-saving and time-saving ground installation solutions for solar systems. It has a stronger load-bearing capacity, and each rack requires less penetration.
Our pile ground mounting system is designed to be quickly assembled under any field conditions. Compared with other solar mounting systems, this system occupies a small footprint, has strong compatibility, reduces the amount of stringers used, but does not affect the firmness, and can also reduce your installation time and cost.
Single pile ground mounts can work under any ground and soil conditions, the pile surface area of ​​this mounting solution is small and the length is longer to ensure proper burial depth. Keep level when adjusting the panel to suit various terrains.
Feature:
Only one supporting column and fewer fasteners are needed;
You can make quick adjustments on site to ensure the best efficiency of solar panels;
Make it simple to assemble in various terrains;
4.The pre-assembled components are used in our ground-mounted solar system, which can speed up the installation time;
Easy-to-maintain components, reducing continuous maintenance time and costs;
The pile ground mounting solar racks are adjustable and durable, fast, strong and easy to assemble. The ground-mounted solar mounting system designed by our team has structural integrity. The matching components make the installation system quick and easy. Compared with other solar mounting systems, our system is installed in less time and a narrower site.
The solar system installed on the ground reasonably uses the resources of the open space and realizes the reuse of the open space. We ensure the safety and continuity of the installation system. There is a wide range of solar installations and there are many types of brackets to choose from, which can meet the needs of almost any project. If you have any needs, please feel free to contact us: www.solarpartscomponents.com.
Brief Descriptions:
Single Pile Ground Mounts, SPC-JA-4H-PCW
Item type:
Photovoltaic Ground Mounting
Type:
SPC-JA-4H-PCW
Installation Site:
Flat Ground Terrain
Profile Material:
Aluminum alloy 6005-T5 / Galvanized Steel
Fasten Parts:
Stainless Steel
Color:
Silvery
Wind Load:
60 m / s
Snow Load:
1.4 KN / M2
PV Modules:
Framed, Frameless
Module Orientation:
Landscape / Portrait
Standards:
AS/NZS 1170
DIN 1055
GB50009-2012
IBC2009
TUV
JIS C 8955: 2011
International   Building Code IBC 2009
California   Building Code CBC 2010
Warranty
10 years
Designed Lifespan
25 years
Packing Details:
Inner:
Bubble bag+inner box+Carton
Outer:
Wooden Box, Steel Pallet, MDF, etc
Manual book for solar single pile ground mounting system, SPC-JA-4H-PCW
Product Description:

The "π" shape galvanized pole is the core component of the entire pile ground mounting systems for solar panels, used as structural support in the horizontal and vertical applications of buildings. They are also the most space-saving and time-saving ground installation solutions for solar systems. It has a stronger load-bearing capacity, and each rack requires less penetration.

Our pile ground mounting system is designed to be quickly assembled under any field conditions. Compared with other solar mounting systems, this system occupies a small footprint, has strong compatibility, reduces the amount of stringers used, but does not affect the firmness, and can also reduce your installation time and cost.

Single pile ground mounts can work under any ground and soil conditions, the pile surface area of ​​this mounting solution is small and the length is longer to ensure proper burial depth. Keep level when adjusting the panel to suit various terrains.

Feature:

Only one supporting column and fewer fasteners are needed;
You can make quick adjustments on site to ensure the best efficiency of solar panels;
Make it simple to assemble in various terrains;

4.The pre-assembled components are used in our ground-mounted solar system, which can speed up the installation time;

Easy-to-maintain components, reducing continuous maintenance time and costs;

The pile ground mounting solar racks are adjustable and durable, fast, strong and easy to assemble. The ground-mounted solar mounting system designed by our team has structural integrity. The matching components make the installation system quick and easy. Compared with other solar mounting systems, our system is installed in less time and a narrower site.

The solar system installed on the ground reasonably uses the resources of the open space and realizes the reuse of the open space. We ensure the safety and continuity of the installation system. There is a wide range of solar installations and there are many types of brackets to choose from, which can meet the needs of almost any project. If you have any needs, please feel free to contact us: www.solarpartscomponents.com.

Brief Descriptions:
Single Pile Ground Mounts, SPC-JA-4H-PCW
Item type:
Photovoltaic Ground Mounting
Type:
SPC-JA-4H-PCW
Installation Site:
Flat Ground Terrain
Profile Material:
Aluminum alloy 6005-T5 / Galvanized Steel
Fasten Parts:
Stainless Steel
Color:
Silvery
Wind Load:
60 m / s
Snow Load:
1.4 KN / M2
PV Modules:
Framed, Frameless
Module Orientation:
Landscape / Portrait
Standards:
AS/NZS 1170
DIN 1055
GB50009-2012
IBC2009
TUV
JIS C 8955: 2011
International   Building Code IBC 2009
California   Building Code CBC 2010
Warranty
10 years
Designed Lifespan
25 years
Packing Details:
Inner:
Bubble bag+inner box+Carton
Outer:
Wooden Box, Steel Pallet, MDF, etc

Manual book for solar single pile ground mounting system, SPC-JA-4H-PCW