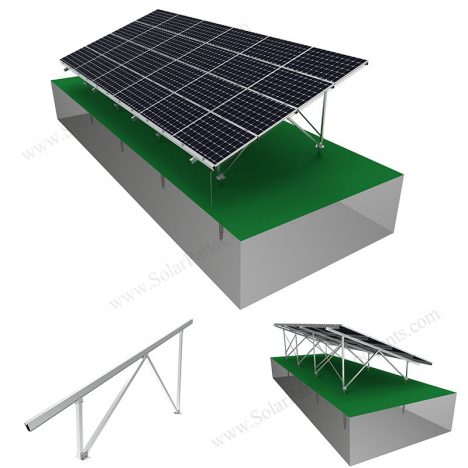 PV Ground Racks
Product Type: Ground Mounting Structure

Product Model: SPC-GA20-4H-CW

Material: Aluminium, Steel

Max Wind Load : 60 m/s

Max Snow Load : 1.4 KN / M 2

Solar Module Orientation: Landscape / Horizontal

Application:  Ground
Contact by Email
Product Description:
Solar panel ground mount racks are one of the basic structures of solar panels. According to the required materials and different wind and snow loads, we can choose different brackets for installation, and the best effect has been achieved. The solar ground mounting bracket is sturdy, durable, high-strength, and innovatively designed to use the bracket as a support.
The ground-mounted solar panel system is a photovoltaic installation system for ground applications. It provides many reasonable solutions for the ground-mounted system. It is a reliable choice for ground-mounted residential and commercial solar panel systems. We can install the solar panels in the best position under direct sunlight, and have flexible adjustment angles to maximize solar energy output.
The ground mount solar panel racks are important part of the solar installation system, which fixes the solar panel on the ground. The ground installation system is a reliable, comprehensive and feature-rich solar panel installation system. The installation system is fixed by high-quality brackets, including all components that support almost all ground installations.
Feature of ground mount solar panel racks, model SPC-GA20-4H-CW:
High-quality components can improve corrosion resistance, strength and strength;
Economical and practical installation, long service life;
After pre-design and testing, to meet the installation requirements;
Easy installation, low cost, suitable for almost all ground installation structures;
Optimized the performance of wind and snow load resistance, can withstand greater pressure;
Solar panel ground mounting racks are designed for rapid installation and provide a safe and efficient installation structure for photovoltaic modules. The design of the bracket reduces the number of additional supports and simplifies the assembly process. The use of high-strength materials and corrosion-resistant hardware can ensure long-term practicality.
We provide a wide range of professional services, coupled with our good quality and affordable prices, to ensure that our installation system is durable. It also provides a complete engineering support system for the solar installation system, including installation instructions to help you complete each step of the installation. If you have any needs, please feel free to contact us: www.solarpartscomponents.com.
Brief Descriptions:
Solar Panel Ground Mounting Racks, SPC-GA20-4H-CW
Item type:
PV Panel Ground Mounts
Type:
SPC-GA20-4H-CW
Installation Site:
Flat Ground
Profile Material:
Aluminum alloy 6005-T5
Fasten Parts:
Stainless Steel
Color:
Silvery
Wind Load:
60 m / s
Snow Load:
1.4 KN / M2
PV Modules:
Framed, Frameless
Module Orientation:
Landscape / Portrait
Standards:
AS/NZS 1170
DIN 1055
GB50009-2012
IBC2009
TUV
JIS C 8955: 2011
International   Building Code IBC 2009
California   Building Code CBC 2010
Warranty
10 years
Designed Lifespan
25 years
Packing Details:
Inner:
Bubble bag+inner box+Carton
Outer:
Wooden Box, Steel Pallet, MDF, etc
Manual book for groud mounts SPC-GA20-4H-CW
Product Description:

Solar panel ground mount racks are one of the basic structures of solar panels. According to the required materials and different wind and snow loads, we can choose different brackets for installation, and the best effect has been achieved. The solar ground mounting bracket is sturdy, durable, high-strength, and innovatively designed to use the bracket as a support.

The ground-mounted solar panel system is a photovoltaic installation system for ground applications. It provides many reasonable solutions for the ground-mounted system. It is a reliable choice for ground-mounted residential and commercial solar panel systems. We can install the solar panels in the best position under direct sunlight, and have flexible adjustment angles to maximize solar energy output.

The ground mount solar panel racks are important part of the solar installation system, which fixes the solar panel on the ground. The ground installation system is a reliable, comprehensive and feature-rich solar panel installation system. The installation system is fixed by high-quality brackets, including all components that support almost all ground installations.

Feature of ground mount solar panel racks, model SPC-GA20-4H-CW:

High-quality components can improve corrosion resistance, strength and strength;
Economical and practical installation, long service life;
After pre-design and testing, to meet the installation requirements;
Easy installation, low cost, suitable for almost all ground installation structures;
Optimized the performance of wind and snow load resistance, can withstand greater pressure;

Solar panel ground mounting racks are designed for rapid installation and provide a safe and efficient installation structure for photovoltaic modules. The design of the bracket reduces the number of additional supports and simplifies the assembly process. The use of high-strength materials and corrosion-resistant hardware can ensure long-term practicality.

We provide a wide range of professional services, coupled with our good quality and affordable prices, to ensure that our installation system is durable. It also provides a complete engineering support system for the solar installation system, including installation instructions to help you complete each step of the installation. If you have any needs, please feel free to contact us: www.solarpartscomponents.com.

Brief Descriptions:
Solar Panel Ground Mounting Racks, SPC-GA20-4H-CW
Item type:
PV Panel Ground Mounts
Type:
SPC-GA20-4H-CW
Installation Site:
Flat Ground
Profile Material:
Aluminum alloy 6005-T5
Fasten Parts:
Stainless Steel
Color:
Silvery
Wind Load:
60 m / s
Snow Load:
1.4 KN / M2
PV Modules:
Framed, Frameless
Module Orientation:
Landscape / Portrait
Standards:
AS/NZS 1170
DIN 1055
GB50009-2012
IBC2009
TUV
JIS C 8955: 2011
International   Building Code IBC 2009
California   Building Code CBC 2010
Warranty
10 years
Designed Lifespan
25 years
Packing Details:
Inner:
Bubble bag+inner box+Carton
Outer:
Wooden Box, Steel Pallet, MDF, etc

Manual book for groud mounts SPC-GA20-4H-CW