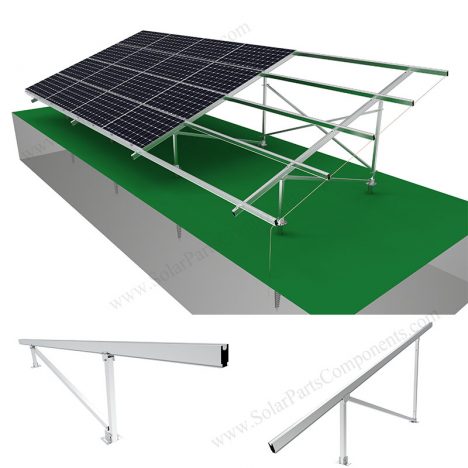 Aluminum Solar Ground Mounts
Product Type: Ground Mounting Systems Aluminum

Product Model: SPC-GA20-4H-CN

Material: Aluminium, Steel

Max Wind Load : 60 m/s

Max Snow Load : 1.4 KN / M 2

Solar Module Orientation: Landscape / Horizontal

Application:  Ground
Contact by Email
Product Description:
The solar ground mounting structure aluminum is suitable for open fields and can be installed in residential or commercial projects. The high degree of pre-assembly makes installation efficient and easy. The structure is made of high-quality aluminum alloy.
Aluminum material maximizes stiffness and strength, and reduces the assembly and manufacturing of parts; all this helps reduce costs. Aluminum can also simplify handling and transportation throughout the supply chain, creating lighter weight components. Aluminum is very durable, almost maintenance-free and 100% recyclable.
The aluminum bracket adopts 100% aluminum structure and stainless-steel bolts. It is lightweight, corrosion-resistant, beautiful in appearance, and has a service life of more than 25 years. Solar ground mounting aluminum is easy to handle, transport and install; the easy-to-maintain structure has a long service life and strong corrosion resistance.
Feature of 6005-T5 ground mounts:
High-strength structure, great performance;
Reasonable cost and fast system installation;
Excellent corrosion resistance and easy processing;
Excellent compatibility, highly pre-installed;
Simple and economical recycling;
Solar ground structure aluminum provides excellent design flexibility, high-strength material,
Excellent corrosion resistance and high compatibility with high pre-assembly. These features make the aluminum solar mounting bracket the best choice, whether it is installed in a home or commercial structure, it is very suitable.
SPC Solar is committed to serving every customer well. Our projects are designed to meet wind, snow load and other local specific conditions. Our installation components are very flexible and provide convenience for installation. We can design projects according to customer needs and provide BOM. If you have any needs, please feel free to contact us: www.solarpartscomponents.com.
Brief Descriptions:
Solar Ground Mounting Aluminum, SPC-GA20-4H-CN
Item type:
PV Module Ground Mounts
Type:
SPC-GA20-4H-CN
Installation Site:
Flat Ground
Profile Material:
Aluminum alloy 6005-T5
Fasten Parts:
Stainless Steel
Color:
Silvery
Wind Load:
60 m / s
Snow Load:
1.4 KN / M2
PV Modules:
Framed, Frameless
Module Orientation:
Landscape / Portrait
Standards:
AS/NZS 1170
DIN 1055
GB50009-2012
IBC2009
TUV
JIS C 8955: 2011
International   Building Code IBC 2009
California   Building Code CBC 2010
Warranty
10 years
Designed Lifespan
25 years
Packing Details:
Inner:
Bubble bag+inner box+Carton
Outer:
Wooden Box, Steel Pallet, MDF, etc
Solar ground mounting structure
Installation Manual for Solar ground mounting structure,SPC-GA20-4H-CN
How to install solar ground racking system aluminum
Installation instruction(SPC-GA20-4H-CN)
Product Description:

The solar ground mounting structure aluminum is suitable for open fields and can be installed in residential or commercial projects. The high degree of pre-assembly makes installation efficient and easy. The structure is made of high-quality aluminum alloy.

Aluminum material maximizes stiffness and strength, and reduces the assembly and manufacturing of parts; all this helps reduce costs. Aluminum can also simplify handling and transportation throughout the supply chain, creating lighter weight components. Aluminum is very durable, almost maintenance-free and 100% recyclable.

The aluminum bracket adopts 100% aluminum structure and stainless-steel bolts. It is lightweight, corrosion-resistant, beautiful in appearance, and has a service life of more than 25 years. Solar ground mounting aluminum is easy to handle, transport and install; the easy-to-maintain structure has a long service life and strong corrosion resistance.

Feature of 6005-T5 ground mounts:

High-strength structure, great performance;
Reasonable cost and fast system installation;
Excellent corrosion resistance and easy processing;
Excellent compatibility, highly pre-installed;
Simple and economical recycling;

Solar ground structure aluminum provides excellent design flexibility, high-strength material,

Excellent corrosion resistance and high compatibility with high pre-assembly. These features make the aluminum solar mounting bracket the best choice, whether it is installed in a home or commercial structure, it is very suitable.

SPC Solar is committed to serving every customer well. Our projects are designed to meet wind, snow load and other local specific conditions. Our installation components are very flexible and provide convenience for installation. We can design projects according to customer needs and provide BOM. If you have any needs, please feel free to contact us: www.solarpartscomponents.com.

Brief Descriptions:
Solar Ground Mounting Aluminum, SPC-GA20-4H-CN
Item type:
PV Module Ground Mounts
Type:
SPC-GA20-4H-CN
Installation Site:
Flat Ground
Profile Material:
Aluminum alloy 6005-T5
Fasten Parts:
Stainless Steel
Color:
Silvery
Wind Load:
60 m / s
Snow Load:
1.4 KN / M2
PV Modules:
Framed, Frameless
Module Orientation:
Landscape / Portrait
Standards:
AS/NZS 1170
DIN 1055
GB50009-2012
IBC2009
TUV
JIS C 8955: 2011
International   Building Code IBC 2009
California   Building Code CBC 2010
Warranty
10 years
Designed Lifespan
25 years
Packing Details:
Inner:
Bubble bag+inner box+Carton
Outer:
Wooden Box, Steel Pallet, MDF, etc

Solar ground mounting structure

Installation Manual for Solar ground mounting structure,SPC-GA20-4H-CN

How to install solar ground racking system aluminum

Installation instruction(SPC-GA20-4H-CN)