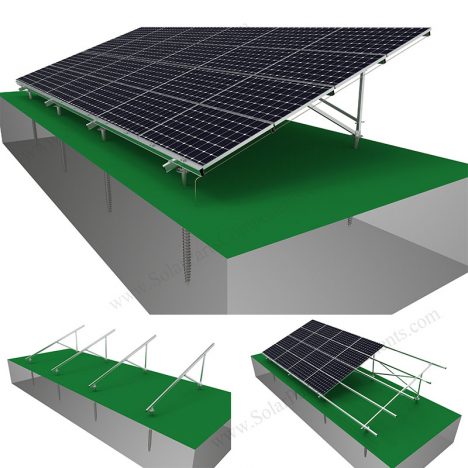 PV Ground Mounts
Product Type: Ground Racking Systems

Product Model: SPC-GA20-4H-CA

Material: Aluminium, Steel

Max Wind Load : 60 m/s

Max Snow Load : 1.4 KN / M 2

Solar Module Orientation: Landscape / Horizontal

Application:  Ground
Contact by Email
Product Description:
Solar ground mounting structure quick installation is widely used in photovoltaic ground installation projects. It is suitable for the soil conditions of most ground types where grounding screws can be inserted. The quick installation solution is adopted under the condition that grounding screw is inserted into the ground to improve installation efficiency.
Solar mounting system is workable for flat land condition. The grounding screw as foundations has good strength for solar panels array. The combination of professional rail design and highly compatible parts makes installation easy. The material is light in weight, high in strength, and reduces the customer's construction time and cost.
Solar ground mounts fast installation can save the cost of ground mounting structure with fewer parts. The structure and parts are highly pre-assembled and have a high degree of flexibility, making on-site installation easier and faster.
Feature of ground solar racking system, SPC-GA20-4H-CA:
The photovoltaic structural components installed on the ground are made of high-quality materials;
The direct ground structure for quick installation is the best design plan;
Quick installation saves the tedious steps and time required at the installation site;
The most economical solution for ground solar photovoltaic projects;
It has strong wind resistance and corrosion resistance;
Solar ground racking express install is a new design after rigorous strength analysis and structural testing. It can withstand strong winds, snowstorms, and strong earthquakes. The quick and simple installation effectively reduces the customer's installation time and cost.
The SPC team can design ground solar installation projects for your project, and provide free samples for customers to understand our quality. The quality of our products is guaranteed, the credibility is high, the price is advantageous, the delivery is fast, and the service is good. If you have any needs, please feel free to contact us: www.solarpartscomponents.com.
Brief Descriptions:
Solar Ground Racking Express Install, SPC-GA20-4H-CA
Item type:
PV Module Ground Mounting
Type:
SPC-GA20-4H-CA
Installation Site:
Flat Ground Terrain
Profile Material:
Aluminum alloy 6005-T5
Fasten Parts:
Stainless Steel
Color:
Silvery
Wind Load:
60 m / s
Snow Load:
1.4 KN / M2
PV Modules:
Framed, Frameless
Module Orientation:
Landscape / Portrait
Standards:
AS/NZS 1170
DIN 1055
GB50009-2012
IBC2009
TUV
JIS C 8955: 2011
International   Building Code IBC 2009
California   Building Code CBC 2010
Warranty
10 years
Designed Lifespan
25 years
Packing Details:
Inner:
Bubble bag+inner box+Carton
Outer:
Wooden Box, Steel Pallet, MDF, etc
Solar ground mounting structure
Installation Manual for Solar Ground Mounts, SPC-GA20-4H-CA
How to install this solar ground mounts fast installation
Installation instruction(SPC-GA20-4H-CA)
Product Description:

Solar ground mounting structure quick installation is widely used in photovoltaic ground installation projects. It is suitable for the soil conditions of most ground types where grounding screws can be inserted. The quick installation solution is adopted under the condition that grounding screw is inserted into the ground to improve installation efficiency.

Solar mounting system is workable for flat land condition. The grounding screw as foundations has good strength for solar panels array. The combination of professional rail design and highly compatible parts makes installation easy. The material is light in weight, high in strength, and reduces the customer's construction time and cost.

Solar ground mounts fast installation can save the cost of ground mounting structure with fewer parts. The structure and parts are highly pre-assembled and have a high degree of flexibility, making on-site installation easier and faster.

Feature of ground solar racking system, SPC-GA20-4H-CA:

The photovoltaic structural components installed on the ground are made of high-quality materials;
The direct ground structure for quick installation is the best design plan;
Quick installation saves the tedious steps and time required at the installation site;
The most economical solution for ground solar photovoltaic projects;
It has strong wind resistance and corrosion resistance;

Solar ground racking express install is a new design after rigorous strength analysis and structural testing. It can withstand strong winds, snowstorms, and strong earthquakes. The quick and simple installation effectively reduces the customer's installation time and cost.

The SPC team can design ground solar installation projects for your project, and provide free samples for customers to understand our quality. The quality of our products is guaranteed, the credibility is high, the price is advantageous, the delivery is fast, and the service is good. If you have any needs, please feel free to contact us: www.solarpartscomponents.com.

Brief Descriptions:
Solar Ground Racking Express Install, SPC-GA20-4H-CA
Item type:
PV Module Ground Mounting
Type:
SPC-GA20-4H-CA
Installation Site:
Flat Ground Terrain
Profile Material:
Aluminum alloy 6005-T5
Fasten Parts:
Stainless Steel
Color:
Silvery
Wind Load:
60 m / s
Snow Load:
1.4 KN / M2
PV Modules:
Framed, Frameless
Module Orientation:
Landscape / Portrait
Standards:
AS/NZS 1170
DIN 1055
GB50009-2012
IBC2009
TUV
JIS C 8955: 2011
International   Building Code IBC 2009
California   Building Code CBC 2010
Warranty
10 years
Designed Lifespan
25 years
Packing Details:
Inner:
Bubble bag+inner box+Carton
Outer:
Wooden Box, Steel Pallet, MDF, etc

Solar ground mounting structure

Installation Manual for Solar Ground Mounts, SPC-GA20-4H-CA

How to install this solar ground mounts fast installation

Installation instruction(SPC-GA20-4H-CA)