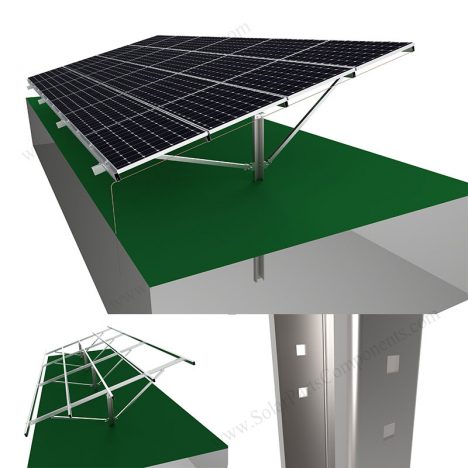 Solar Module Ground Racks
Product Type: Ground Mount Racking

Product Model: SPC-CA-4H-PCW

Material: Aluminium, Carbon Steel

Max Wind Load : 60 m/s

Max Snow Load : 1.4 KN / M 2

Solar Module Orientation: Landscape / Horizontal

Application:  Ground
Contact by Email
The pillar support solar mounts system (SPC-CA-4H-PCW )provides a multi-pole configuration with greater ground clearance and seasonal adjustability. You can adjust the position of the solar panels according to the season. Provide a bracket system with high wind speed and heavy snow rated load to meet the wind and snow resistance requirements of many regions and ensure the safety of the installation system.
It Provide high-performance all bracket materials to ensure long-lasting durability and a service life of more than 25 years. All components are pre-cut and pre-drilled for simple pre-assembly on site, which improves installation efficiency and saves installation time and labor costs.
The pillar solar mounting system is a new type of installation using C-shaped steel single pole, which provides a flexible option for versatility and scalability, which can be adapted to any configuration and any terrain.
Feature of this pillar ground mounts model: SPC-CA-4H-PCW
1. The ground installation system uses C-shaped steel pole as the main material, which has strong corrosion resistance;
2. The ground solar installation system has the characteristics of convenient installation and low cost;
3. Applicable to most ground installation structures;
4. Optimized the anti-wind and snow performance to achieve the best design plan;
5. Can withstand greater support pressure;
Choosing this pillar solar racking system to install solar energy can generate more solar energy than traditional ground-mounted systems. The ground-mounted systems can achieve good results whether they are used in commercial or industrial applications.
We provide the best solar system solutions for your ground-mounted solar projects. Ground-mounted solar systems are ideal for most low-profile applications. All of our bracket systems can provide professional design for your specific project. If you have any needs, please feel free to contact us: www.solarpartscomponents.com.
Brief Descriptions:
Single Pillar Ground Mounts, SPC-CA-4H-PCW
Item type:
Photovoltaic Ground Racking
Type:
SPC-CA-4H-PCW
Installation Site:
Flat Ground Terrain
Profile Material:
Aluminum alloy 6005-T5 / Galvanized Steel
Fasten Parts:
Stainless Steel
Color:
Silvery
Wind Load:
60 m / s
Snow Load:
1.4 KN / M2
PV Modules:
Framed, Frameless
Module Orientation:
Landscape / Portrait
Standards:
AS/NZS 1170
DIN 1055
GB50009-2012
IBC2009
TUV
JIS C 8955: 2011
International   Building Code IBC 2009
California   Building Code CBC 2010
Warranty
10 years
Designed Lifespan
25 years
Packing Details:
Inner:
Bubble bag+inner box+Carton
Outer:
Wooden Box, Steel Pallet, MDF, etc
How to install ground mounts SPC-CA-4H-PCW
Inquiry of pillar ground mounts
Q:
Request for Quotation Solar Pillar Ground mounting system
5 MW solar plant Ground Installation
28°angle;Panel 1655 mm x 995 mm
Including packaging; documentation; transportation to Rotterdam
A:
Yes you can!
Be so kind to ask what you need in addition!
Can I know more details of your mounting project ?
Q:
Attached you can find the requested data.
Please fulfill checklist of this project.contact info,
A:
Please refer to initial design base on information given.
Let me know if we need any changes or not.
Q:
thanks for the email.
your concept is absolutely ok!
what additional information you need?
A:
Please refer to our factory price offer base on current material cost.
Yours any feedback would be much appreciated.
solar pole ground mount racking project from Indonesia
Solar pole ground mount racking project
The solar pole ground rack allows you to choose the best tilt angle in the south-facing direction. The standard ground bracket is constructed with a fixed tilt angle to meet various options for ground installation.
This pole ground mounting bracket series are sturdy, adjustable in height and easy to assemble. We have designed a ground-mounted solar mounting system with the highest assembly without compromising the integrity of the structure. We design home-scale and commercial floor mounts for optimal performance in all soil and weather conditions. We offer a variety of basic options to suit your ground conditions as a solution.
We got inquiry from Sungrow Indonesia
They currently preparing a ground mount project in Indonesia and I would like to ask about your preference when choosing between Single Pole Ground Mount system (SPC-CA-4H-PCW)
Please find our project details :
(1)
What is your pv panels dimension? 2000mm Length x 992mm Width x 35mm Thickness
Weight : 22.5 kg
This array is for one table. There are 1038 tables with 60,204 modules.
(2)
What's the ground clearance. 800 mm
(3)
What's the nearest seaport to your company ? Likupang Port
(4)
How is weather there, such as wind speed and snow load?
wind speed
V500 : 39.9 m/s
V50 : 32.1 m/s
And – KN/m2 snow load.
(5) How about the orientation the solar panels :
Portrait, 5o tilt
(6) What's the foundation ?
Concrete foundation
Length underground : 1000 mm
Length above ground : 400 mm
(7) How about the array for these 48 solar panels ? 6X8 / 4X 12 …
2*29
*Additional info:
Soil type : Clay
Installation way : Clamp + Rail
Special design requirement : Aluminium Double Post Mounting
Regards,
Nadilla Mentari
Project Civil Engineer
Sungrow Indonesia.
After discussion, our engineer recommend use single pole structure (Carbon Steel in material).
Solar panel pole ground racking is an efficient and exquisite design, suitable for medium, small and large ground installation systems. The system uses standard modular high-assemblies, optimizing materials while being flexible and minimizing the footprint of the system.
Feature:
1. Install larger photovoltaic systems and save more costs;
2. The solar system installed on the ground allows you to maximize your thermal potential;
3. You can choose the sunniest place to install solar panels;
4. Use the existing open space for ground support installation to maximize the open space;
5. The rack is the basis of solar panels, and the selected installation type will affect the overall performance of the system;
The solar pole ground racking system can be installed in a sunny area, and you can adjust the tilt angle to maximize power output throughout the season. The steeper angle of inclination can capture more power in winter and can also drop snow off the panel.
SPC is a manufacturer of solar stents and modules. We have been providing services to the solar energy industry, and its streamlined solar mounting design is durable and exceeds the expected lifespan of solar projects. We provide solar installation solutions with industry-leading prices and the fastest installation time. If you have any questions, please feel free to contact us: www.solarpartscomponents
What is a ground mount solar system?
A ground-mounted solar panel is the same as a rooftop solar panel. The only difference is ground-mount solar panels get set up on the ground and use a standard installation or a pole mount installation. Some ground-mount solar panel systems can move with the sun in order to capture the most sunlight they can each day.
A Pillar ground mount solar system is one type of Solar panel Ground Mounting Systems, which is aim to capture the most sunlight each day.
Here is one case of the Solar Panel Ground Mounting Systems from our clinet:
Q:
Hi,
Can we please get a price and availability for a Ground Mounting Systems for Single Pole.
We require the ability to mount 6 panels with each panel being 2274mm x 1134mm.
Kind regards,
A:
Hi  Nicoara,
Thanks for your enquiry.
For the solar pillar ground system is a customized system, we can provide design and quotation according to your project. Do you have specific project information?
For specific design and quote we need below input.
(1) How many panels do you plan to mount? _______Units;
(2) What's the tilt angle? ____degree;
(3) What is your planned solar panel assembly block? ________Nos. in a row
(4) What's the wind speed and snow load?
MAX ___m/s for wind speed and MAX ____KN/m2 for snow load.Please provide as much information as possible so that we can provide you with the design and quotation.
Looking forward to further discussion.
Q:
Solar panel size is 2115*1052*35 and I have 100 of them; I don't know the exact layout yet but lets say a that I want:
– 5 rows with 20 panels on 2 levels in height; wind speed 150km/h and snow load of 50-100-150kg/m2
The system should be inclined at 30 degrees and could you also provide an offer for the same specification for the model
A:
Thanks for your reply
it is estimated that the design and quotation will be available to you tomorrow. By the way, Can you share more your company with us? This helps us get to know you better and provide better service later.
Q:
About to a solar farm. At this moment we are new solar service company as we are still in planning faze, searching for components
A:
Hello Nicoara,
Thanks for your sharing.
I just let our engineers speed up the design for you.
Please find attached quotations and designs for the project.
For SPC-CA-4H-PCW Solar Pillar Ground Mounting
The material ZAM=Zn-Al-Mg coated steel  with aluminum and it has excellent anticorrosive properties.
The design of the solutions all based on 5*20 array, which is the most economical arrangement.
Do you need our help to check the freight? If yes, please tell us your specific address or destination port for checking freight.
Any question, please feel free contact me.
Q:
How would the shipment and payment process happen? Do I pay all upfront and get some written contract or?
A:  
Thank you for your reply,
Please refer to the attachment for payment terms and procedures,
Please contact me if you have any questions.
SPC is a manufacturer of solar stents and modules. We have been providing services to the solar energy industry, and its streamlined solar mounting design is durable and exceeds the expected lifespan of solar projects. We provide solar installation solutions with industry-leading prices and the fastest installation time. If you have any questions, please feel free to contact us: www.solarpartscomponents
Solar pillar ground mounting factory
" Hello, I am interested in your solar pillar ground mounting SPC-CA-4H-PCW.
Plese give me the cost.
TOTAL PANEL 940
30 DEGREES
WIND SPEED 25-35M/S
SNOW ABOYT 300MM
THANKS"
"
Dear Pidiakis
Please refer to our design and BOM for Solar pillar ground mounting project.
If it's no problem,
I will send you price offer soon.
By the way, what's the term you like : EXW , FOB , CNF ?
If you can let me know sea port details, that would be great."
" Thank you for your fast reply, the design looks great, please proceed the offer-CFR"
" Nice to hear that, please refer to our quotation as file attached.
thank you!
Solar pillar ground mounting factory
The pillar support solar mounts system (SPC-CA-4H-PCW )provides a multi-pole configuration with greater ground clearance and seasonal adjustability. You can adjust the position of the solar panels according to the season. Provide a bracket system with high wind speed and heavy snow rated load to meet the wind and snow resistance requirements of many regions and ensure the safety of the installation system.

It Provide high-performance all bracket materials to ensure long-lasting durability and a service life of more than 25 years. All components are pre-cut and pre-drilled for simple pre-assembly on site, which improves installation efficiency and saves installation time and labor costs.

The pillar solar mounting system is a new type of installation using C-shaped steel single pole, which provides a flexible option for versatility and scalability, which can be adapted to any configuration and any terrain.

Feature of this pillar ground mounts model: SPC-CA-4H-PCW

1. The ground installation system uses C-shaped steel pole as the main material, which has strong corrosion resistance;
2. The ground solar installation system has the characteristics of convenient installation and low cost;
3. Applicable to most ground installation structures;
4. Optimized the anti-wind and snow performance to achieve the best design plan;
5. Can withstand greater support pressure;

Choosing this pillar solar racking system to install solar energy can generate more solar energy than traditional ground-mounted systems. The ground-mounted systems can achieve good results whether they are used in commercial or industrial applications.

We provide the best solar system solutions for your ground-mounted solar projects. Ground-mounted solar systems are ideal for most low-profile applications. All of our bracket systems can provide professional design for your specific project. If you have any needs, please feel free to contact us: www.solarpartscomponents.com.

Brief Descriptions:
Single Pillar Ground Mounts, SPC-CA-4H-PCW
Item type:
Photovoltaic Ground Racking
Type:
SPC-CA-4H-PCW
Installation Site:
Flat Ground Terrain
Profile Material:
Aluminum alloy 6005-T5 / Galvanized Steel
Fasten Parts:
Stainless Steel
Color:
Silvery
Wind Load:
60 m / s
Snow Load:
1.4 KN / M2
PV Modules:
Framed, Frameless
Module Orientation:
Landscape / Portrait
Standards:
AS/NZS 1170
DIN 1055
GB50009-2012
IBC2009
TUV
JIS C 8955: 2011
International   Building Code IBC 2009
California   Building Code CBC 2010
Warranty
10 years
Designed Lifespan
25 years
Packing Details:
Inner:
Bubble bag+inner box+Carton
Outer:
Wooden Box, Steel Pallet, MDF, etc

How to install ground mounts SPC-CA-4H-PCW

Inquiry of pillar ground mounts

Q:

Request for Quotation Solar Pillar Ground mounting system

5 MW solar plant Ground Installation

28°angle;Panel 1655 mm x 995 mm

Including packaging; documentation; transportation to Rotterdam

A:

Yes you can!

Be so kind to ask what you need in addition!

Can I know more details of your mounting project ?

Q:

Attached you can find the requested data.

Please fulfill checklist of this project.contact info,

A:

Please refer to initial design base on information given.

Let me know if we need any changes or not.

Q:

thanks for the email.

your concept is absolutely ok!

what additional information you need?

A:

Please refer to our factory price offer base on current material cost.

Yours any feedback would be much appreciated.

solar pole ground mount racking project from Indonesia

Solar pole ground mount racking project

The solar pole ground rack allows you to choose the best tilt angle in the south-facing direction. The standard ground bracket is constructed with a fixed tilt angle to meet various options for ground installation.

This pole ground mounting bracket series are sturdy, adjustable in height and easy to assemble. We have designed a ground-mounted solar mounting system with the highest assembly without compromising the integrity of the structure. We design home-scale and commercial floor mounts for optimal performance in all soil and weather conditions. We offer a variety of basic options to suit your ground conditions as a solution.

We got inquiry from Sungrow Indonesia

They currently preparing a ground mount project in Indonesia and I would like to ask about your preference when choosing between Single Pole Ground Mount system (SPC-CA-4H-PCW)

Please find our project details :

(1)
What is your pv panels dimension? 2000mm Length x 992mm Width x 35mm Thickness
Weight : 22.5 kg

This array is for one table. There are 1038 tables with 60,204 modules.

(2)
What's the ground clearance. 800 mm

(3)
What's the nearest seaport to your company ? Likupang Port

(4)
How is weather there, such as wind speed and snow load?
wind speed
V500 : 39.9 m/s
V50 : 32.1 m/s
And – KN/m2 snow load.

(5) How about the orientation the solar panels :
Portrait, 5o tilt

(6) What's the foundation ?
Concrete foundation
Length underground : 1000 mm
Length above ground : 400 mm

(7) How about the array for these 48 solar panels ? 6X8 / 4X 12 …
2*29

*Additional info:
Soil type : Clay
Installation way : Clamp + Rail
Special design requirement : Aluminium Double Post Mounting

Regards,
Nadilla Mentari
Project Civil Engineer
Sungrow Indonesia.

After discussion, our engineer recommend use single pole structure (Carbon Steel in material).

Solar panel pole ground racking is an efficient and exquisite design, suitable for medium, small and large ground installation systems. The system uses standard modular high-assemblies, optimizing materials while being flexible and minimizing the footprint of the system.

Feature:
1. Install larger photovoltaic systems and save more costs;
2. The solar system installed on the ground allows you to maximize your thermal potential;
3. You can choose the sunniest place to install solar panels;
4. Use the existing open space for ground support installation to maximize the open space;
5. The rack is the basis of solar panels, and the selected installation type will affect the overall performance of the system;

The solar pole ground racking system can be installed in a sunny area, and you can adjust the tilt angle to maximize power output throughout the season. The steeper angle of inclination can capture more power in winter and can also drop snow off the panel.

SPC is a manufacturer of solar stents and modules. We have been providing services to the solar energy industry, and its streamlined solar mounting design is durable and exceeds the expected lifespan of solar projects. We provide solar installation solutions with industry-leading prices and the fastest installation time. If you have any questions, please feel free to contact us: www.solarpartscomponents

What is a ground mount solar system?

A ground-mounted solar panel is the same as a rooftop solar panel. The only difference is ground-mount solar panels get set up on the ground and use a standard installation or a pole mount installation. Some ground-mount solar panel systems can move with the sun in order to capture the most sunlight they can each day.

A Pillar ground mount solar system is one type of Solar panel Ground Mounting Systems, which is aim to capture the most sunlight each day.

Here is one case of the Solar Panel Ground Mounting Systems from our clinet:

Q:

Hi,

Can we please get a price and availability for a Ground Mounting Systems for Single Pole.

We require the ability to mount 6 panels with each panel being 2274mm x 1134mm.

Kind regards,

A:

Hi  Nicoara,

Thanks for your enquiry.

For the solar pillar ground system is a customized system, we can provide design and quotation according to your project. Do you have specific project information?

For specific design and quote we need below input.
(1) How many panels do you plan to mount? _______Units;
(2) What's the tilt angle? ____degree;
(3) What is your planned solar panel assembly block? ________Nos. in a row
(4) What's the wind speed and snow load?
MAX ___m/s for wind speed and MAX ____KN/m2 for snow load.Please provide as much information as possible so that we can provide you with the design and quotation.

Looking forward to further discussion.

Q:

Solar panel size is 2115*1052*35 and I have 100 of them; I don't know the exact layout yet but lets say a that I want:

– 5 rows with 20 panels on 2 levels in height; wind speed 150km/h and snow load of 50-100-150kg/m2

The system should be inclined at 30 degrees and could you also provide an offer for the same specification for the model

A:

Thanks for your reply

it is estimated that the design and quotation will be available to you tomorrow. By the way, Can you share more your company with us? This helps us get to know you better and provide better service later.

Q:

About to a solar farm. At this moment we are new solar service company as we are still in planning faze, searching for components

A:

Hello Nicoara,

Thanks for your sharing.

I just let our engineers speed up the design for you.

Please find attached quotations and designs for the project.

For SPC-CA-4H-PCW Solar Pillar Ground Mounting

The material ZAM=Zn-Al-Mg coated steel  with aluminum and it has excellent anticorrosive properties.

The design of the solutions all based on 5*20 array, which is the most economical arrangement.

Do you need our help to check the freight? If yes, please tell us your specific address or destination port for checking freight.

Any question, please feel free contact me.

Q:

How would the shipment and payment process happen? Do I pay all upfront and get some written contract or?

A:  

Thank you for your reply,

Please refer to the attachment for payment terms and procedures,

Please contact me if you have any questions.

SPC is a manufacturer of solar stents and modules. We have been providing services to the solar energy industry, and its streamlined solar mounting design is durable and exceeds the expected lifespan of solar projects. We provide solar installation solutions with industry-leading prices and the fastest installation time. If you have any questions, please feel free to contact us: www.solarpartscomponents

Solar pillar ground mounting factory

" Hello, I am interested in your solar pillar ground mounting SPC-CA-4H-PCW.

Plese give me the cost.

TOTAL PANEL 940

30 DEGREES

WIND SPEED 25-35M/S

SNOW ABOYT 300MM

THANKS"

"

Dear Pidiakis

Please refer to our design and BOM for Solar pillar ground mounting project.

If it's no problem,

I will send you price offer soon.

By the way, what's the term you like : EXW , FOB , CNF ?

If you can let me know sea port details, that would be great."

" Thank you for your fast reply, the design looks great, please proceed the offer-CFR"

" Nice to hear that, please refer to our quotation as file attached.

thank you!

Solar pillar ground mounting factory