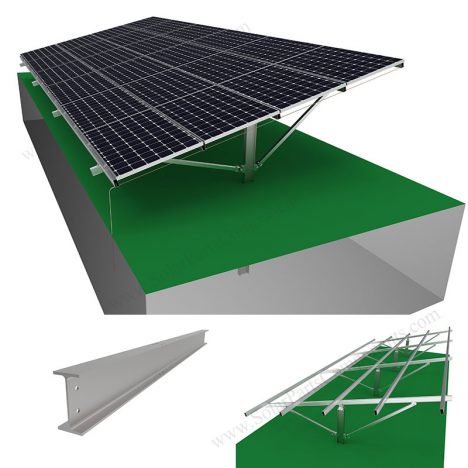 Solar Ground Racks
Product Type: Ground Mounting System

Product Model: SPC-HA-4H-PCW

Material: Aluminium, Steel

Max Wind Load : 60 m/s

Max Snow Load : 1.4 KN / M 2

Solar Module Orientation: Landscape / Horizontal

Application:  Ground Field
Contact by Email
Product Description:
PV panel pole mount eliminates the worry about uneven ground. Adjustability can ensure the strong light of the solar panel. The single-pole design also allows for flexible installation options, faster installation, fewer brackets, and reduced costs.
The installation system is designed to maximize strength and simplify installation. Our pole is module-specific, not universal, which helps reduce the number of parts. This simplifies assembly and minimizes assembly errors. Our mounting columns and components have been lightly tested and meet the standards. Hardened bolts are used to lock the mounting sleeve to the rod.
There are many ways to install solar systems. The pole mounted pv modules system can be easily installed on vertical poles. This mounting system can also be used in commercial and industrial applications, and is ideal for any location where array rotation is required to maximize energy.
The height of the pole-mounted solar system is higher than that of the standard ground support, and multiple solar panels are fixed on a pole, and the pole-mounted solar system will tilt to capture as much sunlight as possible, in order to adapt to the seasonal changes of the sun, some ground-mounted solar panel systems can be adjusted to different angles to achieve maximum solar efficiency.
Feature of ground racking model: SPC-HA-4H-PCW
Pole can support multiple panels firmly;
Best used in open-air ground solar projects;
The installation system does not occupy space and has a beautiful appearance;
Provide the ultimate design flexibility;
Adjustable design can greatly increase energy output;
PV pole mount kit Single pole upper and lower joint can adjust the direction of the panel. The direction in which the panel is installed will provide enough solar energy to maximize the effect of the panel.
SPC specializes in the manufacture and design of solar panel mounting brackets and accessories to meet various installation needs. Whether it is ground installation or roof installation, home or business, we can help you solve it. If you have any needs, please feel free to contact us: www.solarpartscomponents.com.
Brief Descriptions:
PV Solar Pole Mount Kit, SPC-HA-4H-PCW
Item type:
PV Panel Pole Mounting System
Type:
SPC-HA-4H-PCW
Installation Site:
Ground Racking
Profile Material:
Aluminum / Galvanized Steel
Fasten Parts:
Stainless Steel
Color:
Silvery
Wind Load:
60 m / s
Snow Load:
1.4 KN / M2
PV Modules:
Framed, Frameless
Module Orientation:
Landscape / Portrait
Standards:
AS/NZS 1170
DIN 1055
GB50009-2012
IBC2009
TUV
JIS C 8955: 2011
International   Building Code IBC 2009
California   Building Code CBC 2010
Warranty
10 years
Designed Lifespan
25 years
Packing Details:
Inner:
Bubble bag+inner box+Carton
Outer:
Wooden Box, Steel Pallet, MDF, etc
Installation instruction for pv panel pole mount, SPC-HA-4H-PCW
Product Description:

PV panel pole mount eliminates the worry about uneven ground. Adjustability can ensure the strong light of the solar panel. The single-pole design also allows for flexible installation options, faster installation, fewer brackets, and reduced costs.

The installation system is designed to maximize strength and simplify installation. Our pole is module-specific, not universal, which helps reduce the number of parts. This simplifies assembly and minimizes assembly errors. Our mounting columns and components have been lightly tested and meet the standards. Hardened bolts are used to lock the mounting sleeve to the rod.

There are many ways to install solar systems. The pole mounted pv modules system can be easily installed on vertical poles. This mounting system can also be used in commercial and industrial applications, and is ideal for any location where array rotation is required to maximize energy.

The height of the pole-mounted solar system is higher than that of the standard ground support, and multiple solar panels are fixed on a pole, and the pole-mounted solar system will tilt to capture as much sunlight as possible, in order to adapt to the seasonal changes of the sun, some ground-mounted solar panel systems can be adjusted to different angles to achieve maximum solar efficiency.

Feature of ground racking model: SPC-HA-4H-PCW

Pole can support multiple panels firmly;
Best used in open-air ground solar projects;
The installation system does not occupy space and has a beautiful appearance;
Provide the ultimate design flexibility;
Adjustable design can greatly increase energy output;

PV pole mount kit Single pole upper and lower joint can adjust the direction of the panel. The direction in which the panel is installed will provide enough solar energy to maximize the effect of the panel.

SPC specializes in the manufacture and design of solar panel mounting brackets and accessories to meet various installation needs. Whether it is ground installation or roof installation, home or business, we can help you solve it. If you have any needs, please feel free to contact us: www.solarpartscomponents.com.

Brief Descriptions:
PV Solar Pole Mount Kit, SPC-HA-4H-PCW
Item type:
PV Panel Pole Mounting System
Type:
SPC-HA-4H-PCW
Installation Site:
Ground Racking
Profile Material:
Aluminum / Galvanized Steel
Fasten Parts:
Stainless Steel
Color:
Silvery
Wind Load:
60 m / s
Snow Load:
1.4 KN / M2
PV Modules:
Framed, Frameless
Module Orientation:
Landscape / Portrait
Standards:
AS/NZS 1170
DIN 1055
GB50009-2012
IBC2009
TUV
JIS C 8955: 2011
International   Building Code IBC 2009
California   Building Code CBC 2010
Warranty
10 years
Designed Lifespan
25 years
Packing Details:
Inner:
Bubble bag+inner box+Carton
Outer:
Wooden Box, Steel Pallet, MDF, etc

Installation instruction for pv panel pole mount, SPC-HA-4H-PCW