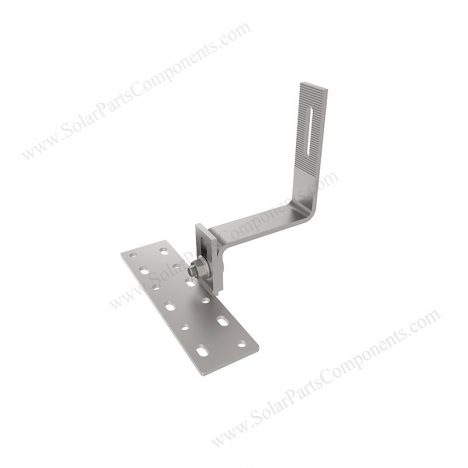 Curved Tile Roof Hooks, Adjustable, Side Mounting
Product Type: Solar Curved Tile Roof Hooks

Product Model:SPC-IK-03

Material: Aluminium, Steel

Max Wind Load : 60 m/s

Max Snow Load : 1.4 KN / M 2

Application: Pitched Tile Roof Installation
Contact by Email
Product Description :
This adjustable solar curved roof hook is designed for Roman, Spanish and clay tiles.
The adjustable curved tile hooks are suitable for both residential or commercial roof tops. It's for side mount rails with 90° whatever for portrait or landscape solar panels installation.
We use good quality stainless steel for our PV mounting hooks . Matched with our mid-clamps and extruded aluminium rail.
You can install pitched roof hooks very samply and fast.
The upper steel hook can be up and down for around 40 mm adjustment according to thickness of curved tiles.
Advantages :
Quick and easy installing with pre-assembly packing;
With adjusted innovation, this solar roof hook works on curved tile heights ranging from 65 mm to 95 mm ;
10 Years 's Quality guarantee ;
Anodized treatment for 6005-T5 aluminium kits and Stainless steel (SUS304), anticorrosive ;
This adjustable clay tile roof hooks are with good struture safety and lood-carrying capacity reliability.
The pitched roof hook with good adjustability can be installed most Roman & Spanish tiles , good flexible and compatible.
Parts and Components for Solar Curved Tile Roof Hooks, Adjustable, Side Mounting :
(1) 1 SET of  Stainless SUS304 hook and base ;
(2) 1 SET of Carriage bolt and hex flange nut ;
(3) 3 PIECES of Hex Washer Head Stainless Steel Solar Mounting Screws .
Racking products for solar panel installation vary from components to the whole mounting system. Buy from our SPC is the best choice. We can meet your needs.
Contact us by our website: www.SolarPartsComponents.com
Brief Descriptions :
Solar Mounting Components – Curved Tile Roof Hooks, Adjustable, Side Mounting,SPC-IK-03
Item type:
Solar Curved Tile Roof Hooks
Type :
Roofing Hooks
Installation Site :
Pitched Roof
Profile Material :
US 304 Stainless Steel
Fasten Parts :
Stainless Steel / Aluminum T Sliding Nut
Color :
Silvery or according to customer requirements
Wind Load :
60 m / s
Snow Load :
1.4 KN / M2
PV Modules :
Framed, Frameless
Module Orientation :
Portait and Landscape
Standards :
AS/NZS 1170
DIN 1055
GB50009-2012
IBC2009
TUV
JIS C 8955 : 2011
International   Building Code IBC 2009
California   Building Code CBC 2010
Warranty
10 years
Designed Life Span
25 years
Packing Details :
Inner :
Bubble bag+inner box+Carton
Outer :
Wooden Box, Steel Pallet, MDF, etc
Installation Manual for Solar Roof Hooks SPC-IK-03
Solar Tile Roof Hooks Height Adjustable Side Mounted
How can I purchase 500 units of tile roof hooks, model:SPC-IK-03
"
Hi
Good morning, I would like to know the prices of tile roof hooks of your production.
Can you send us the product data sheet for this Tile Roof Hooks, Adjustable, Side Mounting, SPC-IK-03?
If you have other roof hooks to supply, I like to get more info of them?
I would like to get  a quote about: 500 pcs. of SPC-IK-03.
Can you also quote me the transport of the pieces up to Italy?
Would it be possible to have a sample of the roof hooks mentioned above?
I can pay sample and express cost for it.
As we received your solar hooks, we will make evaluations and comparisons.
We await your news & Thanks for collaboration.
Sincerely.
Roberto ing. Scaglia
Sede operativa:
Via Cottolengo, 81 – 10079 Mappano (TO) – Italy
"
"
Hi Roberto
Nice to receive your enquiry about our solar hook series .
Yes, as a professional solar hooks factory.
please refer to our prices offer for model:SPC-IK-03, solar tile roof hooks .
No problem I send two samples free for you, I will arrange freight collected.
The standard roof tile bracket is like photo in the web:
We have "C" clip components for option (I put one free inside the carton box ) .
The function is holding hook arms firmly during adjusting height of bracket .
If you feel it's necessary to adding this C clip, just let me know .
we also can offer stamp with letters on our tile roof hooks,
like the abbriviation of one of our clients' company name , – " P J "
Thank you & let me know if you are interested in this service !
Solar Racking Parts and Components Factory.
"
Drawings / Sizes / Dimension for this solar roof hooks -SPC-IK-1A(03)
Drawings / Sizes / Dimension for this solar roof hooks -SPC-IK-1A(03)
Height Adjustable, side mounted
More details, Kindly click below >>>
Do you need adjustable hooks for solar tile roof with guaranteed quality service?
Adjustable V.S. Fixed Solar Clay Tile Roof Hooks
Can solar panels be installed on tile roof which is 75 mm of height ?
"
Hello,.
Would need mounting bracket parts for solar panel instalation.
For solar tile hooksModel:SPC-IK-03, can you provide technical drawing please?
Need at least 75 mm of height from the base to the tile.
Were can I order them & deliver to Portugal?
If you have got any dealer in europe that i could buy from, that would be great.
Thanks in advance
Pedro
"
"
Dear Pedro
Appreciated for your inquiry about our solar tile hooks Model:SPC-IK-03.
Yes it can be meet your requirement of 75mm height from base to tile.
You can buy from our factor and ship to Portugal directly.
Thank you !
Best regards,
Solar Parts & Components Sales Team
"
Fixed Clip for this Adjustable Solar Curved Tile Roof Hooks
We have fixed clip / clamp / hoop , stainless steel made for this Adjustable Solar Curved Tile Roof Hooks
How to installation tile roof hook #03?
Tile roof hook #03 installation
Drawing for this Adjustable Solar Curved Tile Roof Hooks
solar Roman tile roof hooks side mounted drawing, size, profile
Solar Tile Roof Hooks height adjustable side mounted
Solar Tile Roof Hooks height adjustable side mounted
Solar Tile Roof Hooks height adjustable SPC-IK-03, one of the most hot sale model in our factory.This model of tile roof hook is designed for height adjustable.Both long hole of the bottom and upper end, allow the adjustable height arrange from 65mm to 95mm,thanks to this height adjustable solution,make it easy to keep each solar panel to be mounted on the same level enven the roof areas are not level,highly save installation time.
Solar Tile Roof Hooks professional manufacturer
Most popular models for Curved / Spanish / Roman / Clay tile roofing
Solar Panel Curved Tile Roof Hook Series
Can you intall a solar mount on a pitch roof with customized hooks?
Customized clay tile roof hooks from www.SolarPartsComponents.com
Quotation for solar roof mounting system
Hello,
This is Maria from a Furniture Store located in New York. We are now planning to expand our product line to the solar mounting system since we are going to cooperate with a local solar system installer.
We're interested in your roof mounting system, we want to know your company more. And may we know the details and price of your products? Like how much per watt, or do you have MOQ, can you send us your quotation if you don't mind.
Waiting for your reply.
Yours,
Maria
————————
Maria Green丨Sourcing Manager
St #6D,New York, NY 10012
Hi Ms. Maria
Appreciated for inquiry about our roof mounting kits.
I would like to recommend you contact one of our USA clients,
I believe he may help you engaging in solar mounting system business well.
The contact information is sent by email.
Thank you !
Best regards,
PV Roof Mounts Factory