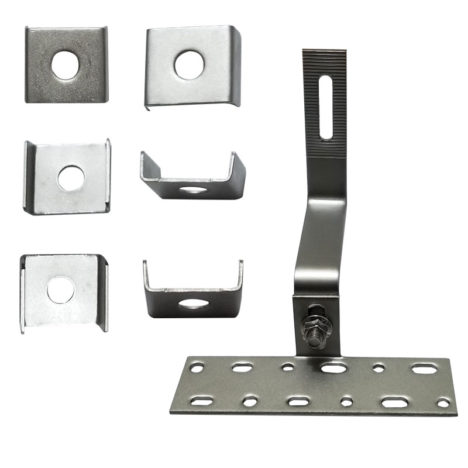 Fixed Clip for Solar Roof Tile Hooks
Product Type: solar roofing mount fixed clamps

Product Model: C-Clip-Clamp-Hoop-for-Adjustable-Solar-Roof-Hooks

Material: A2 Steel

Max Wind Load : 60 m/s

Max Snow Load : 1.4 KN / M 2

Application:  Roofing Solar Panels Installation
Contact by Email
Product Description :
This C shape clip is made of SUS 304 stainless steel .
The function is fixed hook arm with hook plate during adjusting height of solar hooks .
For adjustable solar tile roof hooks, whatever side adjustable or bottom adjustable .
The hook arm is easy rotating if bolts are not fasten well .
This will cause aluminum rails would not be horizontally installed and solar panels will not installed well .
Our "C" clip / clamp / hook can prevent hook arms from tilting left or right , keep every solar hooks vertically .
We use A2 class stainless steel material for these C clips as well as our other SUS 304 stainless PV module hooks .
The C clamp are compatible for any kind of height adjustable solar tile hooks : curved / flat / asphalt roofing tile hook models .
Customized width are available if necessary, we can fabricate and sell this component separately .
Installation Guide :
(1) Settle PV module hook plate firmly to rafter ;
(2) Attache adjustable hook arm to the back of plate pole ;
(3) Put through bolts from hook arm to plate pole ;
(4) Cover C clip / clamp / hoop ;
(5) Fasten hex nuts , adjust the proper height of solar hooks , Done !
Welcome to use our C model fixed clip for prevent hook arm and plate base from revolving during adjusting height of solar hooks .
How to using this fixed C Clip / Clamp / Hoop for Adjustable Solar Roof Hooks ?