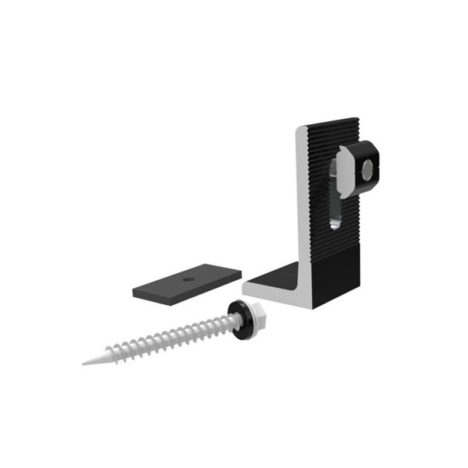 Solar Metal Roof L foot Clamps for Corrugated Tin Zinc Roofing
Product Type: solar corrugated metal roof mounting clamps

Product Model: Solar-Corrugated-Tin-Zinc-Metal-Roof-L-Foot-Clamp

Material: Aluminum

Max Wind Load : 60 m/s

Max Snow Load : 1.4 KN / M 2

Application: Zinc Tin Metal Roofing Solar Panels Installation
Contact by Email
Product Description :
Our solar L foot clamps can work well for both new or retrofit corrugated metal roofings.
Solar L bracket is made of permium aluminum and is affordable in prices comparing stainless roof clamps.
By using rubber gasket under L foot base, it can prevent rain drops well .
You can dip a little mastic on screw, it can also help as sealant when installing .
Our mill finishing zinc metal roofing L foot can be installed in cold, hot weather as good performance in high – tensile strength, AL 6005 – T5 standard alum material .
This solar L bracket is developed for both residential and commercial corrugated metal rooftop mounts .
These L feet clamps can support solar panels freely installed on even or sloping roofing.
This L-Foot kits for alum railing footing includes : L-foot, rubber insulator, screw, bult and nut .
Advantages :
(1) Fast Installing : Fast and easy installing with our cross-module, rail and L foot clamp ;
(2) Versatile Application: Our Solar " L" bracket can be used for most tin metal roofings ;
(3) Warranty : Our professional QC can offer reliable solar kits always ;
(4) 25 Years long life designed .
Parts and Components for L foot Metal Roof clamps for Solar Panels :
a) one piece of L-Feet solar clamp ;
b) one piece of rubber gasket ;
c) one piece of stainless steel screw .
Brief Descriptions :
Solar Metal Roof L Foot Clamps for Corrugated Tin Zinc Roofing
Item type:
Solar Corrugated Metal Roof Brackets
Type :
Solar Roofing Mounting Clamps
Installation Site :
Corrugated Metal Roofing
Profile Material :
Aluminium 6005- T5
Fasten Parts :
Stainless Steel
Color :
Silvery or according to customer requirements
Wind Load :
60 m / s
Snow Load :
1.4 KN / M2
PV Modules :
Framed, Frameless
Module Orientation :
Portait and Landscape
Standards :
AS/NZS 1170
DIN 1055
GB50009-2012
IBC2009
TUV
JIS C 8955 : 2011
International   Building Code IBC 2009
California   Building Code CBC 2010
Warranty
10 years
Designed Life Span
25 years
Packing Details :
Inner :
Bubble bag+inner box+Carton
Outer :
Wooden Box, Steel Pallet, MDF, etc
L foot clamp, L feet mounting bracket system
Solar Parts & Components Factory offer small mounting kits for standard PV modules .
Following is :
Four Solar Panel Modules Kit for Solar Installation Mounting with good Quality, competitive Price and Quick
delivery .
– 2 pcs x 4200mm Aluminium Mounting Rails.
– 2 pcs x Rail Joiners to ensure the mounting rails form 1 continuous structure.
– 12 units x Tin roof interface brackets with EPDM Rubber to avoid cross metal contamination between the bracket & roof.
– 12 sets x Generic roofing screws.
– 2 units x Earthing Lug to earth the PV array & racking system.
– 7 pcs x Earthing plates to earth the PV panels to the racking system, reduce the risk of fire & lightning strike of their customers PV arrays.
– 4 pcs x Generic Cable Clips
– 10 units x Mid Clamps (Inner clamps) 32-50mm adjustable to suit nearly all solar panel frame sizes.
– 4 units x End Spacers which conveniently turn mid clamps into end clamps for the end of any solar array. 32-50mm adjustable.
Welcome to purchase standard mounting kits from www.SolarPartsComponents.com
(1)AS/NZS 1170 wind standards.
(Wind loading 80m/s up ) ;
(2)10 years warranty;
1 x 4 Module Tin Metal Roof Mounting Package with L feet brackets .
What's the function of L foot bracket ?
L-Foot bracket is essential components to support enough strength between metal roofing and solar panel (PV Modules)
– Quick install by timber screws and T sliding block for aluminum rail system / racing system ;
– EDPM pads are supplied for sealing / waterproofing after drilling to metal sheet ;
– Widely used for Tin roof / asphalt shingle roofing …
– 6005-T5 aluminum extrusion made ;
– 10 years warranty ;
– Matched FLASHING can be offered as accessories ;
Metal Roof Solar Clamps L Foot Bracket belongs Support components for solar panels ;
The Adjustable height to fit multiple PV modules, We also accpet Customized size are available ;
Welcome to buy more roof clamps from Solar Parts & Components Factory !
L foot Metal roof solar mounting, L foot Kenya project
L foot clamp application for iron roof mounting system
Solar railing mounting system metal roof project details
L foot clamp application for metal roof mounting system
Solar Panel L Foot Bracket Kit for roof mounting system
PV Module L Feet Mounting Bracket Kits
L feet bracket is essential mount component for solar panel roof installing structure .
Our serrated L-foot bracket have several height for choice 85mm , 125mm , 165mm … Also can be customized .
Features of our L foot bracket kit :
– Made of extruded aluminum;
– Strong for home & business solar PV module installation;
– Work as joint between roofs and aluminum rails ;
– Corrosion resistance, durability, versatile uses ;
– 10 years warranty for our L feet bracket kits ;
– pre-assembled & quick installing ;
The whole L feet mounting kit Includes:
(1) One piece of "L" bracket;
(2) One piece of EPMD Rubber pad ;
(3) One piece of M8 X 80 mm carbon steel timber screws with washer;
(4) One unit of hexagon bolt M8 X 30mm ;
(5) One unit of aluminum T sliding nut .
Some customized components like hexagon nut , hanger bolts … can be chosen base on solar power projects .
Factory direct PV module mounting L feet bracket kits, Quick & fast installation components .
Drawing for this Solar Metal Roof L foot Clamp & Bracket
Size , profile details for L foot clamp SPC-L-Foot-001 :