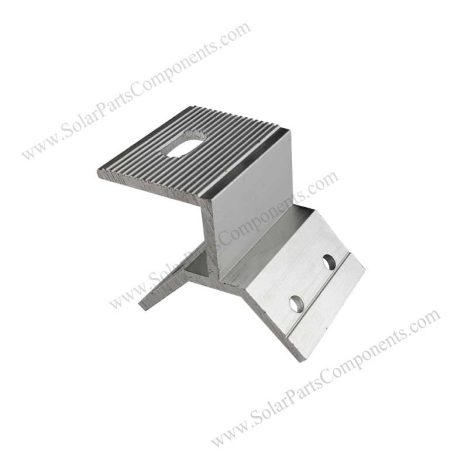 PV panel metal roof clamps
Product Type: Metal Mounting Component

Product Model: SPC-CK-06

Material: Aluminium

Max Wind Load : 60 m/s

Max Snow Load : 1.4 KN / M 2

Solar Module Orientation: Landscape / Horizontal

Application:  Metal Roofing
Contact by Email
Product Description:
The solar panel metal roof clamps is applied to trapezoidal metal roof commercial and industrial solar project. It can be pre-assembled and directly fixed on the roof to save costs. Easy installation and wide application make it a popular product with high efficiency.
PV panel metal roof clamps are designed for non-adjustable, can be used for certain trapezoidal metal roofs. it provides stable and strong connection between the roof support and PV modules.
Our solar modules metal roof clamps are made of high quality aluminum materials,high corrosion resistance, equipped with 4 bolts and EPDM washers, suitable for almost all common trapezoidal metal roof profiles. They are mounted to the crown of the roof profile and provides stable structure by connecting various mounting and rail systems.
On trapezoidal metal roofs and roof panels, installing photovoltaic systems can not only securely fix the system, but also ensure the best protection of the roof membrane, flexible configuration options and the highest
cost-effectiveness. Aluminum trapezoidal metal roof clamps are specially designed for trapezoidal roofs. The system can be quickly glued directly to the roof by using the special self-tapping screws.
Feature of solar panel metal roof clamps:
Simple and stable installation;
The pre-drilled holes on the profile can be quickly and easily installed;
3. Suitable for most trapezoidal metal roof;
4. High corrosion resistance, long life service;
5. Reduce costs and reduce installation time;
The trapezoid metal roof clamps fixed make installation on the trapezoidal metal roof easier. The clamp is connected to the trapezoidal roof. It provides a firm fixation to ensure maximum stability with minimal weight and can be quickly connected to all rail components.
We are professional solar metal roof clamps manufacturer, devoted to metal roof solar mounting system for more than 10 years. We will be happy to create structural design, structural analysis, installation plans for your solar roof mounting project. If you have any needs, please feel free to contact us: www.SolarPartsComponents.com
Brief Descriptions:
Solar Roof Mounting Bracket- Solar panel metal roof clamps
Item type:
Solar Metal Rooftop Mounting Bracket
Type:
SPC-CK-06
Installation Site:
Trapezoidal Roofing Top
Profile Material:
Aluminum
Fasten Parts:
SUS304 Screws
Wind Load:
60 m / s
Snow Load:
1.4 KN / M2
PV Modules:
Framed, Frameless
Module Orientation:
Portrait and Landscape
Standards:
AS/NZS 1170
DIN 1055
GB50009-2012
IBC2009
TUV
JIS C 8955: 2011
International   Building Code IBC 2009
California   Building Code CBC 2010
Warranty
10 years
Designed Lifespan
25 years
Packing Details:
Inner:
Bubble bag+inner box+Carton
Outer:
Wooden Box, Steel Pallet, MDF, etc
Product Description:

The solar panel metal roof clamps is applied to trapezoidal metal roof commercial and industrial solar project. It can be pre-assembled and directly fixed on the roof to save costs. Easy installation and wide application make it a popular product with high efficiency.

PV panel metal roof clamps are designed for non-adjustable, can be used for certain trapezoidal metal roofs. it provides stable and strong connection between the roof support and PV modules.

Our solar modules metal roof clamps are made of high quality aluminum materials,high corrosion resistance, equipped with 4 bolts and EPDM washers, suitable for almost all common trapezoidal metal roof profiles. They are mounted to the crown of the roof profile and provides stable structure by connecting various mounting and rail systems.

On trapezoidal metal roofs and roof panels, installing photovoltaic systems can not only securely fix the system, but also ensure the best protection of the roof membrane, flexible configuration options and the highest

cost-effectiveness. Aluminum trapezoidal metal roof clamps are specially designed for trapezoidal roofs. The system can be quickly glued directly to the roof by using the special self-tapping screws.

Feature of solar panel metal roof clamps:

Simple and stable installation;
The pre-drilled holes on the profile can be quickly and easily installed;
3. Suitable for most trapezoidal metal roof;
4. High corrosion resistance, long life service;
5. Reduce costs and reduce installation time;

The trapezoid metal roof clamps fixed make installation on the trapezoidal metal roof easier. The clamp is connected to the trapezoidal roof. It provides a firm fixation to ensure maximum stability with minimal weight and can be quickly connected to all rail components.

We are professional solar metal roof clamps manufacturer, devoted to metal roof solar mounting system for more than 10 years. We will be happy to create structural design, structural analysis, installation plans for your solar roof mounting project. If you have any needs, please feel free to contact us: www.SolarPartsComponents.com

Brief Descriptions:
Solar Roof Mounting Bracket- Solar panel metal roof clamps
Item type:
Solar Metal Rooftop Mounting Bracket
Type:
SPC-CK-06
Installation Site:
Trapezoidal Roofing Top
Profile Material:
Aluminum
Fasten Parts:
SUS304 Screws
Wind Load:
60 m / s
Snow Load:
1.4 KN / M2
PV Modules:
Framed, Frameless
Module Orientation:
Portrait and Landscape
Standards:
AS/NZS 1170
DIN 1055
GB50009-2012
IBC2009
TUV
JIS C 8955: 2011
International   Building Code IBC 2009
California   Building Code CBC 2010
Warranty
10 years
Designed Lifespan
25 years
Packing Details:
Inner:
Bubble bag+inner box+Carton
Outer:
Wooden Box, Steel Pallet, MDF, etc