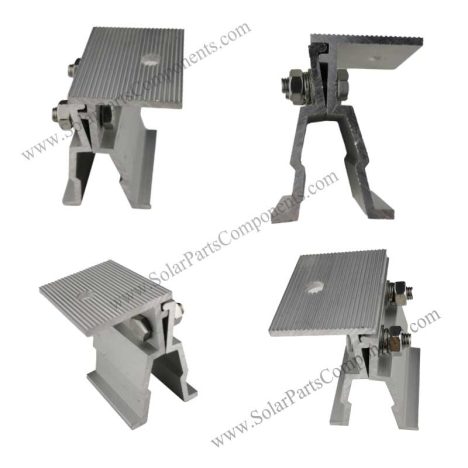 Product Type:Solar Metal Roof mounting Clamp

Product Model: SPC-CK-29

Material: Aluminum alloy

Max Wind Load : 60 m/s

Max Snow Load : 1.4 KN / M 2

Solar Module Orientation: Landscape / Horizontal

Application: Solar Metal Roof Mounting
Contact by Email
Product Description:
Solar roof brackets for rib roof is a zero penetration solution for rib roof solar mounting. The bracket is fixed on the rib roofing sheet without any drilling,eliminate leakage and damage.
Furthermore, this bracket is an easy ,fast and efficiency installation.It suitable for most of the rib roof profiled sheet seam metal roofing,easy and flexible assembly,save on site installation time.
The solar roof clamps for rib roofing sheet is made of high quality aluminum anodized, light weight and strong loading capacity.Also,save shipping cost.
Our solar roof clamps for rib roof panel is a turn-key solution for all solar installer,the clamp was place on the rib roof sheet and fasten the mounting nut, simple installation. Factory direct, competitive pricing, good quality,professional service team. If need more detail about this bracket, welcome contact us.
Features of this solar roof brackets for rib roof:
Light weight material but high strength;
Corrosion resistance and durable;
Efficiently and save cost;
Install without pierce of roof surface;
Firmly secured with highly waterproof.
SPC, professional solar metal roof mounting components OEM&ODM manufacture factory, we focus on designing roof attachment for solar roof mounting, we carry various types of brackets for mounting solar panels to a variety of trapezoidal rib metal roofs.Moreover our experienced work team support all detail the roof mounting system,structure analysis, drawings…. and also will offer full service for your solar roof installation.
For more details, do not feel hesitate to contact us , our company website: www.solarpartscomponents.com.
Brief Descriptions:
Solar Roof Mounting Bracket –solar roof brackets for rib roof
Item type:
Solar Metal Roof mounting Clamp
Type:
SPC-CK-29
Installation Site:
Metal Roofing 0-60 degrees
Profile Material:
Aluminum
Fasten Parts
Stainless Steel / Aluminum T Sliding Nut
Color:
Anodized Silvery
PV Modules:
Frameless or Framed
Wind Load:
60m/s
Snow Load:
1.4KN/M2
Modules Orientation:
Landscape/Portrait
Standards:
AS/NZS 1170
DIN 1055
GB50009-2012
IBC2009
TUV
JIS C 8955: 2011
International   Building Code IBC 2009
California   Building Code CBC 2010
Warranty
10 years
Designed Lifespan
25 years
Packing Details:
Inner:
Bubble bag + inner box + Carton
Outer:
Wooden Box, Steel Pallet, MDF, etc
Product Description:

Solar roof brackets for rib roof is a zero penetration solution for rib roof solar mounting. The bracket is fixed on the rib roofing sheet without any drilling,eliminate leakage and damage.

Furthermore, this bracket is an easy ,fast and efficiency installation.It suitable for most of the rib roof profiled sheet seam metal roofing,easy and flexible assembly,save on site installation time.

The solar roof clamps for rib roofing sheet is made of high quality aluminum anodized, light weight and strong loading capacity.Also,save shipping cost.

Our solar roof clamps for rib roof panel is a turn-key solution for all solar installer,the clamp was place on the rib roof sheet and fasten the mounting nut, simple installation. Factory direct, competitive pricing, good quality,professional service team. If need more detail about this bracket, welcome contact us.

Features of this solar roof brackets for rib roof:

 

Light weight material but high strength;

Corrosion resistance and durable;

Efficiently and save cost;

Install without pierce of roof surface;

Firmly secured with highly waterproof.

SPC, professional solar metal roof mounting components OEM&ODM manufacture factory, we focus on designing roof attachment for solar roof mounting, we carry various types of brackets for mounting solar panels to a variety of trapezoidal rib metal roofs.Moreover our experienced work team support all detail the roof mounting system,structure analysis, drawings…. and also will offer full service for your solar roof installation.

For more details, do not feel hesitate to contact us , our company website: www.solarpartscomponents.com.

Brief Descriptions:
Solar Roof Mounting Bracket –solar roof brackets for rib roof
Item type:
Solar Metal Roof mounting Clamp
Type:
SPC-CK-29
Installation Site:
Metal Roofing 0-60 degrees
Profile Material:
Aluminum
Fasten Parts
Stainless Steel / Aluminum T Sliding Nut
Color:
Anodized Silvery
PV Modules:
Frameless or Framed
Wind Load:
60m/s
Snow Load:
1.4KN/M2
Modules Orientation:
Landscape/Portrait
Standards:
AS/NZS 1170
DIN 1055
GB50009-2012
IBC2009
TUV
JIS C 8955: 2011
International   Building Code IBC 2009
California   Building Code CBC 2010
Warranty
10 years
Designed Lifespan
25 years
Packing Details:
Inner:
Bubble bag + inner box + Carton
Outer:
Wooden Box, Steel Pallet, MDF, etc