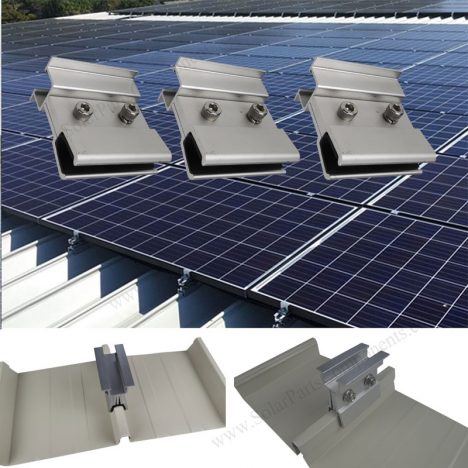 Solar Metal Roof Brackets, Railless
Product Type: solar roof clamps

Product Model: SPC-CK-12

Material: Aluminium, Stainless Steel

Max Wind Load : 60 m/s

Max Snow Load : 1.4 KN / M 2

Application: Pitched Metal Roof Installation
Contact by Email
Product Description:
Our solar panel installation kit uses roof clamps to fix the panels to the seams of the metal roof panels. Each of our kits utilize our non-penetrating roof clamps to help protect the roof panel from installation damage by eliminating the rotational force exerted on the panel by typical fixing screws. Our solar metal roof clamp without rail is a rail-less mounting clamp. It is a low-cost, high-quality and safe metal roof installation accessory. The whole installation process does not need to use other accessories or drill holes and other things that damage the roof.
The rail-less system helps to quickly install frame-type photovoltaic modules on the iron roof. Only one component is required to install the module directly on the roof. Easy-to-install clamps can be fixed to almost all tin roofs. The trackless installation system makes logistics, cost-effective warehousing and installation easy.
The solar mounting clamp for tin roof is compatible with vertical joint metal roofs that do not require guide rails. With our special vertical joint clamp, we can eliminate the need for rails. The clamp is directly installed on the metal seam without other special parts.
Feature of this solar mounting clamp for tin roof, SPC-CK-12:
1. Rail-less solar installation kit for metal roof;
2. Suitable for common straight joint metal roof;
3. No guide rail installation, saving cost;
4. Improve installation speed and reduce installation time;
5. Rail-less mounting system for tin roof;
Solar metal roof clamp SPC-CK-12 is a cost-optimized PV installation system, suitable for residential and commercial metal roof installation. The system is designed to allow the PV module rail-less metal clamp to be connected to the standing seam metal roof without penetrating the metal or collapsing the ridges in the metal roofing material. The design is simple and low-cost, but very effective. Simple design, powerful and efficient system, and realized with the lowest total installation cost.
Nowadays, it has become easier to install solar panels on iron roofs. We will design the required accessories for different roof types, and put them into use when tested and meet the standards. With the standing seam metal roof clamp, you can install them on the roof. Install solar panels without worrying about possible damage to the roof or voiding the roof warranty. This clamp provides an innovative non-penetrating
Brief Descriptions:
Solar Roof Mounting Clamps – Railless bracket SPC-CK-12
Item type:
Solar Rooftop Mounting clamp
Type:
SPC-CK-12
Installation Site:
Metal Roofing 0 °~ 45°
Profile Material:
Aluminum Alloy
Fasten Parts:
Stainless Steel / Aluminum T Sliding Nut
Color:
Anodized Silvery
Wind Load:
60 m / s
Snow Load:
1.4 KN / M2
PV Modules:
Framed, Frameless
Module Orientation:
Portrait and Landscape
Standards:
AS/NZS 1170
DIN 1055
GB50009-2012
IBC2009
TUV
JIS C 8955: 2011
International   Building Code IBC 2009
California   Building Code CBC 2010
Warranty
10 years
Designed Lifespan
25 years
Packing Details:
Inner:
Bubble bag+inner box+Carton
Outer:
Wooden Box, Steel Pallet, MDF, etc
Metal Tin Roof Clamps for solar rooftop racking railless
"Hi l am trying to get some information on your Metal Tin Roof Clamps for solar rooftop racking railless to suit a Kliplok roof in Fiji. am trying to work out a quantity of clips required to so that they are cyclone rated. We have roughly 1400 panels on 5 diferent roofs, We ware looking to go rail less for the installation"
"
Hi Ben
Appreciated for your inquiry about our kliplok roof clamps.
Before price offer,I would like more details of this roof project.
1.What's the arrangement? _____Row X ____column?
2.The wind speed and snow load in the installation area is_________?
3.The total number of solar panels? Section Size drawings would be great.
4.What is your pv panels dimension?___mm Length x___mm Width x__mm Thickness
5.How about the oriention the solar panels :
6.What's the roof profile ? Kliplok Roof type, profile which can get from roof supplier (factory)
More details of your project would be favorable for our engineers."
"
Please find attached the following information as requested:
1.The arrangement for the solar panels will vary per building and attached .pdf provides an indicative layout for one of the buildings.
2.The wind speed in the installation area falls under Region C.
3.The total number of solar panels are 1024.
4.The panel dimensions are 1755mm x 1038mm x 35mm.
5.The orientation for the solar panels will be Landscape.
6. Roof Profile is Lysaght Kliplok 406 w/ cyclonic fixings."
"Please refer to our design and BOM for your Metal Tin Roof Clamps for solar rooftop racking railless mounting system."
' Great, thank you very much, we would like to place this order from you.
Let us discuss the further details by whatsapp'
What is the feature of the Metal Tin Roof Clamps for solar rooftop racking, SPC-CK-12?
Features of this Metal Tin Roof Clamps for solar rooftop racking:
1.Low cost;
2.Sufficient inventory;
3. Replaceable track;
4.AL-6005-T5 material.
Aluminium metal roof clamp
Can your Metal Tin rooftop clamp can meet Australia standard?
Q:
Hi,
We are currently looking at a project which involves framing systems for a roof mount PV system on a standing seam roof. Would you be able to provide the contact details for whom I can get quotes for supply of clamps.
They are used for Metal Tin rooftop, I think model:SPC-CK-12 may work for us.
Just checking out whether you guys have supplied for projects in Australia.
We are looking for a project which requires calculations based on AS/NZS 1170-2.
Are you guys capable for designing system based on the wind loads according to the standards.
Regards,
Amin
A:
Dear Amin
Nice to receive your enquiry about our standing seam roof clamps.
Yes ,
If you can send me more details of your mounting project ,
I will let our engineer team design base on AS/NZS 1170-2 standard for you .
I would like you share more details of your metal roof profile / brand,
our engineer will simulate and make sure this Metal Tin roof standing seam clamp may work for this solar case.
how much quantity you will use for this framed PV module project ?
I can come back to you with freight cost if required.
Following is this standing seam metal roof clamp size detail for your reference: