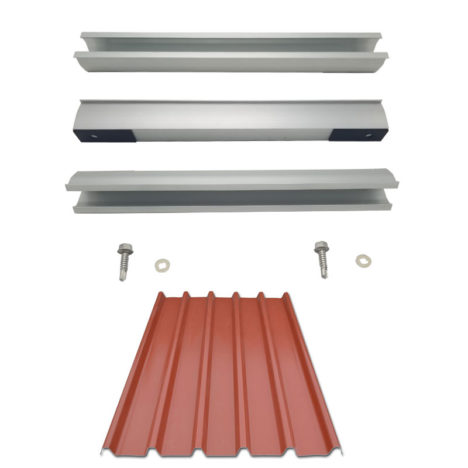 PV Mounting Clamps for Trapezoid Metal Roofs
Product Type: trapezoid metal roof clamps

Product Model:SPC-CK-01

Material: Aluminum

Max Wind Load : 60 m/s

Max Snow Load : 1.4 KN / M 2

Application: Trapezoidal Metal Roofing Solar Panels Installation
Contact by Email
This U shape aluminum extrusion clamp (SPC-CK-01) is designed for solar mounting installation for Trapezoidal type tin / metal roofing .
Our trapezoid metal roof panel clamp kits can save great cost for your solar roofing installation project, since they don't need whole
long aluminum rail columns, L foot bracket any longer . PV modules can directly fix on our U rail pieces .
The installing method: U rail clamp can be lay crossing over two / three ribs of metal roofs or U rail clamp can lay paralleled on each
trapezoid roofing rib (We call horizontal or vertical installation).
Specification & features of trapezoid metal roof attachment SPC-Metal-Roof-U-Clamp:
– Cost effective ;
– Waterproof for outdoor roofing application ;
– 6005-T5 aluminum made, anti-corrosion;
– Suitable for trapezoid / corrugated roofing type ;
– Fast installation ;
– Easy / fast to anchor brackets on flat / sloping roof frame ;
–
Our trapezoid Metal roofing bracket kit includes :
1) one piece of aluminum rail clamp (250 mm in length) ;
2) two pieces of EPDM pads ( Pre-adhered on the back of clamp) ;
3) two sets of screws, rubber washer;
Additional components :
1) mid clamps ;
2) end clamps ;
3) grounding lugs;
4) cable clips;
5) grounding clips ;
Tailor-made solar panel mounting solutions can be offered by our project engineer whatever for trapezoidal and corrugated sheet
metal roofs .
More solar roof mounting solutions are available for our factory, 10 years up experience solar components supplier, good quality, competitive price. Welcome to purchase from us, more detail please feel free to visit our website: www.SolarPartsComponents.com.
Brief Descriptions :
Solar Mounting Components – trapezoid metal roof panel bracket SPC-IK-S04
Item type:
SPC-Metal-Roof-U-Clamp
Type :
Mounting Constructure Parts
Installation Site :
Trapezoidal Metal / Tin Roofing
Profile Material :
Aluminum Extrusion
Fasten Parts :
Stainless Steel Bolts / Nuts
Color :
Silvery or according to customer requirements
Wind Load :
60 m / s
Snow Load :
1.4 KN / M2
PV Modules :
Framed, Frameless
Module Orientation :
Portrait and Landscape
Standards :
AS/NZS 1170
DIN 1055
GB50009-2012
IBC2009
TUV
JIS C 8955 : 2011
International   Building Code IBC 2009
California   Building Code CBC 2010
Warranty
10 years
Designed Life Span
25 years
Packing Details :
Inner :
Bubble bag+inner box+Carton
Outer :
Wooden Box, Steel Pallet, MDF, etc
Can this trapezoid metal roof panel clamp be used for our Tin roof mounting system?
Yes, our trapezoid metal roof panel bracket can be used for tin roof mounting system well.
"
Good day!
We have a new project, the details as per the below.
PV module details: L=1.956m, W=0.992m, frame height= 40mm).
Tin roof mounting structure (1944 PV modules, 320Wp).
Roof top (minimum height is the lowest applicable, tilt angle: 10 degrees):
I need two options for the modules configuration: portrait & landscape, (1270 PV modules, 320Wp).
Design wind speed: 160km/hr.
Snow load: 1.2KN/m².
Materials shall be anodized Aluminum.
Warranty shall be at least ten years.
We found the model in your web Tin roof mounting system with U rail clamps maybe suitable for our application.
Hadeel Al-Qatarneh
Senior Structural Design Engineer
"
"
Dear Hadeel
Nice to recieve your new tin roof mounting project inquiry .
As per roof profile,
We recommend you using our Tin roof mounting system with U rail clamps for this job .
These U clamp can save rails and clamps , they can greatly save your mounting cost .
Please refer to following links for more details :
Solar Trapezoid Metal Roof Rail Brackets Metal-Roof-U-Clamp SPC-CK-01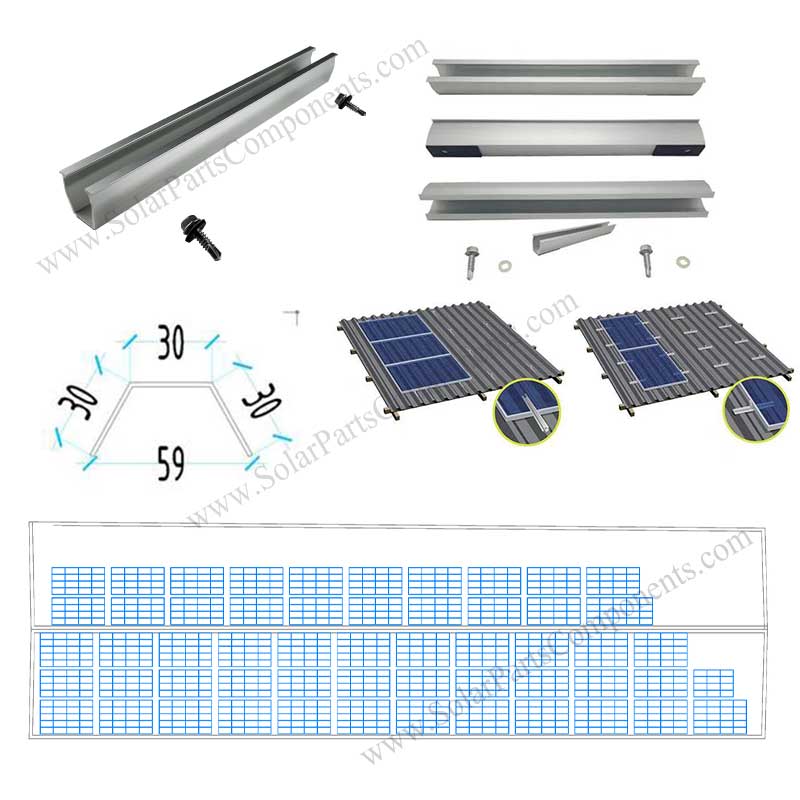 Tin roof mounting system with U rail clamps
FYI
We just export them to a Vietnam job which I send email to you.
Thank you !
Have a nice day.
Best regards,
Solar Parts Components Sales Team
"
Rail free solar metal roof clamp - U bracket
Tin Metal Roof Mounting Brackets Mounting Project with U clamp, 880 KW
How to using this trapezoidal metal roofing brackets ?
Advantages of this rail-less sloped roof mounting clamp ?
Railless trapezoid metal roof panel clamp
Q:
I am looking at building ground mount PV system and want to find out
about pricing and shipping for item trapezoid metal roof panel clamp SPC-R001.
I need 6000 pcs at a minimum 8′ long.  shipping to  Keller, TX.  I need other items but want to start with this.
A:
Thank you for your inquiry on our trapezoid metal roof attachment SPC-R001.
Please refer to the attachment for the pricing for trapezoid metal roofing bracket.