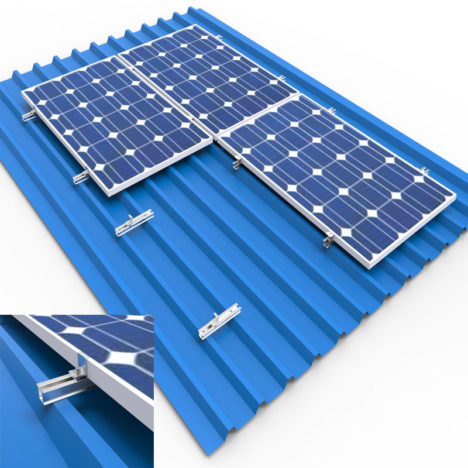 Solar Metal Roofing Installation – U Rail
Product Type: Solar Panel Mounting Structure

Product Model: SPC-RF-CK01-UR

Material: Aluminium, SUS 304 Steel

Max Wind Load : 60 m/s

Max Snow Load : 1.4 KN / M 2

Solar Module Orientation: Vertical or Horizontal

Application: Tin / Metal Roof Top
Contact by Email
Product Description :
This solar metal roofing mounting system with U-shape aluminum rails can be very cost-effective and lower down installation cost
for your PV module plant .
Our U Rail mounting structures are designed for Trapezoid / Tin / Metal roofs .
Our U shape rail can be cut in any length according to rib distances : 2 / 4 / 5 / 8 ribs …
U tray rails can mount frame / glass thin film PV modules well with our matched mid / end clamps .
Without continuous rail extrusion, save cost for mounting on trapezoidal metal sheets ;
Advantages & Features for this Tin Metal Roof Mounting System :
(1) Suitable for any trapezoid roof mounting configuration ;
(2) U rail fasten clamp make your solar panel mounting on metal roofing a simple & easy-to-use solution ;
(3) Pre-assembling service available ;
(4) Clamp colors can be silvery / black ;
(5) One-Stop-Shop for your metal roofing PV mounting ;
(6) Anti-corrosion, waterproof structure ;
(7) No welding / cutting required ;
Parts and Components for this solar panel metal roofing rack mounting – U Rail :
U-shape mounting rail ;
EPDM rubber pads;
middle clamp;
end clamp;
SUS 304 screws;
Install the solar modules according to the metal roofing panel mounting solution drawings and manual book :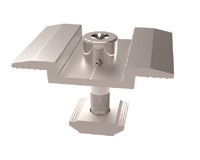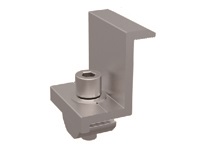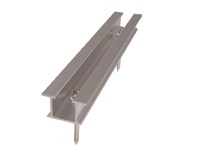 Brief Descriptions :
U aluminum rail mounting systems for metal roofing top solar panel installation
Item type:
Trapezoid Metal Roofing Mounting Systems
Technical Parameters :
Type :
Tin Solar Panel Mounting Structure (SPC-RF-CK01-UR)
Installation Site :
Tin Trapezoid Metal roofs
Installation Angle :
10° ~ 60°
Profile Material :
AL 6005 – T5 ( Anodized )
Fasten Parts :
SUS 304 / A2-70 Stainless Steel
Small Components :
AL & Stainless Steel
Color :
Silvery or according to customer requirements
Wind Load :
60 m / s ( 130 mph )
Snow Load :
1.4 KN / M2  ( 30 psf )
PV Modules :
Frame, Frameless
Module Orientation :
Portait and Landscape
Standards :
AS/NZS 1170
DIN 1055
GB50009-2012
IBC2009
TUV
JIS C 8955 : 2011
International   Building Code IBC 2009
California   Building Code CBC 2010
Warranty
10 years
Designed LifeSpan
25 years
Packing Details :
Inner :
Bubble bag+inner box+Carton
Outer :
Wooden Box, Steel Pallet, MDF, etc
solar U rail assembly instruction
solar U rail assembly instruction, railless installation:
Metal Roofing Solar Mounting Systems U short Rail
Q:
Desr Sirs,
We would like to buy constructions for photovoltaic panel 35 mm high .
The roof surface is made of trapezoidal metal sheet.
You would need the following elements .
Mini Short Rail  …  3000 pieces
End Clamp … 400 pieces
Mid Clamp …. 2500 pieces
We also need the corresponding screws and sealing rubbers .
Send me plesse you offer !
Best regards,
Duga Resa, Croatia
Zeljko Pogacic
A:
Dear Mr. Zeljko Pogacic
Appreciated for your inquiry for our trapezoidal metal roof mounting kits.
Please refer to our factory price as file attached.
If any problem, don't feel hesitate to contact us.
Metal Roofing Solar Mounting Systems U short Rail factory
Could I install metal roof with U rail clamp kits?
Q:
Hello,
We are looking for these clamp for Solar Metal Roofing Installation – U Rail
What is price/ pcs with railing and holders + bolts and screws? What is the minimum order?
Could you ship this small qauntitie? What is delivery time
I need mid / end clamp holder for 35mm of hight –100 – 150 units for testing;
U short railing (Railless clamps) 250mm – 100 pcs;
If quality good, we'll place much bigger quantities.
——————————–
General Manager Justin Gribovski
Mob. + 370 699 49992
A:
Dear Justas
Nice to receive inquiry about our U rail clamp kits.
As per holder for 35mm thickness solar panels you need :
(1) Mid clamp holder ;
(2) End clamp holder ;
(3) Our Metal roofing U clamp kit includes :
1) one piece of aluminum rail clamp (250 mm in length) ;
2) two pieces of EPDM pads ( Pre-adhered on the back of clamp) ;
3) two sets of screws, rubber washer;
U rail clamp , we have two length for options :
– 250mm;
– 280mm;
– Customized length available base on different roof mounting projects
Following is our finished photos of this railless clamp for solar metal roof installation for export.
Thank you and waiting for your reply .
Have a nice day.
Best regards,
U Short Rail for Solar Metal Roofing
Can U rail be used for frameless solar metal roofing mounting system ?
Yes, following is frameless bifacial PV module mount with U rail.
Can this U rail can be used for solar mounting system for metal roof?
Yes,  our U shaped clamp can be used for  metal roof solar mounting system,
besides it's rail less type, greatly save cost.
More details, kindly check >>>
Solar metal roof racking system u rail
The lightweight U-shaped guide rail is used with most trapezoidal roofs,
which can be installed quickly, saving cost and time.
More details, kindly check >>>
Can you mount solar panels on a metal roof?
solar aluminum rails for mounting system
It provides the best installation accessories for the solar installation system, the solar aluminum rail structure is stable and strong.
Tin Metal Roof Mounting Brackets Mounting Project, 0.88 MW
How to install This U-shape Solar Roof Mounting Systems ?
Features of Rail-free metal roof mounting system ?
Quick installing for solar metal roof mount ?
U rail clamps is a kind of very convenient installation type for metal roofing .
Date sheet for Metal Roofing Solar Mounting Systems U Rail