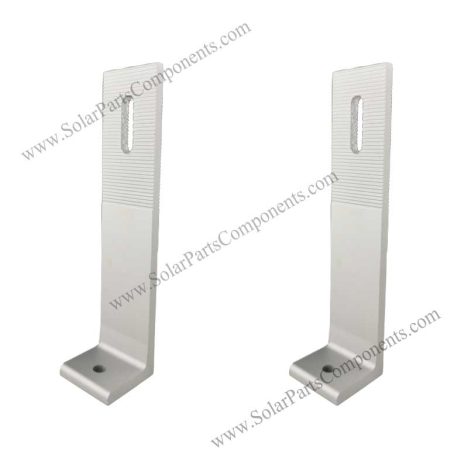 L feet solar bracket
Product Type: Metal roof mounting bracket

Product Model: L feet 180MM

Material: Aluminum alloy, rubber

Max Wind Load : 60 m/s

Max Snow Load : 1.4 KN / M 2

Solar Module Orientation: Landscape / Horizontal

Application:  Unframed / Bifacial / Frameless modules
Contact by Email
Product Description:
L feet solar bracket is one of the most cost-effective solution applied for universal corrugated metal sheet roof.
The L feet can math with wooden and self-drilling screws or our hanger bolts to meet different roof purlins and requirement, and the EPDM rubber pad can prevent water leakage caused by drilling. L feet is mounted on the metal roof directly and connect with rails which is side mounted,simple and easy to install.
This L feet mount bracket is made of good quality AL6005-T5 material,light weight, corrosion resistance and durable.Serrated surface treatment of the upper part can be fixed with the rail firmly to prevent sliding. The high quality of EPDM rubber pad is quite durable for long life service.
108mm height of this L foot for solar bracket, make more space between solar panel and roofing,conducive to the heat dissipation of solar panels.Ensure the service life of solar panels and the most efficient power generation output.The long hole design is flexible for adjusting the height of  the rail, make the installation more faster.
Feature of L feet solar bracket:
High grade anodized aluminum,anti-corrosion;
Waterproof with EPDM rubber pad;
3. Suitable for universal corrugate metal sheet roof;
4. Simple and easy installation;
5. 180mm height of the profile;
Reliable and save materials.
Solar metal roof mounting brackets manufacturer, carry various metal roof brackets with different sizes to meet all kinds of different metal roofing.Our professional engineer always recommend to the most reliable and cost effective solution for your solar mounting systems.
More sizes of solar L feet and other kinds of brackets, please feel free contact us any time. Our website:www.SolarPartsComponents.com.
Brief Descriptions:
Solar Roof Mounting Bracket- L feet solar bracket with 180mm height
Item type:
L feet solar bracket
Type:
 180mm height L feet
Installation Site:
Trapezoidal Roofing Top
Profile Material:
Aluminum
Fasten Parts:
SUS304 Screws
Wind Load:
60 m / s
Snow Load:
1.4 KN / M2
PV Modules:
Framed, Frameless
Module Orientation:
Portrait and Landscape
Standards:
AS/NZS 1170
DIN 1055
GB50009-2012
IBC2009
TUV
JIS C 8955: 2011
International   Building Code IBC 2009
California   Building Code CBC 2010
Warranty
10 years
Designed Lifespan
25 years
Packing Details:
Inner:
Bubble bag+inner box+Carton
Outer:
Wooden Box, Steel Pallet, MDF, etc
L feet solar bracket with 180mm height
How much for L feet solar bracket?
" How much are your  L feet solr brackets 180 mm?
Hello,We are interested in procuring some of your tall L foot brackets. Please reach out to me asap so we can talk about buying the L foot brackets . I  need 1000 pcs, please let me know how I can purchase them.
I'm in Mio Michigan, 48647
Big thanks
Thanks,  Mark"
" Thank you for your inquiry for our 180mm L feet solar bracket.
please refer to our quotation include shipping cost as the file attached.
Thank you"
"
Product Description:

L feet solar bracket is one of the most cost-effective solution applied for universal corrugated metal sheet roof.

The L feet can math with wooden and self-drilling screws or our hanger bolts to meet different roof purlins and requirement, and the EPDM rubber pad can prevent water leakage caused by drilling. L feet is mounted on the metal roof directly and connect with rails which is side mounted,simple and easy to install.

This L feet mount bracket is made of good quality AL6005-T5 material,light weight, corrosion resistance and durable.Serrated surface treatment of the upper part can be fixed with the rail firmly to prevent sliding. The high quality of EPDM rubber pad is quite durable for long life service.

108mm height of this L foot for solar bracket, make more space between solar panel and roofing,conducive to the heat dissipation of solar panels.Ensure the service life of solar panels and the most efficient power generation output.The long hole design is flexible for adjusting the height of  the rail, make the installation more faster.

Feature of L feet solar bracket:

High grade anodized aluminum,anti-corrosion;
Waterproof with EPDM rubber pad;
3. Suitable for universal corrugate metal sheet roof;
4. Simple and easy installation;
5. 180mm height of the profile;
Reliable and save materials.

Solar metal roof mounting brackets manufacturer, carry various metal roof brackets with different sizes to meet all kinds of different metal roofing.Our professional engineer always recommend to the most reliable and cost effective solution for your solar mounting systems.

More sizes of solar L feet and other kinds of brackets, please feel free contact us any time. Our website:www.SolarPartsComponents.com.

Brief Descriptions:
Solar Roof Mounting Bracket- L feet solar bracket with 180mm height
Item type:
L feet solar bracket
Type:
 180mm height L feet
Installation Site:
Trapezoidal Roofing Top
Profile Material:
Aluminum
Fasten Parts:
SUS304 Screws
Wind Load:
60 m / s
Snow Load:
1.4 KN / M2
PV Modules:
Framed, Frameless
Module Orientation:
Portrait and Landscape
Standards:
AS/NZS 1170
DIN 1055
GB50009-2012
IBC2009
TUV
JIS C 8955: 2011
International   Building Code IBC 2009
California   Building Code CBC 2010
Warranty
10 years
Designed Lifespan
25 years
Packing Details:
Inner:
Bubble bag+inner box+Carton
Outer:
Wooden Box, Steel Pallet, MDF, etc

L feet solar bracket with 180mm height

How much for L feet solar bracket?

" How much are your  L feet solr brackets 180 mm?

Hello,We are interested in procuring some of your tall L foot brackets. Please reach out to me asap so we can talk about buying the L foot brackets . I  need 1000 pcs, please let me know how I can purchase them.

I'm in Mio Michigan, 48647

Big thanks

Thanks,  Mark"

" Thank you for your inquiry for our 180mm L feet solar bracket.

please refer to our quotation include shipping cost as the file attached.

Thank you"

"