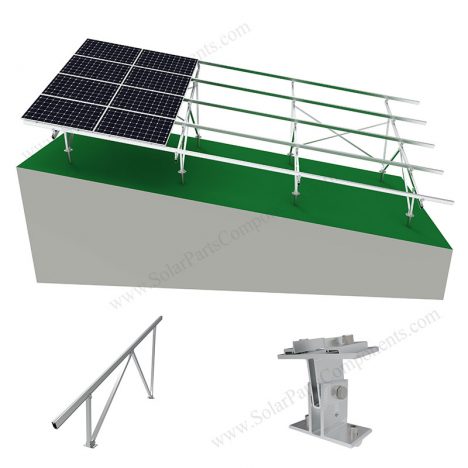 Solar Slope Ground Mounts
Product Type: Ground Mounting Systems for Slope

Product Model:SPC-GA-4H-W-EW-SN

Material: Aluminium, Steel

Max Wind Load : 60 m/s

Max Snow Load : 1.4 KN / M 2

Solar Module Orientation: Portait or Landscape

Application:  Ground
Contact by Email
Product Description:
Solar ground mounts for sloping terrain are using adjustable joints for angle adjustment.
Slant ground places are very common for outdoor area, this solar panel ground racking system can be used for tilting direction.
Features of this solar ground mounts for sloping terrain, SPC-GA-4H-W-EW-SN:
1. Anti-corrosive with anodized aluminum material;
2. 25 years' duration;
3. No need to level land;
3. Adjustable tilt angle for ground mount racking;
4. Application: sloping hillside, ground places;
Parts and Components of solar panel ground racking for slant places, SPC-GA-4H-W-EW-SN:
– Horizontal aluminum rails;
– Lock clamps;
– Ground screw pipes;
– Support rod;
– Adapter;
– Mid / end clamps;
Simple and quick installation steps of PV mounting for slope ground:
(1) Install ground screws;
(2) Fix pre-assembled support beam on ground screws;
(3) Install revolving connectors and rails;
(4) Fasten pv module with inter and end clamps;
Welcome to choose SPC solar with reliable / good quality control / full support services for this PV mounting for slope ground.
Brief Descriptions:
Solar Panel Ground Mounting Systems for Slope Terrain
Item type:
Solar Ground Racking Structure
Type:
SPC-GA-4H-W-EW-SN
Installation Site:
Open Terrain
Profile Material:
Aluminum Alloy
Fasten Parts:
Anodized aluminum 6005 T5, stainless steel, Hot dipped galvanize steel
Color:
Silvery
Wind Load:
60 m / s
Snow Load:
1.4 KN / M2
PV Modules:
Framed, Unframed
Module Orientation:
Portrait and Landscape
Standards:
AS/NZS 1170
DIN 1055
GB50009-2012
IBC2009
TUV
JIS C 8955: 2011
International   Building Code IBC 2009
California   Building Code CBC 2010
Warranty
10 years
Designed Lifespan
25 years
Packing Details:
Inner:
Bubble bag+inner box+Carton
Outer:
Wooden Box, Steel Pallet, MDF, etc
Ground Mounting Systems for Slope
Looking for 100 KW solar slope ground racking system
Client:
Hi
Is it possible forr you to give i price for a 100kw ground mounting system. 250 solar panels. Monted in a slopy hillside.
Delivered in Norway.
Following is more info about this 100kw slope ground mount project:
(1)Information of your PV panels:
Dimension: 1754 mm Length x1054mm Width x30_mm Thickness,
Array:      50 Nos. in a row x 1 Nos. in a column;
Layout: Vertical
(2) How is weather there,such as wind speed and snow load?
   <30 m/s anti-wind speed and 4,5 KN/m2 snow load.
(3) Ground slope angel & Mounting Tilt Angle  0-15 degrees ground. 22degres tilt angle
(4) Ground Clearance 1,5m
(5) Type of the ground:Clay/Sandy soil/Soft Rock… Soft rock
(6) Our company Name/website/address: ACS Sør AS  ACS.as
Best regards
Henning Garathun-Kristiansen
Daglig leder+47 930 61 651
Nettside | E-post | Facebook
ACS Sør AS
Seljeveien 5
4580 LYNGDAL
Answer:
Dear Henning
Thank you for your inquiry for 100kw ground mounting system.
We devoted to manufacturing good quality solar panel mounting kits, accessories and more …
Our products covering solar panel mounting systems for roof / ground / carport … solar mounting hooks and brackets, solar lighting etc
Please refer to our initial design for your 100kW ground mounting system according your info.
If need any modification please let us know.
Thank you and have  a nice day!
SPC ground mounting factory
Client:
Hi
Does this work gound rock / mountain? It looks like earth screws.
We need to drill into rock.
If no, Thats OK. We can make a anchor.
Best regards
Henning Garathun-Kristiansen
Answer:
Hi Mr. Henning
Base on current requirements, you can take care of anchor by yourself.
the factory price without anchor and updated design as file attached.
as well as BOM details for this 100 KW ground solar panel mounts for slope:
We also offer freight to OSLO (Oslo, Norway) for your reference.
Solar Slope Ground Mounting Factory