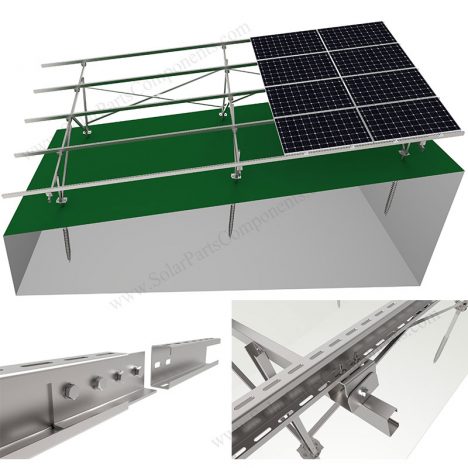 Solar Slope Ground Mounting Systems
Product Type: Carbon Steel Ground Mounting Systems

Product Mode: SPC-GC-4H-W-EW

Material: Carbon steel, Q235

Max Wind Load : 60 m/s

Max Snow Load : 1.4 KN / M 2

Solar Module Orientation: Portait or Landscape

Application: Open Uneven Ground
Contact by Email
Product Description:
Slope hill or ground places are very common in PV module mounts.
SPC solar have several solutions for uneven places, such as our SPC-GC-4H-W-EW racking system.
With this racking structure, installers can mount solar panels on open ground flexibly whatever large scale or small quantities.
They are made of carbon steel and galvanized finished which is anti-corrosive and suitable for outdoor application with long life service design.
Ground screw base can adjustable height of whole mounting structures so that keep solar panel array with best tilt degree.
Both framed or frameless bifacial solar panels can be installed on this SPC-GC-4H-W-EW mounting system.
Features of this PV Module racking system for sloping ground:
1. Carbon steel structure (C type) cost effective;
2. Galvanized treatment work for outdoor circumstance;
3. 10 years warranty, 25 years lifespan design;
4. Ground screw support for height adjustable;
5. Easy to installation with quick and pre-assembled packing;
Parts and Components for solar panel sloping ground mounts:
-High quality galvanized carbon steel rail;
-Rail splice kit;
-Inter clamps;
-End clamps;
-Ground washer;
-Grounding lug;
-Cross pipe;
-Enforce square steel;
-Front leg;
-Back leg;
-Angle splice kit;
Our per-design standard from engineer department is wind speed: 30 m/s and snow loading: 30cm.
For more robust and harsh weathers, please contact SPC for a quotation.
Partner with SPC, mounting your solar photovoltaic panels would be a piece of cake!
Brief Descriptions:
Solar Mounting Systems – Carbon Steel (c type) Slope of Ground Installation
Item type:
Solar Ground Mounts
Type:
SPC-GC-4H-W-EW
Installation Site:
Open Ground
Profile Material:
Carbon Steel
Fasten Parts:
Stainless Steel / Aluminum T Sliding Nut
Color:
Silvery or according to customer requirements
Wind Load:
60 m / s
Snow Load:
1.4 KN / M2
PV Modules:
Framed, Frameless
Module Orientation:
Portrait and Landscape
Standards:
AS/NZS 1170
DIN 1055
GB50009-2012
IBC2009
TUV
JIS C 8955 : 2011
International   Building Code IBC 2009
California   Building Code CBC 2010
Warranty
10 years
Designed Lifespan
25 years
Packing Details:
Inner:
Bubble bag+inner box+Carton
Outer:
Wooden Box, Steel Pallet, MDF, etc
Slope ground mounting system for 36 pieces of solar panels
Question:
Hello
I live in portugal.
Please give the price for delivery and taxes and duty paid for delivey to home in portugal and suggested delivery time for 3 units of to hold 12 panels each.
And a seperate quote for 2 units to hold 18 panels each of Slope Solar Ground Mounting System.
The panels are 227 cm long and width 113cm,I have 36 panles and sloping terrein.
The 18 unit (3*6) unit is most likely the most suitable for my setup because i have 4 strings of 9 panels each.
I have 36 panels, longi 545w pieces solar panels, the sloping terrain is i think more than 10 degrees, is there a maximum slope degree tolerance that this frame can work with?
I think on one of my slopes the terrain is about 30 degrees, the other section i think the slope terrain is about 10 degrees.
I will send you the spec on the panels and the exact slope angle later.
would this frame be suitable for such a slope?
please also supply prices delivered with taxes and carriage to portugal.
porto or lisboa is the nearest port. i am in Caldas das rainha area,
Many thanks
Steven carroll
Answer:
Dear Steven
Please refer to our design for slope ground mounting system as below:
(1) 1*9*3 array Slope Solar Ground Mounting System:
(2) 1*9*1 array Slope Solar Ground Mounts:
(3) BOM of Slope Solar Ground Racking System:
The sea freight to OPORTO or LISBON port is: USD$1000 for 5 cubic meter.
Please advise.
Thank you !
Best regards,
Slope Solar Ground Racking System Factory
solar panel ground mount racking on slope
The solar panel ground mount racking on slope is an ideal solution. The slope can adjust the orientation of the solar panels well. Usually installed in most flat open spaces, Using Q235 carbon steel bracket as the main material, the service life is more than 25 years. The ground piles buried in the ground are firmly connected, and the ground solar panel system is easy to install and low in cost. We have optimized the ability to resist wind and snow, can withstand a larger span and greater pressure, and achieve the best design plan.
Feature:
1. Suitable for all common ground installation systems;
2. Realize high-quality products through strict quality control;
3. Simple, fast, safe, and cost-saving installation process;
4. Proven fasteners and brackets;
5. Ensure efficient operation of solar installation system;
solar panel ground racking system on slope
Solar panel ground racking system on slope can adjust the position of the installation system by adjusting the rotating parts to achieve better results.
Can solar panels ground mounted on hillside?
This post is talking about how solar panels ground mounted on a sloping hillside, and explains the advantages of solar W type array.
Introduction of this solar panel sloping ground mounts