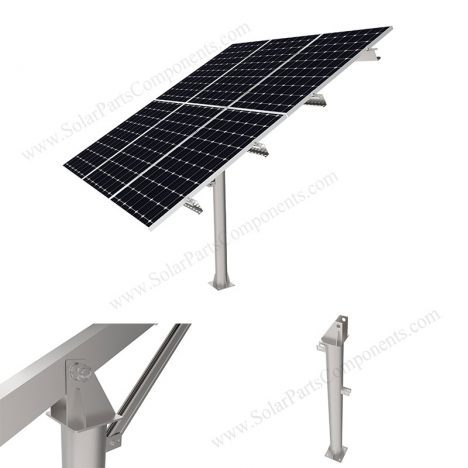 Solar Pole Ground Mounting Systems
Product Type: Ground Mounting Systems for Single Pole

Product Model: SPC-PC-2HX2-W

Material: Carbon steel,Aluminium, Stainless Steel

Max Wind Load : 60 m/s

Max Snow Load : 1.4 KN / M 2

Solar Module Orientation: Portait or Landscape

Application:  Ground Terrain
Contact by Email
Product Description:
Mounting solar panels on a pole is a very common and flexible racking for DIY or home owners,
they can attach pv modules to almost any space whatever flat or slope grounds.
The top of the pole mounts is a kind of solar panel arrays which install on a single pole.
They can be one unit, 2 units or several units photovoltaic modules, MAX up to 24 units.
Top pole racking system (also called TPM top of pole mounts) are made of heavy-duty galvanized steel,
cost effective and durable for outdoor uses.
Features of this solar panel pole ground mounting systems SPC-PC-2HX2-W:
1. Application: backyard, rural mountains, desert, remote location…
2. Manually adjustable angles can be added;
3. Simple and versatile to matching any sizes of solar panels;
4. Compact packing sizes and convenient for shipment;
5. Sound, independent top-of-pole solar panel mounts method outdoor;
6. No measuring required, easy operation for DIY;
If your rooftop is not under great orientation for sun shine, pole mount structure is a great choice to avoid occupying home space and roof warranty.
Hand-operated solar tracker can be added if clients need to adjust some fixed angles and maximize solar power for this pole mount solar panel rack system.
Mounting solar panels to top of pole is a great sturdy, dependable racking solution.
Feel free contact our SPC solar engineer to customized pole ground mounting system based on your local wind / snow / soil / hurricane conditions.
Brief Descriptions:
Solar Panel Mounting Systems – Solar Pole Ground Mounting System
Item type:
Solar Pole Racking Structures
Type:
SPC-PC-2HX2-W
Installation Site:
Open Terrain Ground
Profile Material:
Galvanized Steel
Fasten Parts:
Hot dipped galvanize steel, stainless steel, aluminum
Color:
Galvanized
Wind Load:
60 m / s
Snow Load:
1.4 KN / M2
PV Modules:
Framed, Unframed
Module Orientation:
Portrait and Landscape
Standards:
AS/NZS 1170
DIN 1055
GB50009-2012
IBC2009
TUV
JIS C 8955: 2011
International   Building Code IBC 2009
California   Building Code CBC 2010
Warranty
10 years
Designed Lifespan
25 years
Packing Details:
Inner:
Bubble bag+inner box+Carton
Outer:
Wooden Box, Steel Pallet, MDF, etc
Can you mount a solar panel on a pole with model: SPC-PC2HX2-W?
Solar Panel Pole Ground Mounting Systems
C:
Hi, I am interested in your Solar Panel Pole Ground Mounting Systems.
we will install 1200 (100W) panels(26-9/16*35-13/16*1-3/16) in Hendersonville, solar panel array 12 panels in a row, I'd like to use post hole diggers and concrete.
S:
Can I know the
Array:  ________Nos. in a row x________Nos. in a column for these 12 pieces of solar panels?
Height from the ground clearance;
3.Tilt angle;
4.Is there any requirements of wind speed and snow pressure?
_ m/s anit-wind speed and___KN/m2 snow load.
C:
6 panels x 2 in a row, total of 100 rows.
It would be good to have the bottom of the panels about 2′ above the ground.
Tilt Angles:  15 degrees (March-August) & 60 degrees (Sept.-Feb.)
The ground is sandy/clay with some rocks.  The ground slopes downward toward the south (direction of the panels) at about 8 degrees or 14%.
The ground snow load is 15 psf and wind load is 70mph (ultimate)
I'd like two quotes:
1st Quote – Ground Mounting System: each row of the panels in landscape layout (i.e. 216″ wide by 53″ tall with space between rows for shading)
2nd Quote – Solar Pole Ground Mounting Systems:  each row of the panels in portrait layout (i.e. 159″ wide by 72″ tall)
Let me know if you need any further information.  Thanks.
S:
Well understand, please refer to our designs for both solutions as your required.
Please let me know if need any modification.
C:
Perfect.  I prefer to the Pole Ground Mounting Systems,Please provide the quote and shipping cost to the Charlston, SC port.  Thank you.
S:
I have sent BOM price with freight cost to your email,please kindly check.
Thank you.
solar ground racking system with single pole
More details kindly check >>>