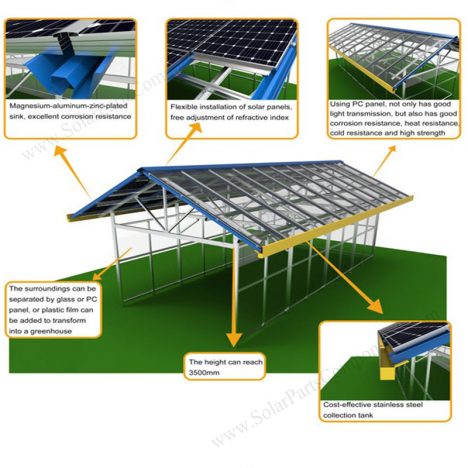 BIPV roof mounts
Product Type: Roof Mounting Racking

Product Model: SPC-BIPV-Roof

Material: Aluminium, Carbon Steel

Max Wind Load : 60 m/s

Max Snow Load : 1.4 KN / M 2

Solar Module Orientation: Landscape / Horizontal

Application:  Roofing top
Contact by Email
Product Description:
BIPV roofing mounting is an energy solar pv install system.
The key advantage is replace conventional rooftop with pv modules, generate electricity directly.
BIPV roof mount can be widely applied for home, business or factory roofing.
Components for SPC solar BIPV roof mounts: pv modules, upper cover,W shape trough, mid clamps,U laterial trough, padding block, baffles, bolts, nuts, adhesive tapes …
Features of this BIPV solar roof:
– Waterproof available;
– Standard components for quick installation;
– Save traditional roofing cost for new construction or retrofit;
– Good for environmental protection with clean energy;
– Suitable for both framed / frameless bifacial solar panel installation;
Installation tips for our BIPV roof mounts:
(1) Instllation troughs on steel beams with bolts;
(2) Fix baffer, lateral trough and pv modules;
(3) Install left / right / lower baffles;
(4) Fix solar panels with mid / end clamps;
(5) Install upper cover;
Building integrated photovoltaic system is beautiful in appearance, easy for installation.
VS BAPV, our roof mounting structure is cost effecitive.
Welcome to get more details of our BIPV roof mounting system which integrated pv modules with roofing tops.
Brief Descriptions:
Solar Racking System –BIPV Roof Mounts
Item type:
SPC-BIPV-Roof
Type:
Rooftop Installation
Installation Site:
Metal Roof
Profile Material:
Aluminum / Galvanized Steel
Fasten Parts:
Stainless Steel
Color:
Silvery
Wind Load:
60 m / s
Snow Load:
1.4 KN / M2
PV Modules:
Framed, Frameless
Module Orientation:
Landscape / Portrait
Standards:
AS/NZS 1170
DIN 1055
GB50009-2012
IBC2009
TUV
JIS C 8955: 2011
International   Building Code IBC 2009
California   Building Code CBC 2010
Warranty
10 years
Designed Lifespan
25 years
Packing Details:
Inner:
Bubble bag+inner box+Carton
Outer:
Wooden Box, Steel Pallet, MDF, etc
How to install this solar mounts BIPV
More details kindly check >>>
Product Description:

BIPV roofing mounting is an energy solar pv install system.

The key advantage is replace conventional rooftop with pv modules, generate electricity directly.

BIPV roof mount can be widely applied for home, business or factory roofing.

Components for SPC solar BIPV roof mounts: pv modules, upper cover,W shape trough, mid clamps,U laterial trough, padding block, baffles, bolts, nuts, adhesive tapes …

Features of this BIPV solar roof:
– Waterproof available;
– Standard components for quick installation;
– Save traditional roofing cost for new construction or retrofit;
– Good for environmental protection with clean energy;
– Suitable for both framed / frameless bifacial solar panel installation;

Installation tips for our BIPV roof mounts:

(1) Instllation troughs on steel beams with bolts;
(2) Fix baffer, lateral trough and pv modules;
(3) Install left / right / lower baffles;
(4) Fix solar panels with mid / end clamps;
(5) Install upper cover;

Building integrated photovoltaic system is beautiful in appearance, easy for installation.
VS BAPV, our roof mounting structure is cost effecitive.

Welcome to get more details of our BIPV roof mounting system which integrated pv modules with roofing tops.

Brief Descriptions:
Solar Racking System –BIPV Roof Mounts
Item type:
SPC-BIPV-Roof
Type:
Rooftop Installation
Installation Site:
Metal Roof
Profile Material:
Aluminum / Galvanized Steel
Fasten Parts:
Stainless Steel
Color:
Silvery
Wind Load:
60 m / s
Snow Load:
1.4 KN / M2
PV Modules:
Framed, Frameless
Module Orientation:
Landscape / Portrait
Standards:
AS/NZS 1170
DIN 1055
GB50009-2012
IBC2009
TUV
JIS C 8955: 2011
International   Building Code IBC 2009
California   Building Code CBC 2010
Warranty
10 years
Designed Lifespan
25 years
Packing Details:
Inner:
Bubble bag+inner box+Carton
Outer:
Wooden Box, Steel Pallet, MDF, etc

How to install this solar mounts BIPV

More details kindly check >>>