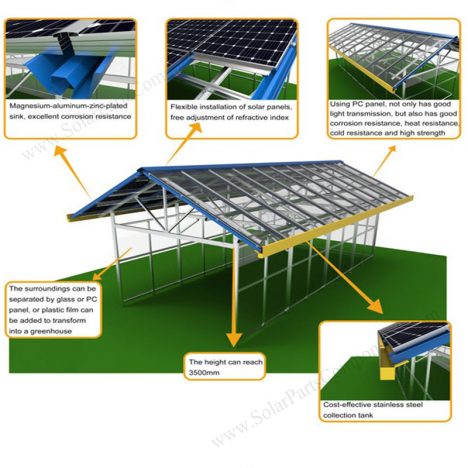 BIPV roof mounts
Product Type: Roof Mounting Racking

Product Model: SPC-BIPV-Roof

Material: Aluminium, Carbon Steel

Max Wind Load : 60 m/s

Max Snow Load : 1.4 KN / M 2

Solar Module Orientation: Landscape / Horizontal

Application:  Roofing top
Contact by Email
Product Description:
BIPV roofing mounting is an energy solar pv install system.
The key advantage is replace conventional rooftop with pv modules, generate electricity directly.
BIPV roof mount can be widely applied for home, business or factory roofing.
Components for SPC solar BIPV roof mounts: pv modules, upper cover,W shape trough, mid clamps,U laterial trough, padding block, baffles, bolts, nuts, adhesive tapes …
Features of this BIPV solar roof:
– Waterproof available;
– Standard components for quick installation;
– Save traditional roofing cost for new construction or retrofit;
– Good for environmental protection with clean energy;
– Suitable for both framed / frameless bifacial solar panel installation;
Installation tips for our BIPV roof mounts:
(1) Instllation troughs on steel beams with bolts;
(2) Fix baffer, lateral trough and pv modules;
(3) Install left / right / lower baffles;
(4) Fix solar panels with mid / end clamps;
(5) Install upper cover;
Building integrated photovoltaic system is beautiful in appearance, easy for installation.
VS BAPV, our roof mounting structure is cost effecitive.
Welcome to get more details of our BIPV roof mounting system which integrated pv modules with roofing tops.
Brief Descriptions:
Solar Racking System –BIPV Roof Mounts
Item type:
SPC-BIPV-Roof
Type:
Rooftop Installation
Installation Site:
Metal Roof
Profile Material:
Aluminum / Galvanized Steel
Fasten Parts:
Stainless Steel
Color:
Silvery
Wind Load:
60 m / s
Snow Load:
1.4 KN / M2
PV Modules:
Framed, Frameless
Module Orientation:
Landscape / Portrait
Standards:
AS/NZS 1170
DIN 1055
GB50009-2012
IBC2009
TUV
JIS C 8955: 2011
International   Building Code IBC 2009
California   Building Code CBC 2010
Warranty
10 years
Designed Lifespan
25 years
Packing Details:
Inner:
Bubble bag+inner box+Carton
Outer:
Wooden Box, Steel Pallet, MDF, etc
BIPV solar roof mounting system
Can this BIPV mounting system kits be used for metal roof?
Question:
Hi,
I would like pricing for mounting bracket kits,
I'm installing 8,000 watts of 190 watt Sanyo frameless bi facial panels on a metal roof with a solid 1″ thick wood sheathing.
Following is a drawing with dimensions.
It has a steel roof with 1″ thick sheathing underneath the roofing.
The BIPV mounting brackets that screw through the roof need to be watertight.
The orientation of the panels could flip if needed.
I would like a summery of the pieces including the bottom u shaped rails.
Thanks,
Eldon Howe
Answer:
Dear Eldon
Hope you are enjoying everything.
Base on pv module size :
 53.2″X35.35″X2.36″
| | | | | | |
| --- | --- | --- | --- | --- | --- |
| Module Length (mm) | 1352 | Module Width (mm) | 898 | Module Thickness(mm) | 60 |
Please refer to our BIPV mounting systems for metal roofdesign and BOM base on information given.
(1) Drawing design:
(2) Bill of list for BIPV mounting system kits:
If our design is workable for you, feel free let me know.
SPC sales team
Can solar roof top canopy be like your BIPV solar roof mounting system?
Q:
Hi,
We're prepping a project to build a solar canopy to be installed on a NYC rooftop.
Like your BIPV solar roof mounting system design.
Would you be able to provide a material quote?
How long does it take for delivery to NYC once approved?
Where are you located?
Thank you,
Esther
A:
Dear Esther
Sure, just let me know more details of your BIPV solar roof project.
I will let our engineer check it.
Our factory located in China.
You can buy and import from our factory directly.
Usually our producing time is 2-4 weeks.
Best regards
SPC solar
Do you sell Mounting Clamps for our BIPV Solar Projects Seperately?
Question:
Dear Sales Team,
We connected on whatsapp,
I have regular requirement for Mounting Clamps for our BIPV Solar Projects.
Quantity – 5,000 Pcs
Please share pricing and availability for the same.
I have share link from your web for BIPV items we need..
Meanwhile can you share delivery leadtime for the same,
Also share / suggest any assembly video or drawings of the use of clamp.
Also attached pictures of Clamp too.
best regards,
Vishalkumar Waghela
8655653833
Jayraj Solar LLP
Answer:
Dear Vishalkumar
Appreciated for contacing us through whatsapp & email.
Well noted for more details of sizes / model / weblink for your BIPV clamps you required.
Our factory price has sent by email as following BIPV items:
(1) Clamp SPC-IK-PS,;
(2) Mid clamp, SPC-IC-35;
(3) End clamp,SPC-EC-35;
We can ship them in 5-7 days against payment.
Please refer to mounting details for this BIPV system as email file attached.
BIPV Solar Components Factory
Product Description:

BIPV roofing mounting is an energy solar pv install system.

The key advantage is replace conventional rooftop with pv modules, generate electricity directly.

BIPV roof mount can be widely applied for home, business or factory roofing.

Components for SPC solar BIPV roof mounts: pv modules, upper cover,W shape trough, mid clamps,U laterial trough, padding block, baffles, bolts, nuts, adhesive tapes …

Features of this BIPV solar roof:
– Waterproof available;
– Standard components for quick installation;
– Save traditional roofing cost for new construction or retrofit;
– Good for environmental protection with clean energy;
– Suitable for both framed / frameless bifacial solar panel installation;

Installation tips for our BIPV roof mounts:

(1) Instllation troughs on steel beams with bolts;
(2) Fix baffer, lateral trough and pv modules;
(3) Install left / right / lower baffles;
(4) Fix solar panels with mid / end clamps;
(5) Install upper cover;

Building integrated photovoltaic system is beautiful in appearance, easy for installation.
VS BAPV, our roof mounting structure is cost effecitive.

Welcome to get more details of our BIPV roof mounting system which integrated pv modules with roofing tops.

Brief Descriptions:
Solar Racking System –BIPV Roof Mounts
Item type:
SPC-BIPV-Roof
Type:
Rooftop Installation
Installation Site:
Metal Roof
Profile Material:
Aluminum / Galvanized Steel
Fasten Parts:
Stainless Steel
Color:
Silvery
Wind Load:
60 m / s
Snow Load:
1.4 KN / M2
PV Modules:
Framed, Frameless
Module Orientation:
Landscape / Portrait
Standards:
AS/NZS 1170
DIN 1055
GB50009-2012
IBC2009
TUV
JIS C 8955: 2011
International   Building Code IBC 2009
California   Building Code CBC 2010
Warranty
10 years
Designed Lifespan
25 years
Packing Details:
Inner:
Bubble bag+inner box+Carton
Outer:
Wooden Box, Steel Pallet, MDF, etc

BIPV solar roof mounting system

Can this BIPV mounting system kits be used for metal roof?

Question:

Hi,

I would like pricing for mounting bracket kits,

I'm installing 8,000 watts of 190 watt Sanyo frameless bi facial panels on a metal roof with a solid 1″ thick wood sheathing.

Following is a drawing with dimensions.

It has a steel roof with 1″ thick sheathing underneath the roofing.

The BIPV mounting brackets that screw through the roof need to be watertight.

The orientation of the panels could flip if needed.

I would like a summery of the pieces including the bottom u shaped rails.

Thanks,

Eldon Howe

Answer:

Dear Eldon

Hope you are enjoying everything.

Base on pv module size :

 53.2″X35.35″X2.36″

| | | | | | |
| --- | --- | --- | --- | --- | --- |
| Module Length (mm) | 1352 | Module Width (mm) | 898 | Module Thickness(mm) | 60 |

Please refer to our BIPV mounting systems for metal roofdesign and BOM base on information given.

(1) Drawing design:

(2) Bill of list for BIPV mounting system kits:

If our design is workable for you, feel free let me know.

SPC sales team

Can solar roof top canopy be like your BIPV solar roof mounting system?

Q:

Hi,

We're prepping a project to build a solar canopy to be installed on a NYC rooftop.

Like your BIPV solar roof mounting system design.

Would you be able to provide a material quote?

How long does it take for delivery to NYC once approved?

Where are you located?

Thank you,

Esther

A:

Dear Esther

Sure, just let me know more details of your BIPV solar roof project.

I will let our engineer check it.

Our factory located in China.

You can buy and import from our factory directly.

Usually our producing time is 2-4 weeks.

Best regards

SPC solar

Do you sell Mounting Clamps for our BIPV Solar Projects Seperately?

Question:

Dear Sales Team,

We connected on whatsapp,

I have regular requirement for Mounting Clamps for our BIPV Solar Projects.

Quantity – 5,000 Pcs

Please share pricing and availability for the same.

I have share link from your web for BIPV items we need..

Meanwhile can you share delivery leadtime for the same,
Also share / suggest any assembly video or drawings of the use of clamp.

Also attached pictures of Clamp too.

best regards,

Vishalkumar Waghela

8655653833

Jayraj Solar LLP

Answer:

Dear Vishalkumar

Appreciated for contacing us through whatsapp & email.

Well noted for more details of sizes / model / weblink for your BIPV clamps you required.

Our factory price has sent by email as following BIPV items:

(1) Clamp SPC-IK-PS,;

(2) Mid clamp, SPC-IC-35;

(3) End clamp,SPC-EC-35;

We can ship them in 5-7 days against payment.

Please refer to mounting details for this BIPV system as email file attached.

BIPV Solar Components Factory