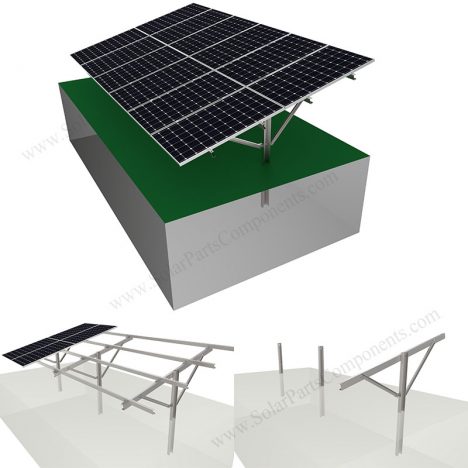 Solar Pile Ground Mounting Systems
Product Type: Galvanized Steel Ground Mounting Systems

Product Model:SPC-C-2V-PW

Material: Q235 Carbon steel

Max Wind Load : 60 m/s

Max Snow Load : 1.4 KN / M 2

Solar Module Orientation: Portait or Landscape

Application:  Ground
Contact by Email
Product Description:
Pile ground racking system is the most comprehensive and high cost-effective mounting structure for PV mounts.
Our single pile mounting design is applicable for both framed / frame less modules, just use our matched mid / end clamps.
Our galvanized steel pile ground mounting system can be 10 years' warranty and more than 25 years' lifespan service.
Hop-dipped galvanized Q235 carbon steel has good corrosion resistance for outdoor solar power plant.
Features of this Single Pile PV Module racking system:
1. Galvanized steel structure for open terrain mounts;
2. Fit for both landscape / portrait orientation modules;
3. Suitable for crystalline / bifacial modules;
4. Easy and fast installation with our pre-assembling and few tools required;
5. Fast installation with pile-driven into ground;
6. Adaptable for most ground terrains;
7. Foundation: Pile / pre-cast pier / pillar;
Parts and Components for solar panel pile ground mounts:
– Girder rail;
– Purlin rail;
– Pile (Q235, Carbon steel, Galvanized);
– Mid clamp;
– End clamp;
– Fitting;
– Ground screws;
Best applied for non-sandy terrain, our solar panel pile ground racking can be very good price for large project.
Just ramming piles with pile driven or hand driven machine into 1-2M deep, the strong foundation can support whole PV modules firmly.
Welcome to consult more solar racking hardware and mounting structure with sound engineer and design from Xiamen Top Best Tech Co., Ltd.
Brief Descriptions:
Solar Mounting Systems – Galvanized Steel Pile Mounting
Item type:
Solar Pile Ground Mounts
Type:
SPC-C-2V-PW
Installation Site:
Open Field 10 

°

~60 °
Profile Material:
Carbon Steel
Fasten Parts:
Stainless Steel / Aluminum T Sliding Nut
Color:
Galvanized / hot-dipped
Wind Load:
60 m / s
Snow Load:
1.4 KN / M2
PV Modules:
Framed, Frameless
Module Orientation:
Portrait and Landscape
Standards:
AS/NZS 1170
DIN 1055
GB50009-2012
IBC2009
TUV
JIS C 8955: 2011
International   Building Code IBC 2009
California   Building Code CBC 2010
Warranty
10 years
Designed Lifespan
25 years
Packing Details:
Inner:
Bubble bag+inner box+Carton
Outer:
Wooden Box, Steel Pallet, MDF, etc
What are the different types of solar mounting systems?
There are many types of solar mounting systems, which in different regions will be different.
Which will be designed according to the local climate conditions.
And prevent local natural weather disasters.
The following is a inquiry of Solar Pile Ground Mounting Systems:
Q:
I am interested in this product: SPC-C-2V-PW
Can I have the exact specification, dimensions and price?
I need for the assembly of panels with dimensions 2278x1134x 35mm, 1800 pieces.
I am also interested in other components for panel assembly, so I would like a complete price list if possible, necessary for further cooperation.
A:
Thank you for your inquiry for our SPC-C-2V-PW.
As the price is base on each project conditions.
Please share us more details about your ground mounting project for 1800 solar panels.
What is the tile angle requirement?
Ground clearance demand
How is weather there,such as wind speed and snow load?
___m/s anti-wind speed and____KN/m2 snow load.
What is your nearest seaport to your address?
I will let our engineer check out for you.
I just added your whatsapp for further communication.
FYI.
One similar design for this solution (each array for 18 panels: 2 x 9)
Looking forward to your kind reply.
Q:
Thank you for your prompt response.
Attached is a picture of the plot where you can see the dimensions and orientation.
Location:
42.092819, 21.639803
Installation angle 35'
Plese give me the best price for your solution (each array for 18 panels: 2 x 9) attached, but with tilt angle 35, 100 pcs…
A:
Please refer to our design and factory price for your ground mounting system for 1800 panels.
Please let us know if they are workable for you.
Q:
I want to ask if it is possible to add a manually adjustable angle to this design?
Or can you suggest me another design?
A:
Thank you for your patient.
Please refer to our update design with manually adjustable angle as you requested.
If need any modification, just let me know.
Q:
This is excellent.
Pile Ground Mounting Systems Factory
Q:
Hi, I am solar installer mainly for residential ground mounting Southern Califonia,zip is 91384,interested in Solar Pile Ground Mounting Systems, SPC-C-2V-PW. Attached is a mounting plot drawing from our client and mounting details infomation.We need plenty of this similar systems,could you please send us your design and price for this Solar Pile Ground Mounting System.
Thank you
Frank Miscione
A:
Hi Frank
Nice to get your email about our Single Pile PV Modules Racking system.
We are Solar Mounting System Manufacturer Factory, we always provide turn-key solution for our clients,I will let our engineer check it out for you.