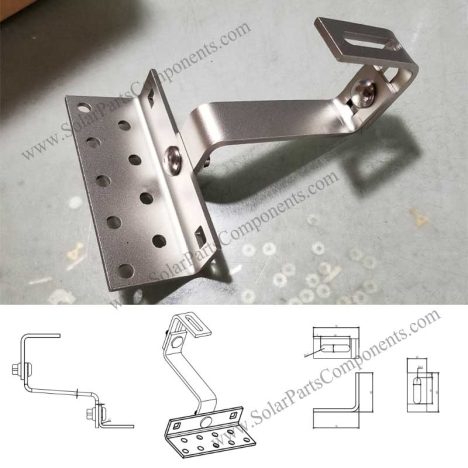 Universal Solar Tile Roof  Hooks   Double Adjustable for Bottom Mount Rails
Product Type: Solar Pitched Tile Roof Hooks

Product Model:SPC-IK-15

Material: Aluminium, Steel

Max Wind Load : 60 m/s

Max Snow Load : 1.4 KN / M 2

Application: Clay & Flat Tile Roof Installation
Contact by Email
Product Description :
The so called " Double Adjustable " means the height of this solar hooks can adjusted with  top or base slot.
The range for top adjustment is 10 mm,
The range for base adjustment is 15 mm,
makes more flexible moving during mounts to the roofing whatever for curved or flat tiles.
The installation is for Bottom rail mounting – 180 degree horizontal .
The adjustable arm can fit for roman tile, clay tile or flat tiles.
Muti-functional solar roof hook mounts for Bottom rails can perfectly for Spanish tiles and flat tile roofing. Just by loose or tighten fitting easily.
Advantages of solar tile hook bracket, SPC-IK-15:
Universal applied for both curved & flat tiles ;
Dobule adjustable according to height of tile thickness;
Easy operation and installation with pre-assembled packing ;
Offer 10-Years Warranty for our Bottom mounted rails roofing hooks ;
Quality Guarantee with Good quality 304 Steel and AL 6005 – T5 Aluminium .
Parts and Components for this Universal Solar Tile Roof Hooks, Double Adjustable, Bottom Mounting :
stainless adjustable roof hook ;
Mushroom head carriage bolt;
Hexagon nut;
Hexagon socket head bolts;
T sliding nut block;
Spring Washer
Sharp-point screw
More type of tile roof hooks both adjustable and non-adjustable are available for our factory. Please feel free to contact us, our website: www.solarpartscomponents.com
Brief Descriptions :
Solar Mounting Components – Universal Roof Tile Hooks, Double Adjustable, Bottom Mounting,SPC-IK-15
Item type:
Muti Functional Solar Tile Roof Hooks
Type :
Curved or Flat Roof Hooks
Installation Site :
Pitched Roof
Profile Material :
SUS 304 Stainless Steel
Fasten Parts :
Stainless Steel / Aluminum T Sliding Nut
Color :
Silvery or according to customer requirements
Wind Load :
60 m / s
Snow Load :
1.4 KN / M2
PV Modules :
Framed, Frameless
Module Orientation :
Portait and Landscape
Standards :
AS/NZS 1170
DIN 1055
GB50009-2012
IBC2009
TUV
JIS C 8955 : 2011
International   Building Code IBC 2009
California   Building Code CBC 2010
Warranty
10 years
Designed Life Span
25 years
Packing Details :
Inner :
Bubble bag+inner box+Carton
Outer :
Wooden Box, Steel Pallet, MDF, etc
Installation Manual for Solar Roof Hooks SPC-IK-15
How to install the Universal Solar Tile Roof Hooks SPC-IK-15?
Installation method:
First, find the installation position above the main beam, place the hook on the installation point and fix it with an electric drill and three ST6.3*80 wood screws according to the hole position, the upper part of the hook will be exposed outside the tile;
Then use the M8*25 block bolt assembly to install the H-shaped track on the hook;
Secondly, the track is connected to the track with connectors;
Then, the installation sequence of solar panels can be from left to right, from bottom to top;
Finally, it can be locked with medium clamp and end clamp.
For more details, please click:
Need price for solar hooks for roof mounting,65,000 units ?
Question:
Hi
I am interested in the solar hook for roof mounting. We are working a project which need to import 65,000pcs hooks, with M10 bolt.
The plate is 4mm, with 28mm height. The bolt must be M10. I need the best price.
lease send the best offer and datasheet.
What is the lead time?
Should they enought for 20ft container. What is the packing details for the hook?
Irina
Budapest, Harmat köz 4b, 1105
Answer:
Dear Irina
Nice to receive inquiry about 6,5000 sets of solar roof hooks .
Our leading time is 2 weeks' against down payment .
The measurement details and price offer has sent email to you.
Do you need SAMPLE ?
Just let me know your DHL / TNT / UPS account, I will arrange FREE sample for freight collected .
May you and your whole family be safe & happy everyday.
solar hooks for roof mounting wholesaler
Can this PV module Tile Roof Hooks be tailored with special hook arm ?
Customized solar tile roof hooks, double adjustable, bottom mounted
All our solar tile roof hooks are made of SUS304 in material as well as customized arm / base plate .
This customized solar roof hooks is designed to comply with tile roofing as project required .
Our standard center part of double adjustable roof hooks three part unit, the S bracket which you show as 115mm long,
We tailor the arm depth as 150mm long.
So that our roof hooks can accommodate a 145mm tile overlap .
Features of this tailored double adjustable solar PV module roof hooks :
– Arm depth 150mm, longer than normal solar hooks;
– Bottom height & Top height adjustable to fit different types of tile roofing;
– Sandblasting surface treatment;
– Suitable for framed / frameless solar modules;
Customization solar hooks Parameter:
-Installation Site: tile roofs;
-Applicable Roof Cladding:Curve / Flat tiles;
-Roof Slop: 0 to 60 degree
-Max. Building Height: 65ft(20m)
-Wind Load:130mph(60m/s)
-Snow Load: 30psf(1.4kN/m2)
-Applicable Module: Framed / Frameless
-Module Orientation:Landscape or portrait
-Code Compliance:AS/NZS 1170; JIS C 8955:2011
-Material: A2 stainless steel
-Warranty:10 years obove
Welcome to customized adjustable / non-adjustable solar roof hook from www.SolarPartsComponents.com
Good quality customized solar panel roof hooks, SUS304, Bottom mounted, height adjustable with wholesale prices .
Tile roof hook #15 installation
Installation instructions for stainless steel hook#15
-Stainless steel adjustable tile roof hook (double adjustable)
Drawing for this Double Adjustable Solar Tile Roof Hooks
Universal Solar Tile Roof Hooks wholesale
Q:
Dear Sir,
I am looking for a Solar Tile Roof Hooks for my roof solar mounting. The panels will be place an my home tile roof. My
home is at Athens – Greece. Please see attached photo.
Do you have such product ?
Regards,
Ionas Hadjionas
A:
Dear Ionas
Thank you for your email on our olar Tile Roof Hooks mounting system.
Yes we are Universal Solar Tile Roof Hooks wholesale factory.
Please refer to our design for your tile roof.
Q:
It looks great,I would like to purchase these kits from you.
Please proceed this order.
Thank you.
How do you attach solar panels to a tiled roof with Universal Tile Hooks ?
It's very easy to attach solar panels to a tiled roof,
just with our universal solar roof tile hooks,
The difference between adjustable tile roof hook and others is that it can be adjusted.
What's double adjustable solar roof hooks ?
On roof mounting structure, solar tile hook brackets are important installing components .
The key function for solar roof hooks are fit underneath tiles and mounted into rafters .
By using our double adjustable solar tile hooks , can balance the height difference for tiles / rafters .
So that we can keep flat surface for each PV modules .
" DOUBLE ADJUSTABLE " means , installers can adjust solar hook bracket in two method :
– adjust the height of base plate ;
– adjust the height of hook arm ;
Flexible / Easy / Quick to mounting with this Bottom Mounting,Double adjustable, Curved & Flat Roof Tile Hooks
Universal Solar Tile Roof Hooks Factory
Universal Solar Tile Roof Hooks SPC-IK-15,superior quality stainless steel tile roof hook is suitable for most kind of tiled roofs.It is designed as double adjustable.
The bottom plate of this tile roof hook is 140mm x55mm x 32mm height, upper adjustable hole is 39.5mm suitable for M8 or M6 screws.
Universal Solar Tile Roof Hooks Factory, we produce various types of solar tile roof hooks with high quality and competitive price.
What's the Advantages of Adjustable Solar Tile Roof Hooks ?