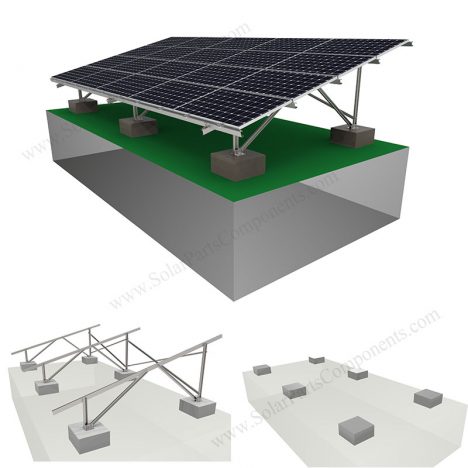 Solar Ground Mounting System Concrete Base
Product Type: Ground Racking System

Product Model:SPC-CC-4H-W

Material: Carbon steel,Aluminium, Steel

Max Wind Load : 60 m/s

Max Snow Load : 1.4 KN / M 2

Solar Module Orientation: Portait or Landscape

Application:  Open Ground
Contact by Email
Product Description:
Concrete foundation ground mounting system is a kind of popular racking type for open area.
This SPC-CC-4H-W type design of galvanized steel structure can support photovoltaic panels with fixed angle.
Even temperature of this concrete base system can offer better efficiency of power generation.
These concrete based PV mounting systems are workable for both flat and sloped terrain condition.
Basic information of this concrete foundation mounting system for us to design and quote
(1) What is solar panels dimension? ___mm Length x ___mm Width x __mm Thickness;
(2) How many panels do you plan to mount? _______Units;
(3) What's the tilt angle? ____degree;
(4) What is your planned solar panel assembly block? ________Nos. in a row
(5) What's the wind speed and snow load?
MAX ___m/s for wind speed and MAX ____KN/m2 for snow load.
Features of this concrete based ground mounting systems SPC-CC-4H-W:
1. Good air flow and cool off for PV for ground mounted PV modules;
2. Well maneuverability, great power output annually;
3. Modular and pre-assembled design and manufacturing;
4. Suitable for both large / small scale solar panel power project;
5. Tilt angle can be 15 / 30 / 45 / 60 Deg;
Parts and Components for galvanized steel ground racking system SPC-CC-4H-W:
– Pre-assembled Structure;
– Rail;
– Rail Splice;
– End clamp;
– Mid clamp;
– Rail clamp;
– End caps;
The mounting installation of SPC-CC-4H-W Model is very easy and labor effective.
Hop dipped galvanized carbon steel mounting structure can stand for more than 25 years.
SPC engineer team and factory can assist you every ground mounting system robust, long lifespan but save your money and bill.
Brief Descriptions:
Solar Panel Mounting Systems – Solar Concrete Base Ground Mounting System
Item type:
Solar Racking Structures
Type:
SPC-CC-4H-W
Installation Site:
Open Terrain Ground
Profile Material:
Galvanized Steel
Fasten Parts:
Hot dipped galvanize steel, stainless steel, aluminum
Color:
Galvanized
Wind Load:
60 m / s
Snow Load:
1.4 KN / M2
PV Modules:
Framed, Unframed
Module Orientation:
Portrait and Landscape
Standards:
AS/NZS 1170
DIN 1055
GB50009-2012
IBC2009
TUV
JIS C 8955: 2011
International   Building Code IBC 2009
California   Building Code CBC 2010
Warranty
10 years
Designed Lifespan
25 years
Packing Details:
Inner:
Bubble bag+inner box+Carton
Outer:
Wooden Box, Steel Pallet, MDF, etc
Need information of solar ground mount solutions SPC-CC-4H-W
Question:
Would like pricing information on SPC-CC-4H-W and other ground mount solutions.
We will need for 20 arrays consisting of 20-25 panels each, the soil is sandy. We will probably not adjust angle for winter/summer unless it is easy and cost effective to do so.
The panels we have are here SanTan Solar T Series 250W – SanTan Solar Store SanTan Solar Wholesale Solar Panels
| | | | |
| --- | --- | --- | --- |
| City | Punta Gorda FL 33982 | ※ Length(mm) | 1650 |
| Nation | US | ※ Width(mm) | 992 |
| Postcode | 33982 | ※ Thickness(mm) | 35 |
| ※ Basic wind speed (m/s) | 30m/s | ※ Power(Wp) | 320 |
| ※ Basic snow pressure (kN / ㎡) | 0 | Weight(kg) | 10 |
| Latitude | 29 | longitude | 82 |
These arrays will face directly south and in line so we need to account for space in between, you can use google maps to see the approximate location.
Will be planning on a total of 40-80 total arrays depending on how the first 20 perform.
Please let me know if you need anything else or any other details.
For shipping we can use LCL by sea.
Best Regards,
Jeff Harthoorn
Answer:
Dear Jeffrey
Appreciated for your kind inquiry about our SPC-CC-4H-W ground mount solutions.
Please refer to our initial design and list for 2X25 panels as you required.
Thank you !
solar ground mount solution sales team
Need to buy galvanized steel mounting structure for concrete base
"
I need 100 of this rail
And i need 300 pcs of steel rail
C shape steel,4m length
Ialready buy inverter
And i need to add mounting system in the rest of the space,
41X41mmX 2mm Thickness,Length 4m
HDG steel rail, 65u coating thickness
Please in your quotation mention the HDG steel rail and base bracket
and could you please quote me the 145mm height instead of 70mm for the base bracket
More purchase details as below:
Thank you,
Mohamad
"
"
Pricelist with packing info for these HDG solar mounting components are sent by email.
Solar Parts Components Factory
"