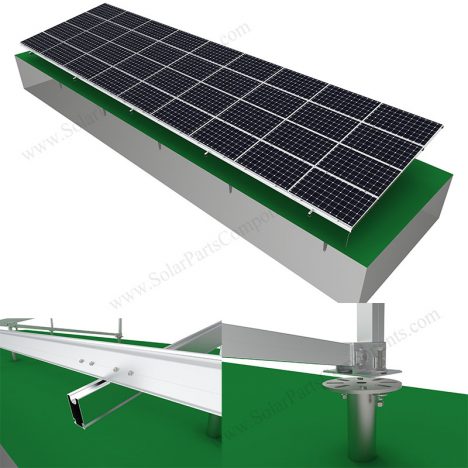 Solar Ground Mounts
Product Type: Ground Mounting Systems Landscape

Product Model: SPC-GA-4H-N

Material: Aluminium, Steel

Max Wind Load : 60 m/s

Max Snow Load : 1.4 KN / M 2

Solar Module Orientation: Landscape / Horizontal

Application:  Ground
Contact by Email
Product Description:
The solar panel ground mounting system landscape orientation, and then they can be easily tilted to any seasonal angle to maximize solar energy, or they can be fixed in a flat/flush state. The durable and easy-to-install bracket system makes the photovoltaic system installation faster, saving time and manpower, and also saving additional tools required.
The conventional method of the solar mounting system is to fix the solar cell array at the same angle as the array position latitude to maximize the efficiency of the solar cell panel. solar ground mounting system is usually used on open ground. The solar cell array is connected to the support system with its foundation directly into the ground.
Our solar panel ground mount landscape design uses high-quality structural materials to ensure that our products are durable even under the harshest conditions. We have to carry out rigorous light tests on our products to ensure the safety and durability of the products. Our technical team can provide simplified solutions and customize them according to customer needs.
The aluminum bracket mounting system is versatile, sustainable and cost-effective. It can easily install a support system on the ground.
Feature of this solar panel ground mount landscape design:
1. Has a high stability performance;
2. Simple and fast installation, maximum adjustment;
3. Can withstand severe weather conditions;
4. It can support structural loads;
5. Highly corrosion-resistant anodized aluminum components;
When installing solar panel ground mount kit for landscape array, some structural considerations need to be addressed, such as wind load, snow load, and the strength of your ground to withstand natural forces, as well as the additional load of solar installation hardware and panels. We provide the best structure and pre-installed components on the market today, which can be used for most ground mounting systems.
Whether you need carbon steel brackets or aluminum alloy brackets, we can meet your solar bracket needs, so you can install products that meet the specifications and are durable. Solar panels are installed without leakage. If you have any needs, please feel free to contact us: www.solarpartscomponents.com
Brief Descriptions:
Solar Panel Ground Mount Kit for Landscape Array, SPC-GA-4H-N
Item type:
PV Module Mounts On Ground
Type:
SPC-GA-4H-N
Installation Site:
Flat Ground
Profile Material:
Aluminum alloy 6005-T5
Fasten Parts:
Stainless Steel
Color:
Silvery
Wind Load:
60 m / s
Snow Load:
1.4 KN / M2
PV Modules:
Framed, Frameless
Module Orientation:
Landscape
Standards:
AS/NZS 1170
DIN 1055
GB50009-2012
IBC2009
TUV
JIS C 8955: 2011
International   Building Code IBC 2009
California   Building Code CBC 2010
Warranty
10 years
Designed Lifespan
25 years
Packing Details:
Inner:
Bubble bag+inner box+Carton
Outer:
Wooden Box, Steel Pallet, MDF, etc
Installation manual for Solar panel ground mounting landscape,SPC-GA-4H-N
Solar panel ground mounting landscape factory
Q:
Dear Sir/madam,
I am interested in your Solar panel ground mounting landscape. I need 80 sets of this mounting system, each set for 40 panels.
Requesting you to provide an offer for the attached Ground-Mounted solar project; along with a suitable calculation of foundation details.
Tilt Angle: 20 Deg
Wind Speed: 160 Kmph
Minimum Ground clearance: 600 mm
The solar PV layout and module datasheet are attached for design.
Best Regards,
Jayesh Bhikadiya
Sr. Solar Engineer
A:
Hi Jayesh Bhikadiya, nice to received your inquiry about our solar panel ground mount system.
I have replied our offer for 80 sets of this ground mount system to your email, please kind check.
Thank you.
Solar panel ground mounting landscape factory
Installation instruction for solar ground mounts(SPC-GA-4H-N)
Installation this solar ground mounts
Product Description:

The solar panel ground mounting system landscape orientation, and then they can be easily tilted to any seasonal angle to maximize solar energy, or they can be fixed in a flat/flush state. The durable and easy-to-install bracket system makes the photovoltaic system installation faster, saving time and manpower, and also saving additional tools required.

The conventional method of the solar mounting system is to fix the solar cell array at the same angle as the array position latitude to maximize the efficiency of the solar cell panel. solar ground mounting system is usually used on open ground. The solar cell array is connected to the support system with its foundation directly into the ground.

Our solar panel ground mount landscape design uses high-quality structural materials to ensure that our products are durable even under the harshest conditions. We have to carry out rigorous light tests on our products to ensure the safety and durability of the products. Our technical team can provide simplified solutions and customize them according to customer needs.

The aluminum bracket mounting system is versatile, sustainable and cost-effective. It can easily install a support system on the ground.

Feature of this solar panel ground mount landscape design:
1. Has a high stability performance;
2. Simple and fast installation, maximum adjustment;
3. Can withstand severe weather conditions;
4. It can support structural loads;
5. Highly corrosion-resistant anodized aluminum components;

When installing solar panel ground mount kit for landscape array, some structural considerations need to be addressed, such as wind load, snow load, and the strength of your ground to withstand natural forces, as well as the additional load of solar installation hardware and panels. We provide the best structure and pre-installed components on the market today, which can be used for most ground mounting systems.

Whether you need carbon steel brackets or aluminum alloy brackets, we can meet your solar bracket needs, so you can install products that meet the specifications and are durable. Solar panels are installed without leakage. If you have any needs, please feel free to contact us: www.solarpartscomponents.com

Brief Descriptions:
Solar Panel Ground Mount Kit for Landscape Array, SPC-GA-4H-N
Item type:
PV Module Mounts On Ground
Type:
SPC-GA-4H-N
Installation Site:
Flat Ground
Profile Material:
Aluminum alloy 6005-T5
Fasten Parts:
Stainless Steel
Color:
Silvery
Wind Load:
60 m / s
Snow Load:
1.4 KN / M2
PV Modules:
Framed, Frameless
Module Orientation:
Landscape
Standards:
AS/NZS 1170
DIN 1055
GB50009-2012
IBC2009
TUV
JIS C 8955: 2011
International   Building Code IBC 2009
California   Building Code CBC 2010
Warranty
10 years
Designed Lifespan
25 years
Packing Details:
Inner:
Bubble bag+inner box+Carton
Outer:
Wooden Box, Steel Pallet, MDF, etc

Installation manual for Solar panel ground mounting landscape,SPC-GA-4H-N

Solar panel ground mounting landscape factory

Q:

Dear Sir/madam,

I am interested in your Solar panel ground mounting landscape. I need 80 sets of this mounting system, each set for 40 panels.

Requesting you to provide an offer for the attached Ground-Mounted solar project; along with a suitable calculation of foundation details.

Tilt Angle: 20 Deg
Wind Speed: 160 Kmph
Minimum Ground clearance: 600 mm

The solar PV layout and module datasheet are attached for design.

Best Regards,

Jayesh Bhikadiya

Sr. Solar Engineer

A:

Hi Jayesh Bhikadiya, nice to received your inquiry about our solar panel ground mount system.

I have replied our offer for 80 sets of this ground mount system to your email, please kind check.

Thank you.

Solar panel ground mounting landscape factory

Installation instruction for solar ground mounts(SPC-GA-4H-N)

Installation this solar ground mounts