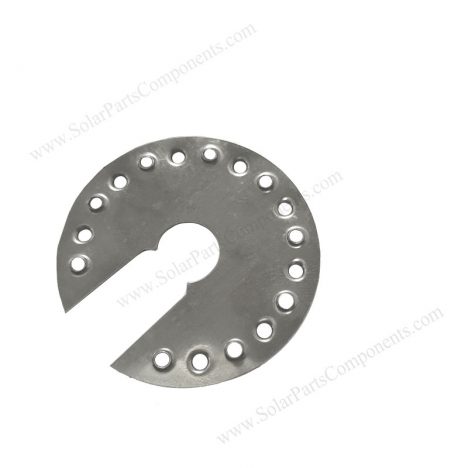 Earthing Clip Solar Mounting Components
Product Type: Solar Panel Mounting Systems Hardware

Product Model:SPC-GW-20

Material: Stainless Steel

Application: Solar Panels Installation
Contact by Email
Product Description
The grounding clip of the solar panel is used for grounding each module and the guide rail.
We design different grounding clips for different choices.
Each grounding clip has its unique use.
They are suitable for our aluminum rails and different grounding clips.
Designing different pinholes to pierce the oxide layer of the aluminum rail is simple, convenient, and quick to install, and is the most important part of the photovoltaic system.
Advantages
Bond the photovoltaic module to the solar mounting structure;
304 stainless steel;
The special teeth on the conductive sheet are embedded in the anodized aluminum;
Quick installation;
Pre-assembled;
Installation Instruction for solar grounding clip #20:
solar grounding clip#20 is designed to fit most aluminum rail.
Take out the solar grounding clip
Installed on the rail, used to pierce the anodized layer on the surface of the rail
Lead the lightning current from the solar module to the rail
Item No:
SPC-GW-20
Item type:
Solar Grounding Clip #20
Installation Site:
Aluminum rail
Product Module:
PV module grounding clips for solar panel 6F
Profile Material:
SUS 304 Stainless Steel
Application
Solar Mounting Project
Color:
Silvery or according to customer requirements
PV Modules:
Framed
Module Orientation:
Portrait and Landscape
Warranty
10 years
Designed Lifespan
25 years
Packing Details
Unit size:
Unit weight:
150(g)/0.33 [lb] /100pcs
Carton size:
550×210×185mm [21 3/4″ ×8 1/4″ ×7 1/4″]
Carton weight:
5,050 (g)/11.13[lb] /CTN (3000 PCS / CTN)
stainless steel solar grounding clip for PV module
Use this high-quality ground clip to pierce the oxide layer on the aluminum rail surface to prevent lightning attacks.