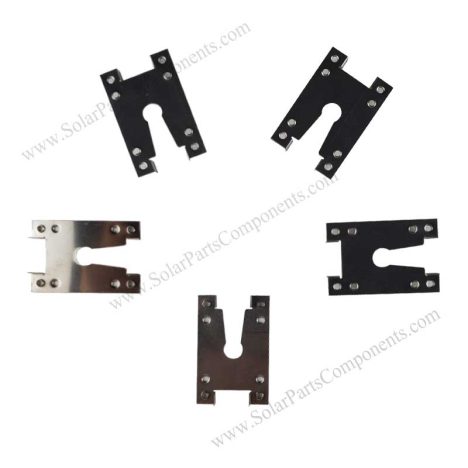 Electrical grounding clips for solar mounts
Product Type:PV Mounting Components

Product Model: SPC-GW-28

Material: SUS304

Max Wind Load : 60 m/s

Max Snow Load : 1.4 KN / M 2

Solar Module Orientation: Landscape / Horizontal

Application:  PV mounting
Contact by Email
Product Description:
The electrical grounding clips for solar panel is one of the most important parts of PV mounting system. They are use to ground each module with the rail. Commonly the grounding clips are mounted with mid clamps, and they are simple and easy to be assembled. Slide the grounding clips and mid clamp assembly into the position of the rail to fix the PV modules, the teeth of electrical grounding clip will automatically be aligned under the edge of the module when the mid clamp assembly is installed.
This electrical grounding clips for solar mounts is compatible with almost all of the clamps and framed PV modules.Usually, one washer match with one mid clamp.
electrical grounding clips for solar installation are ideal design for Rack mount, the specialized teeth of both sides embed into the anodized coating of solar panel frame and rails, to make excellent electric conduction while bonding the PV module frame with the racking rails, and create and electrical path to the ground, in order to reduce or eliminate the damage from thunder and lightning.
Features of this electrical grounding clips for solar panel;
Corrosion resistance 304 stainless steel, durable;
Lasts for lifetime of the PV system;
Suitable for various installation environments;
Factory direct and fast delivery.
We are a professional solar grounding clips manufacture factory. Provide a series of PV grounding washers to meet different requirement. Welcome to contact us about your needs. Our website is: www.SolarPartsComponents.com.
Brief Descriptions:
Solar Mounting Components –Electrical grounding clips for solar panel
Item type:
PV Mounting Components
Type:
SPC-GW-28
Installation Site:
Solar Panel
Profile Material:
SUS304 Stainless Steel
PV Modules:
Framed PV Module Panel
Color:
Plain
Module Orientation:
Landscape and Portrait
Standards:
AS/NZS 1170
DIN 1055
GB50009-2012
IBC2009
TUV
JIS C 8955: 2011
International   Building Code IBC 2009
California   Building Code CBC 2010
Warranty
10 years
Designed Lifespan
25 years
Packing Details:
Inner:
Bubble bag + inner box + Carton
Outer:
Wooden Box, Steel Pallet, MDF, etc
Drawing and Size for SPC-GW-28
Product Description:

The electrical grounding clips for solar panel is one of the most important parts of PV mounting system. They are use to ground each module with the rail. Commonly the grounding clips are mounted with mid clamps, and they are simple and easy to be assembled. Slide the grounding clips and mid clamp assembly into the position of the rail to fix the PV modules, the teeth of electrical grounding clip will automatically be aligned under the edge of the module when the mid clamp assembly is installed.

This electrical grounding clips for solar mounts is compatible with almost all of the clamps and framed PV modules.Usually, one washer match with one mid clamp.

electrical grounding clips for solar installation are ideal design for Rack mount, the specialized teeth of both sides embed into the anodized coating of solar panel frame and rails, to make excellent electric conduction while bonding the PV module frame with the racking rails, and create and electrical path to the ground, in order to reduce or eliminate the damage from thunder and lightning.

Features of this electrical grounding clips for solar panel;

 

Corrosion resistance 304 stainless steel, durable;

Lasts for lifetime of the PV system;

Suitable for various installation environments;

Factory direct and fast delivery.

We are a professional solar grounding clips manufacture factory. Provide a series of PV grounding washers to meet different requirement. Welcome to contact us about your needs. Our website is: www.SolarPartsComponents.com.

Brief Descriptions:
Solar Mounting Components –Electrical grounding clips for solar panel
Item type:
PV Mounting Components
Type:
SPC-GW-28
Installation Site:
Solar Panel
Profile Material:
SUS304 Stainless Steel
PV Modules:
Framed PV Module Panel
Color:
Plain
Module Orientation:
Landscape and Portrait
Standards:
AS/NZS 1170
DIN 1055
GB50009-2012
IBC2009
TUV
JIS C 8955: 2011
International   Building Code IBC 2009
California   Building Code CBC 2010
Warranty
10 years
Designed Lifespan
25 years
Packing Details:
Inner:
Bubble bag + inner box + Carton
Outer:
Wooden Box, Steel Pallet, MDF, etc

Drawing and Size for SPC-GW-28