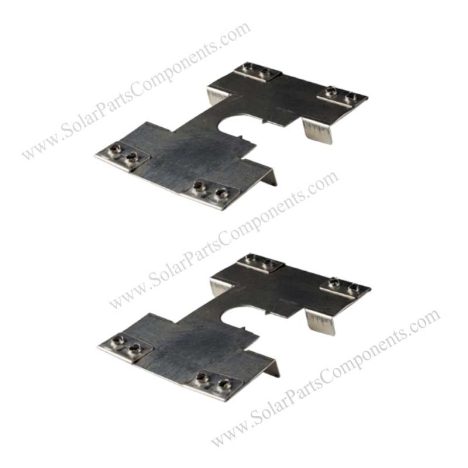 solar panel earthing clip SPC-GW-27 SUS304
Product Type: Solar panel earthing clip

Product Model: SPC-GW-27

Material: SUS304 stainless steel

Max Wind Load : 60 m/s

Max Snow Load : 1.4 KN / M 2

Solar Module Orientation: Landscape / Horizontal

Application:  Solar panel mounting
Contact by Email
Product Description:
Our solar panel earthing clip for connecting the whole system is an essential component of the PV mounting systems, it offers earthing on the edge of the solar panel with the mid or end clamps. The advantage of corrosion resistance keeps it can be used for more than 20 years.
The solar panel earthing clip is placed between PV modules and aluminum rails with an easier and fast method, which can reduce the installed cost of labor and save the time for installing.
Once the solar panel earthing washer is installed on rail, the teeth on grounding clip can penetrate the anodized surface of the rail and ensure the electricity flowed successfully. In this case, extra electricity on module will be distributed from solar module panel to rail. As for electrical connection, the quantity of grounding clips is very important.
Features of solar panel earthing clip:
Good corrosion resistance due to the material of stainless steel;
The teeth can penetrate the surface of the aluminum rail;
Various solutions for rail and clamp of roof, ground and carport applications etc.
Our solar panel earthing clip is designed for different kinds of solar mounting system. We provide several kinds of solar clips for your options. All of them are with high quality, high strength and cost effective. Hope that our products will meet your satisfaction.
Any special require, please contact us. SPC will design the most appropriate solution for you.
Click here for more details: www.SolarPartsComponents.com
Brief Descriptions:
Solar panel earthing clip for PV mounting system
Item type:
Solar panel earthing clip SPC-GW-27
Type:
Earthing hardware
Installation Site:
PV solar panel
Profile Material:
SUS304 stainless steel
Color:
Natural

Wind Load:
60 m / s
Snow Load:
1.4 KN / M2
PV Modules:
Framed
Module Orientation:
Landscape / Portrait
Standards:
AS/NZS 1170
DIN 1055
GB50009-2012
IBC2009
TUV
JIS C 8955: 2011
International   Building Code IBC 2009
California   Building Code CBC 2010
Warranty
10 years
Designed Lifespan
25 years
Packing Details:
Inner:
Bubble bag+inner box+Carton
Outer:
Wooden Box, Steel Pallet, MDF, etc
Drawing & Size for Solar Panel Earthing Clip SPC-GW-27
Product Description:

Our solar panel earthing clip for connecting the whole system is an essential component of the PV mounting systems, it offers earthing on the edge of the solar panel with the mid or end clamps. The advantage of corrosion resistance keeps it can be used for more than 20 years.

The solar panel earthing clip is placed between PV modules and aluminum rails with an easier and fast method, which can reduce the installed cost of labor and save the time for installing.

Once the solar panel earthing washer is installed on rail, the teeth on grounding clip can penetrate the anodized surface of the rail and ensure the electricity flowed successfully. In this case, extra electricity on module will be distributed from solar module panel to rail. As for electrical connection, the quantity of grounding clips is very important.

Features of solar panel earthing clip:

Good corrosion resistance due to the material of stainless steel;
The teeth can penetrate the surface of the aluminum rail;
Various solutions for rail and clamp of roof, ground and carport applications etc.

Our solar panel earthing clip is designed for different kinds of solar mounting system. We provide several kinds of solar clips for your options. All of them are with high quality, high strength and cost effective. Hope that our products will meet your satisfaction.

Any special require, please contact us. SPC will design the most appropriate solution for you.

Click here for more details: www.SolarPartsComponents.com

Brief Descriptions:
Solar panel earthing clip for PV mounting system
Item type:
Solar panel earthing clip SPC-GW-27
Type:
Earthing hardware
Installation Site:
PV solar panel
Profile Material:
SUS304 stainless steel
Color:
Natural

Wind Load:
60 m / s
Snow Load:
1.4 KN / M2
PV Modules:
Framed
Module Orientation:
Landscape / Portrait
Standards:
AS/NZS 1170
DIN 1055
GB50009-2012
IBC2009
TUV
JIS C 8955: 2011
International   Building Code IBC 2009
California   Building Code CBC 2010
Warranty
10 years
Designed Lifespan
25 years
Packing Details:
Inner:
Bubble bag+inner box+Carton
Outer:
Wooden Box, Steel Pallet, MDF, etc

Drawing & Size for Solar Panel Earthing Clip SPC-GW-27