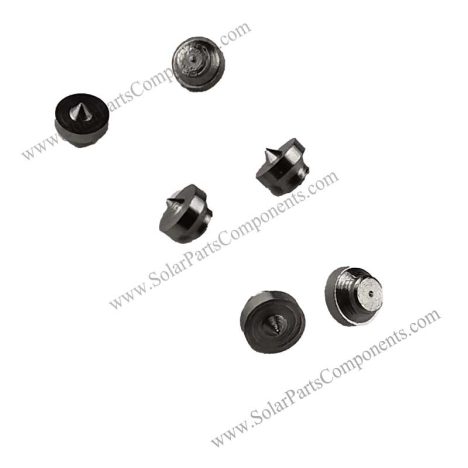 Grounding pin for solar clamp
Product Type: Solar grounding pin

Product Model: SPC-GP-01

Material: stainless steel

Max Wind Load : 60 m/s

Max Snow Load : 1.4 KN / M 2

Solar Module Orientation: Landscape / Horizontal

Application:  Solar earth ground
Contact by Email
Product Description:
Solar clamp pin is designed for solar earth grounding. It is intergrade with the solar clamps to instead of the
solar earthing plate, provide more convenient for solar panels to conduct electricity,saving material and
installation time.
The sharp point of the solar grounding pin can pierce into the surface coating of the mounting rails and create an
electrical grounding path to the earth.So that can protect the solar modules from damage for the lightning and
thunder.
The Grounding pin for solar clamp ususally intergrade on mid and end clamps,make the solar mounting more fast and
cost-effectively.SPC is one of the professional grounding pin manufacture factory,we aslo accept customized for
other type of the grounding pin. With sophisticated manufacturing machine, we alway produce good quality product
and fast for delivery,resonable pricing.
The features of this solar grounding pin:
— Factory direct, good price;– High quality stainless steel;
— Take the place of using ground washer, save cost;
— Sharp point of the pin, pierce in the the anodized coating easily;
— Fast and easy installtion;
— Better strength and better price.
Solar grounding pin factory,devoted to manufacturing good quality solar mounting accessories.We also provide solar
clamps with grounding pin. Welcome inquiry from our factory any time.For more details, please contact us from our
website:www.SolarPartsComponents.com.
Brief Descriptions:
Solar Mounting Components – Solar Clamp Pin
Item type:
Solar Panel Components
Type:
Solar Panel Fasten Hardware
Installation Site:
Solar clamp
Profile Material:
SUS304
Color:
plain
PV Modules:
Framed
Module Orientation:
Landscape and Portrait
Standards:
AS/NZS 1170
DIN 1055
GB50009-2012
IBC2009
TUV
JIS C 8955 : 2011
International   Building Code IBC 2009
California   Building Code CBC 2010
Warranty
10 years
Designed Lifespan
25 years
Packing Details:
Inner:
Bubble bag+inner box+Carton
Outer:
Wooden Box, Steel Pallet, MDF, etc
Solar clamp grounding pin factory
Q:
Hello,
We have an regular requirement of Solar Clamp Grounding Pins, millions in quantity.
While going through your below E-mail we found some similar Pins, which we are looking here in Germany. Please go through the attached Snap and update us about the product TDS, Rates and availability of the same. Can we have a trial order first, so that we can check fitment, conduct required tests and make analysis.
Waiting to hear from you soon…
Mit freundlichen Grüßen
Andreas Oberhauser
A:
Appreciated for your inquiry for our grounding pin solar clamp.
Yes, we can customized the pin for you accoding to your drawing.
Please refer to our quotation as file enclosed.
Thank you.
Q:
Hi, thank you for your offer, we would like to purchase this grounding pin from you.
Can we have a small quantity 120 million for this first order?
A:
Sure, please refer to the INVOICE for 1,200,000 solar clamp pin.
Just let us know when you done the payment.
We will arrange the shipment as soon as possible for you.
Thank you.
Solar clamp grounding pin factory sale team
Product Description:

Solar clamp pin is designed for solar earth grounding. It is intergrade with the solar clamps to instead of the
solar earthing plate, provide more convenient for solar panels to conduct electricity,saving material and
installation time.

The sharp point of the solar grounding pin can pierce into the surface coating of the mounting rails and create an
electrical grounding path to the earth.So that can protect the solar modules from damage for the lightning and
thunder.

The Grounding pin for solar clamp ususally intergrade on mid and end clamps,make the solar mounting more fast and
cost-effectively.SPC is one of the professional grounding pin manufacture factory,we aslo accept customized for
other type of the grounding pin. With sophisticated manufacturing machine, we alway produce good quality product
and fast for delivery,resonable pricing.

The features of this solar grounding pin:

— Factory direct, good price;– High quality stainless steel;
— Take the place of using ground washer, save cost;
— Sharp point of the pin, pierce in the the anodized coating easily;
— Fast and easy installtion;
— Better strength and better price.

Solar grounding pin factory,devoted to manufacturing good quality solar mounting accessories.We also provide solar
clamps with grounding pin. Welcome inquiry from our factory any time.For more details, please contact us from our
website:www.SolarPartsComponents.com.

Brief Descriptions:
Solar Mounting Components – Solar Clamp Pin
Item type:
Solar Panel Components
Type:
Solar Panel Fasten Hardware
Installation Site:
Solar clamp
Profile Material:
SUS304
Color:
plain
PV Modules:
Framed
Module Orientation:
Landscape and Portrait
Standards:
AS/NZS 1170
DIN 1055
GB50009-2012
IBC2009
TUV
JIS C 8955 : 2011
International   Building Code IBC 2009
California   Building Code CBC 2010
Warranty
10 years
Designed Lifespan
25 years
Packing Details:
Inner:
Bubble bag+inner box+Carton
Outer:
Wooden Box, Steel Pallet, MDF, etc

Solar clamp grounding pin factory

Q:

Hello,

We have an regular requirement of Solar Clamp Grounding Pins, millions in quantity.

While going through your below E-mail we found some similar Pins, which we are looking here in Germany. Please go through the attached Snap and update us about the product TDS, Rates and availability of the same. Can we have a trial order first, so that we can check fitment, conduct required tests and make analysis.

Waiting to hear from you soon…

Mit freundlichen Grüßen

Andreas Oberhauser

A:

Appreciated for your inquiry for our grounding pin solar clamp.

Yes, we can customized the pin for you accoding to your drawing.

Please refer to our quotation as file enclosed.

Thank you.

Q:

Hi, thank you for your offer, we would like to purchase this grounding pin from you.

Can we have a small quantity 120 million for this first order?

A:

Sure, please refer to the INVOICE for 1,200,000 solar clamp pin.

Just let us know when you done the payment.

We will arrange the shipment as soon as possible for you.

Thank you.

Solar clamp grounding pin factory sale team