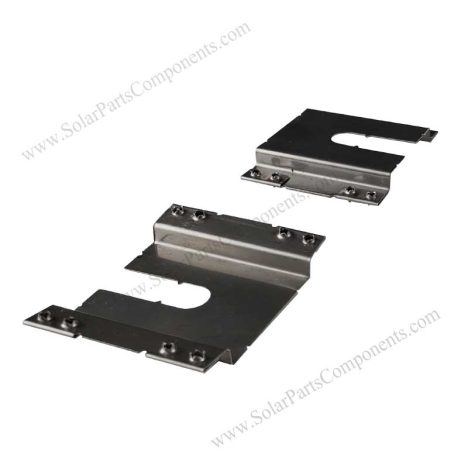 Grounding clips for solar modules
Product Type: Solar Mounting Parts

Product Model: SPC-GW-30-CG22

Material:SUS304 Steel

Max Wind Load : 60 m/s

Max Snow Load : 1.4 KN / M 2

Solar Module Orientation: Landscape / Horizontal

Application:  Solar panel installation
Contact by Email
Product Description:
While the solar panels installation, grounding clips for solar panels is one of the most important accessories for framed PV modules. They connect solar panels with rails to ground for electrical safety, and protect solar mounting equipment from damaging of grounding and lightning.
The grounding clips for solar modules are designed to bond PV modules to mounting rails and create an electrical path to the ground. The teeth of the grounding clips can penetrate into the anodized coating surface of the aluminum rails and create well electrical conduction.
This grounding clip is made of high quality SUS304 steels,good electrical conduction, high corrosion and rust resistance, long life span, suitable for out door service.
Special designed grounding clips for PV panels can be fitted for most type of the inter clamps, regularly, one grounding clips math one inter clamp. They provide simple and easy installation and can meet various framed PV modules.
Features of this grounding clips for solar panels:
1.SUS 304 material, anti rust and corrosion, long life service.
2. Simple and easy to install;
3.Compatible with most mid clamp and rails;
4.Good electrical conduction;
5.Recyclable materials saves your cost;
We are a professional solar grounding clips factory, provide a variety of solar grounding clips for your option. You can choose your desired grounding clip suitable for the installation system according to your needs. We also accept customization. Welcome inquiry from us, If you have any questions, please feel free to contact us: www.solarpartscomponents.com.
Brief Descriptions:
Solar Mounting Components –grounding clips for solar panels
Item type:
PV Mounting Components
Type:
SPC-GW-30-CG22
Installation Site:
Solar Panel
Profile Material:
SUS304 Stainless Steel
PV Modules:
Framed PV Module Panel
Color:
Plain
Module Orientation:
Landscape and Portrait
Standards:
AS/NZS 1170
DIN 1055
GB50009-2012
IBC2009
TUV
JIS C 8955: 2011
International   Building Code IBC 2009
California   Building Code CBC 2010
Warranty
10 years
Designed Lifespan
25 years
Packing Details:
Inner:
Bubble bag + inner box + Carton
Outer:
Wooden Box, Steel Pallet, MDF, etc

Packing Details:
Inner:
Bubble bag+inner box+Carton
Outer:
Wooden Box, Steel Pallet, MDF, etc
Size & Drawing for Grounding Clips for Solar Panel SPC-GW-30-CG22
Product Description:

While the solar panels installation, grounding clips for solar panels is one of the most important accessories for framed PV modules. They connect solar panels with rails to ground for electrical safety, and protect solar mounting equipment from damaging of grounding and lightning.

The grounding clips for solar modules are designed to bond PV modules to mounting rails and create an electrical path to the ground. The teeth of the grounding clips can penetrate into the anodized coating surface of the aluminum rails and create well electrical conduction.

This grounding clip is made of high quality SUS304 steels,good electrical conduction, high corrosion and rust resistance, long life span, suitable for out door service.

Special designed grounding clips for PV panels can be fitted for most type of the inter clamps, regularly, one grounding clips math one inter clamp. They provide simple and easy installation and can meet various framed PV modules.

Features of this grounding clips for solar panels:

1.SUS 304 material, anti rust and corrosion, long life service.

2. Simple and easy to install;

3.Compatible with most mid clamp and rails;

4.Good electrical conduction;

5.Recyclable materials saves your cost;

We are a professional solar grounding clips factory, provide a variety of solar grounding clips for your option. You can choose your desired grounding clip suitable for the installation system according to your needs. We also accept customization. Welcome inquiry from us, If you have any questions, please feel free to contact us: www.solarpartscomponents.com.

Brief Descriptions:
Solar Mounting Components –grounding clips for solar panels
Item type:
PV Mounting Components
Type:
SPC-GW-30-CG22
Installation Site:
Solar Panel
Profile Material:
SUS304 Stainless Steel
PV Modules:
Framed PV Module Panel
Color:
Plain
Module Orientation:
Landscape and Portrait
Standards:
AS/NZS 1170
DIN 1055
GB50009-2012
IBC2009
TUV
JIS C 8955: 2011
International   Building Code IBC 2009
California   Building Code CBC 2010
Warranty
10 years
Designed Lifespan
25 years
Packing Details:
Inner:
Bubble bag + inner box + Carton
Outer:
Wooden Box, Steel Pallet, MDF, etc

Packing Details:
Inner:
Bubble bag+inner box+Carton
Outer:
Wooden Box, Steel Pallet, MDF, etc

Size & Drawing for Grounding Clips for Solar Panel SPC-GW-30-CG22