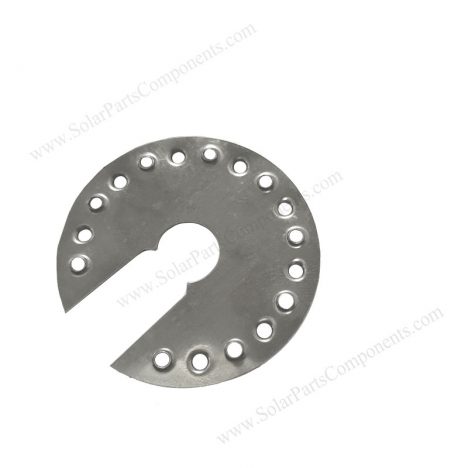 Earthing Clip Solar Mounting Components
Product Type: Solar Panel Mounting Systems Hardware

Product Model:SPC-GW-20

Material: Stainless Steel

Application: Solar Panels Installation
Contact by Email

Product Description

 

The grounding clip of the solar panel is used for grounding each module and the guide rail.

We design different grounding clips for different choices.

Each grounding clip has its unique use.

They are suitable for our aluminum rails and different grounding clips.

Designing different pinholes to pierce the oxide layer of the aluminum rail is simple, convenient, and quick to install, and is the most important part of the photovoltaic system.

Advantages
Bond the photovoltaic module to the solar mounting structure;
304 stainless steel;
The special teeth on the conductive sheet are embedded in the anodized aluminum;
Quick installation;
Pre-assembled;
Installation Instruction for solar grounding clip #20:

solar grounding clip#20 is designed to fit most aluminum rail.
Take out the solar grounding clip
Installed on the rail, used to pierce the anodized layer on the surface of the rail
Lead the lightning current from the solar module to the rail
 

If you're interested in solar mounting components or solar system, we'd love to discuss with you about more and answer any questions you might have. As a professional manufacturer of PV mounting system, SPC is a great option for you.

Click here for more details and information:

www.SolarPartsComponents.com

 

 
Item No:
SPC-GW-20
Item type:
Solar Grounding Clip #20
Installation Site:
Aluminum rail
Product Module:
PV module grounding clips for solar panel 6F
Profile Material:
SUS 304 Stainless Steel
Application
Solar Mounting Project
Color:
Silvery or according to customer requirements
PV Modules:
Framed
Module Orientation:
Portrait and Landscape
Warranty
10 years
Designed Lifespan
25 years
Packing Details
Unit size:
Unit weight:
150(g)/0.33 [lb] /100pcs
Carton size:
550×210×185mm [21 3/4″ ×8 1/4″ ×7 1/4″]
Carton weight:
5,050 (g)/11.13[lb] /CTN (3000 PCS / CTN)
Drawing & Size for SPC-GW-20
How to install this solar grounding clip for PV module SPC-GW-20?
solar grounding clip is made of high-quality 304 stainless steel. In strict accordance with industry standards, special surface treatment has been carried out during processing. It has strong corrosion resistance and is suitable for layer-by-layer processing in various installation environments. The surface of the product is smooth and fine without burrs.

solar grounding clip usually used between solar panels and aluminum rails, the spikes on the surface of the conductive sheet can pierce the anodic oxide layer on the surface of the upper and lower components at the same time, so that the circuit between the entire system can be connected, and the solar components can be prevented from being damaged by lightning strikes. To a certain extent, ensure the safe use of solar energy systems.
How can I buy solar grounding clip for PV module SPC-GW-20?
"

Dear sir,

Good Morning.

Looking SIMPLE & SMART, cost effective solution for PV module GROUNDING CLIPS.

Advise for End Clamp and Mid Clamp,

Our Project Glimpse as follows,

· Metal sheet mounting
· Total Strings – 228nos.
· Total No. of Pv Modules – 3334 nos.

Select the right model for end clamp and mid clamp and send us sample for our client approval.

Please provide us the best price (CIF Bahrain) with good delivery terms.

Please advise which one is suitable to our solar mounting system.

SPC-GW-20-Grounding-Clips

Is it necessary to keep two grounding clips in all mid clamps (panel top & bottom) between two solar panels?

Please send any installation videos for easy understanding.

Please send us the this grounding clip samples as soon as possible.

As well, give us your best attractive price for the supply of both items as per our solar design system which was explained to you in detail.

Added, request you to send samples for " SOLAR GROUNDING CLIPS " for the same project. Sent details in whatsapp / email.

We don't have any permanent account with any freight forwarders.

Please send your samples in door to door courier.

Kindly note our address as follows,

Techmaaxx Projects and Services wll
Villa 29
Block 439
Road 33
North sehla
Kingdom of bahrain
Mobile – 00973 35645888

"

"

Hi Mohamed

May you and your whole family be safe & happy everyday.

I have replied all related information about this solar grounding clip for PV module SPC-GW-20 through email.

For any clarification, please contact in whatsapp / email for response.

Awaiting for your reply at the earliest.

Thank you,

SPC solar sales team

"
Solar grounding clip for PV module factory
SPC is one of the leading manufacuture factory for Solar grounding clip.We carry various types of PV grounding clip to meet different type of equipments.This model SPC-GW-20 of grounding clip is one of the most popular for many installers.General type designed suitable for most types of the rails and clamps.

Welcome inquiry from us, we will return to you the most competitive price and best quality.
stainless steel solar grounding clip for PV module
Use this high-quality ground clip to pierce the oxide layer on the aluminum rail surface to prevent lightning attacks.
What are SPC-GW-20's features?
Features of this round solar panel grounding clips:

1.Good conductive;
2.Strong compatibility;
3.Customer customization;
4.Strong electrical conductivity.