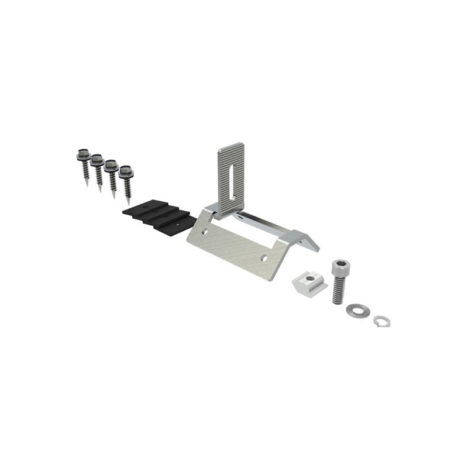 Solar Metal Roof Clamps for Corrugated Tin Zinc Roofing, Side Mount
Product Type: solar corrugated metal roof mounting clamps

Product Model: Solar-Corrugated-Tin-Zinc-Metal-Roof-Clamp-Side-Mount

Material: Alum, Steel

Max Wind Load : 60 m/s

Max Snow Load : 1.4 KN / M 2

Application: Tin Zinc Metal Roofing Solar Panels Installation
Contact by Email
Product Description :
The corrugated metal roofing clamp is designed for side mount, easy of installation and good stability .
This Solar side mount clamp is great for corrugated, zinc, tin metal roofing construction .
Very easy for roofer to install the clips, solar panels, wire cables together with other solar parts and components .
Side mount tin metal roofing clamps are also suitable for retrofits , dipping some mastic when screwing can be water-resistant .
This solar clamp is straddled over two sides of metal roof ridges,  it' s made of SUS 304 stainless steel .
The corrugated metal roofing clam is designed to attaching PV module directly to corrugaged, tin, zinc metal roof .
This clamp is Side mounted for Trapezoidal Corrugated Metal Roofs, cost-effective, easy to use.
This corrugated metal roofing bracket comes with four pieces of adhesive rubber sealant pads , make sure weather proof after solar panel project installed .
Advantages :
(1) Easy installation without collapsing old metal roofing ;
(2) Low cost and effective comparing traditional corrugated metal roof clamps ;
(3) Economical designed by using high quality stainless steel material ;
(4) Leak proof with rubber pads .
Parts and Components for Side Mount Corrugated Metal Roof clamps for Solar Panels :
a) One piece of solar side mount corrugated metal roof clamp ;
b) 2 pieces of rubber gaskets ;
c) 4 pieces of 304 steel screws ;
d) one set of solar mounting kits for rail ; ( Optional )
e) one flat washer;
f) one spring washer.
Our factory offers many kinds of solutions for solar mounting system besides the various solar components. We are the solar module supplier with more than 10 years experience. All of our products are with good quality and cost effective. Welcome buy from our factory.
Click here for more details:
https://www.SolarPartsComponents.com
Brief Descriptions :
Solar Metal Roof Clamps for Corrugated Tin Zinc Roofing, Side Mount
Item type:
Solar Metal Roof Brackets
Type :
Solar Roofing Side Mount Clamps
Installation Site :
Corrugated Metal Roofing
Profile Material :
Aluminium 6005- T5+ SUS 304
Fasten Parts :
Stainless Steel
Color :
Silvery or according to customer requirements
Wind Load :
60 m / s
Snow Load :
1.4 KN / M2
PV Modules :
Framed, Frameless
Module Orientation :
Portait and Landscape
Standards :
AS/NZS 1170
DIN 1055
GB50009-2012
IBC2009
TUV
JIS C 8955 : 2011
International   Building Code IBC 2009
California   Building Code CBC 2010
Warranty
10 years
Designed Life Span
25 years
Packing Details :
Inner :
Bubble bag+inner box+Carton
Outer :
Wooden Box, Steel Pallet, MDF, etc
What is a roof clamp?
One of the indispensable and important components when installing the solar panel system, it can play a role in supporting related components such as rails and panels above the roof. The following is an inquiry about Solar Corrugated Metal Roofing Clamp.
Q:
We have A metal roof installation in EL Paso Texas, Could you all quote us 7700 pcs of your trapazoid clamps–metal roof clamp
Thank you
A:
Appreciated for your inquiry for our Solar Corrugated Metal Roofing Clamp SPC-CK-03A.
Our factory price please refer to attached.
Below is our shipping reference picture.
Please advise.
Q:
Thank you for your early reply!
Solar Corrugated Metal Roofing Clamp installation.
Trapezoidal Metal Roof Clamps For Solar Panel is easy to install, so that we can save the time and improve the installation efficiency.
The clamp SPC-CK-03-A is designed for side mount with good stability. There are two holes on each side, which is used for driving screws.
So that it can be better fixed on the mental roof. The side of the clamp is used to install the rail, making the mounting system more perfect.
Solar Metal Roof Clamps for Corrugated Tin Zinc Roofing, Side Mount , wholesale
Q:
Solar Metal Roof Clamps for Corrugated Tin Zinc Roofing, Side Mount
Look to buy 50 units for sample,can you supply direct to theUK or do you have UK supplier.
A:
Appreciated for your inquiry for our Solar Metal Roof Clamps for Corrugated Tin Zinc Roofing, Side Mount.
You can buy from our factory directly with cometitive price.
May I know roughly how many  quantity do you need after the samples are approved.
Q:
We need around 5,000 units for this project at present.
A:
I have sent our quotation for the corrugated metal roofing clamps to your mailbox,kindly check.
Q:
Does is come with mounting hardware like on your site?
E.g. 4 screws and clamp plate  and sealing gasket.
A:
Yes,each unit include: clamp plate,4 screws and sealing gaskets.
Q:
Great, Payment has been sent now thank you.
My address: Wynforde House London Road Middleton,UK
A:
Well received thank you. The clamps are ready for shipping.
10 days later.
Q:
Hi we have received the samples, they can work well for our metal roof after test.
Please send me offer for 5,000 units of this Metal Roof Clamps for Corrugated Roofing.
Metal roof clamp / hook / bracket , side mounted for PV module Installation
Metal Sheet Solar Mounting Clamp, side mounting installation
Solar Panel Trapezoid Metal Roof Clamp Series
Solar Panel Trapezoid Metal Roof Clamp Series, side mounted or bottom mounted :
Drawing for this Side Mounted trapezoid, tin, sandwich, zinc, corrugated metal roof clamps
Drawing for Side mount Solar Metal roof clamps – trapezoid, tin, sandwich, zinc, corrugated roofing type
Solar Trapezoid Metal Roof Clamps Side Mount Size Profile
Size & Profile for one side mount trapezoid metal roof clamp,