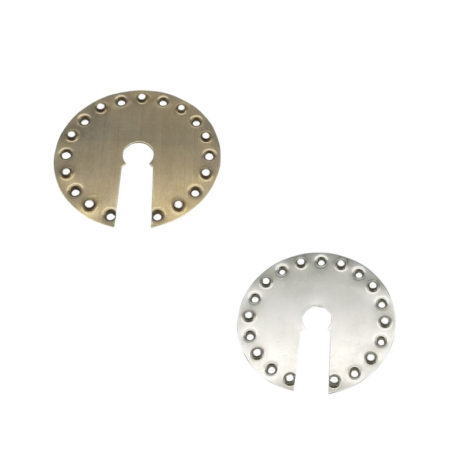 Grounding Clip Solar Mounting Components
Product Type: PV Module Grounding Clips

Product Model: PV-module-grounding-clips-for-solar-panel-6F

Material: SUS 304 Steel

Max Wind Load : 60 m/s

Max Snow Load : 1.4 KN / M 2

Application: Solar Panels Installation
Contact by Email
Product Description :
Model : PV-Grounding-Clips-for-Solar-Panels-SPC-GW-06
This PV module grounding clip (SPC-GW-06) is designed for solap panel earthing application .
Well performance under laboratory testing for this solar panel grounding clip – SPC-GW-06 :
current , sinusoidial vibration, durability, secureness, pullout , temperature , humidity, mixed flowing gas, salt fog …
Solar panel grounding clips is a must electric grounded component for solar lightning protection .
But in many cases, this small clip is ignored and overlooked which cause of catatrophic poorly earthing .
Prevent striking of lightning in thunder storm weather with our grounding washers SPC-GW-06 .
These 6F grounding clips is fixed between photovoltaic modules , mid / end clamps , aluminum rails, carbon steels .
It can conduct lightning directly to ground, protecting inveter , battery and other instruments .
Advantages :
– Used for Photovoltaic modules grounding ;
– Anti corrosive for ambient environmental -40 to 75 degree ;
– Creating great path let lightning go through .
Besides the PV groungding clips for solar panel 6F, our SPC provides the different products including the components and the solar mounting system to meet your needs.
Welcome to contact and get more information for solar mounting brackets.
https://www.SolarPartsComponents.com
Brief Descriptions :
PV Module Grounding Clips for Solar Panel 6F for earthing kits
Item type:
Solar Panel Mounting Components
Technical Parameters :
Installation Site :
solar panel mounting structure
Profile Material :
SUS304 Stainless Steel
Color :
Polish milling
Wind Load :
60 m / s
Snow Load :
1.4 KN/M2
Module Orientation :
Portait and Landscape
Standards :
AS/NZS 1170
DIN 1055
GB50009-2012
IBC2009
TUV
JIS C 8955 : 2011
International   Building Code IBC 2009
California   Building Code CBC 2010
Warranty
10 years
Designed Life Span
25 years
Packing Details :
Inner :
Bubble bag+inner box+Carton
Outer :
Wooden Box, Steel Pallet, MDF, etc
Can you print LOGO if we order pv module grounding clip washer from you?
Q:
We are looking to place order for pv module grounding clip washers (as per below image), kindly send data sheet and best offer.
Qty. = 50,000 pcs of SPC-GW-06 (Circular shape with phi = 44mm).
All washers should be Labeled with your company name (Graved) – LOGO printed.
Having discussion with DNOs, company logo/ name can be graved/printed on U-washer (manufacturer name/ logo is not on the item).
A logo or company name on each washer,
Abbreviation name or logo on pv module grounding plate washer is not acceptable.
These pv module grounding washer clips are used for earthing purposes to be installed with middle clamps.
They should be suitable for installation with our middle clamps, No deviation in dimensions.
Also, kindly advise if those washers are aluminum or stainless steel?
Kindly note that proposed washers (Diameter = 44 mm) should be suitable for our case with below parameters:
Distance between 2 PV Modules = 16 mm.
Frame width = 4 mm.
Frame high = 4 mm.
Distance between cell side to frame side about 5 mm.
If all above requirements can be met, provide us with PI for below items:SPC-GW-06, Qty. = 50,000 pcs.
Best regards,,
Ali Qatarneh
Tel: +962 6 4716602
A:
Dear Ali
Our washers are all stainless steel.
Yes, our universal grounding clip as below:SPC-GW-06-WEEB-Grounding-Clips can meet your clamp sizes.
SPC-GW-06 for 44mm diameter,We Could offer washer with Logo on it.
As our proposed washers (Diameter = 44 mm), please refer to following installation photos,because they are installed under PV MODULES.
Thank you for order from us.
PV Module Grounding Clips Factory
Drawing sizes for pv module grounding electric plates
Our PV grounding electrical clips model 6F is made of 304 SUS Stainless Steel .
It's used together with solar mounting system.
solar panel grounding electric plates 6F can bond PV modules to installing structures and generate an electrical way to ground .
This design can prevent running grounding cables between individual PV modules, just penetrate rib points of aluminum rail surfaces .
6E pv module grounding electrical washers can ensure great conductivity for whole earth system .
Save labor & component cost !
Factory direct pv grounding electrical clips 6F wholesale with size and drawing details .
Solar earthing clips
Solar earthing clips is used to connect solar panels, mid clamps and aluminum rails
Ground earthing clips for solar panel
Good electric conduction for grounding earth clips for PV module;
SUS 304 stainless steel material
High-quality accessories for solar mounting system
It was well-designed by SPC professional team. Its size and shape can be compatible with most inter clamps.
PV Grounding Clips for Solar Panel WEEB
PV Grounding Clips for Solar Panel manufacturer factory,SPC carry many types of PV Gounding clips to meet different demands.
This model:PV Grounding Clips for Solar Panel SPC-GW-06 is universal roundness shape,able to compatible with most type of the mounting rails.The diameter of this ground clip is 44mm(1.73″),the sharp teeth circle around the plate can easy pierce into the surface coating of the both rail and solar modules frame.
Solar ground plate
Electrical ground plate can pierce into aluminum anodized surface, are used for fixing solar structure and PV modules.