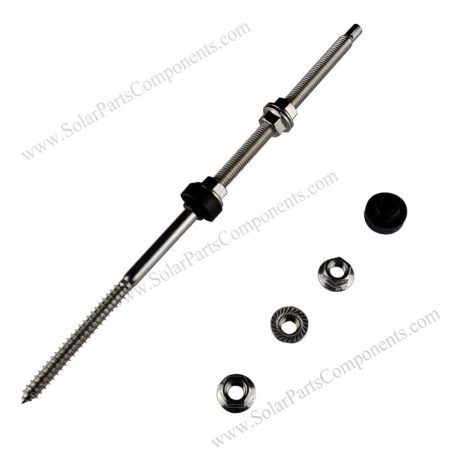 hanger bolts for solar made of SUS 304
Product Type: Solar roofing mounted

Product Model: SPC-FA-H030

Material: Stainless steel

Max Wind Load : 60 m/s

Max Snow Load : 1.4 KN / M 2

Solar Module Orientation: Landscape / Horizontal

Application:  Roofing
Contact by Email
Product Description:
Hanger bolts for solar racking have thread areas at both two ends, one end fix to the roof beam, the other end connect with mounting brackets: L feet or plate. They are designed for both wooden structure and sheet metal structure which need to pre-drilled hole. The EDPM washer make the weatherproof seal when pushing against the roof sheet. The double threaded ends make easier and faster to adjust the depth and height during mounting.
Features of this hanger bolts for solar:
Corrosion resistance;
Pre-assembled;
High durability;
Fast and easy to mount;
SUS304 stainless steel;
Easy to adjust the height of the roof;
EDPM rubber can be effective waterproof.
Hanger bolts for solar are important components on racking roof installation. Our hanger bolts are designed for trapezoidal / zinc / corrugated / sandwich metal roof profiles.
We are the factory of racking mounting accessories for more than 10 years, provide you best quality and best service. Welcome to our website: www.SolarPartsComponents.com.
Brief Descriptions:
Solar mounting component – SPC-FA-H030
Item type:
hanger bolts for solar
Type:
SPC-FA-H030
Installation Site:
Solar roofing mounted
Profile Material:
Stainless steel
Fasten Parts:
Stainless Steel
Color:
Nature
Wind Load:
60 m / s
Snow Load:
1.4 KN / M2
PV Modules:
Framed, Frameless
Module Orientation:
Landscape / Portrait
Standards:
AS/NZS 1170
DIN 1055
GB50009-2012
IBC2009
TUV
JIS C 8955: 2011
International   Building Code IBC 2009
California   Building Code CBC 2010
Warranty
10 years
Designed Lifespan
25 years
Packing Details:
Inner:
Bubble bag+inner box+Carton
Outer:
Wooden Box, Steel Pallet, MDF, etc
Product Description:

Hanger bolts for solar racking have thread areas at both two ends, one end fix to the roof beam, the other end connect with mounting brackets: L feet or plate. They are designed for both wooden structure and sheet metal structure which need to pre-drilled hole. The EDPM washer make the weatherproof seal when pushing against the roof sheet. The double threaded ends make easier and faster to adjust the depth and height during mounting.

Features of this hanger bolts for solar:

Corrosion resistance;
Pre-assembled;
High durability;
Fast and easy to mount;
SUS304 stainless steel;
Easy to adjust the height of the roof;
EDPM rubber can be effective waterproof.

Hanger bolts for solar are important components on racking roof installation. Our hanger bolts are designed for trapezoidal / zinc / corrugated / sandwich metal roof profiles.

We are the factory of racking mounting accessories for more than 10 years, provide you best quality and best service. Welcome to our website: www.SolarPartsComponents.com.

Brief Descriptions:
Solar mounting component – SPC-FA-H030
Item type:
hanger bolts for solar
Type:
SPC-FA-H030
Installation Site:
Solar roofing mounted
Profile Material:
Stainless steel
Fasten Parts:
Stainless Steel
Color:
Nature
Wind Load:
60 m / s
Snow Load:
1.4 KN / M2
PV Modules:
Framed, Frameless
Module Orientation:
Landscape / Portrait
Standards:
AS/NZS 1170
DIN 1055
GB50009-2012
IBC2009
TUV
JIS C 8955: 2011
International   Building Code IBC 2009
California   Building Code CBC 2010
Warranty
10 years
Designed Lifespan
25 years
Packing Details:
Inner:
Bubble bag+inner box+Carton
Outer:
Wooden Box, Steel Pallet, MDF, etc