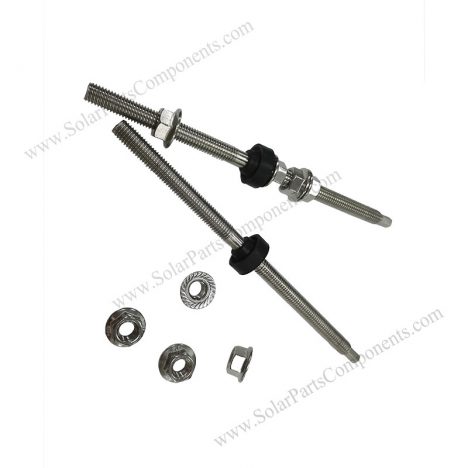 Hanger Bolts Solar Mounting Components
Product Type: Solar Panel Mounting Systems Hardware
Product Model: Solar-Panel-Roof-Hanger-Bolts
Material: Steel, Rubber, Aluminum
Max Wind Load : 60 m/s
Max Snow Load : 1.4 KN / M 2
Application: Solar Panels Roofing Installation
Contact by Email
Product Description :
The material of SPC solar hanger bolt is stainless steel SUS304 ,fixed on fixed rails and roof brackets.
Three options with lengths of 200mm, 250mm and 300mm, M8, M10 and M12 can be used to adjust the distance between the bracket/L foot rail and the metal roof.
The solar hanging bolt is specially designed for trapezoidal/zinc/corrugated/sandwich metal roof profiles.
Our hook bolts can be pre-assembled into the listed parts, these parts include: 1 hook bolt, 4lock nuts with shallow light, 1 washer, 1 SUS 304 Long slot board, EPDM node…
Advantages :
1. 200, 250, 300 lengths can be selected
2. Good compatibility
3. Pre-assembled
4.Quickly installation
5. Reliable and firm
6.Parts and components include bolts, rubber pads, flange nuts, and support plates
Installation Instruction for solar hanger bolt:
(1) Pre-drilled holes in C steel beam;
(2) Screw in the lug bolt, the EPDM seal should slightly compress the roof surface;
(3) Adjust the adapter plate to an appropriate height, and then tighten the flange nut;
(4) Install aluminum rails and rail splice;
(5) Install the mid / end clamp.
Item No:
SPC-FA-HP020
Item type:
Solar Panel Roof Hanger Bolts
Installation Site :
Home / Indurstrial / Commercial
Installation Angle :
0° ~ 75°
Profile Material :
SUS 304 Stainless Steel + EPDM
Fasten Parts :
A2 Stainless Steel Bolts , L foot
Color:
Silvery or according to customer requirements
PV Modules:
Framed, Frameless
Module Orientation:
Portait and Landscape
Warranty
10 years
Designed Lifespan
25 years
Packing Details
Unit size:
Unit weight:
Carton size:
Carton weight:
How to using this SUS 304 solar hanger bolt ?
More details kindly check >>>
SUS 304 hanger bolt
solar hanger bolt new solutions for C steel beam. Material is stainless steel SUS304, Three options with length of 200 mm、250mm and 300 mm, M8、M10 and M12 can be used to adjust the distance between bracket/foot rail and metal roof. Our hook bolts can be pre-assembled into listed parts, one more flange nut than traditional solar hanger bolt.
Feature:
1.Pre-assembled hardware
2.fixed directly to steel purlins
3.high quality stainless steel SUS304
4.EPDM can be effectively waterproof
5.Height adjustable
Solar hanger bolt for wooden rafter & steel purlin
Solar hanger bolt – pointed head & flat head. It is designed for solar metal roof mounting system. Can be used for wooden rafter & steel purlin.
Features
– Corrosion resistance, SUS304 stainless material;
– Strong waterproof, EPDM rubber washer to be a sealing;
– High compatibility, is applied for both side mounting & flat mounting with rails;
– Multiple selection, 200mm/250mm/30mm length for choice.