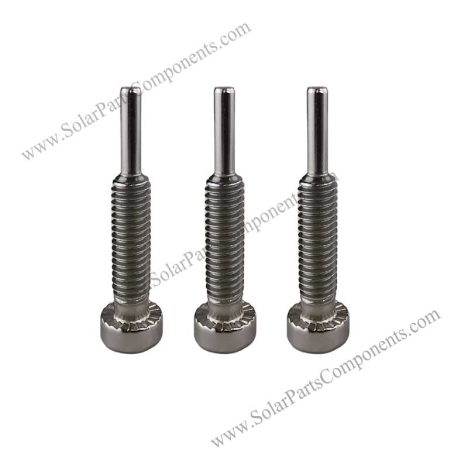 Torx Head Screws for Solar
Product Type: Solar Accessories

Product Model:

Material:A2-70

Max Wind Load : 60 m/s

Max Snow Load : 1.4 KN / M 2

Solar Module Orientation: Landscape / Horizontal

Application:  Unframed / Bifacial / Frameless modules
Contact by Email
Production Description:
This model ofTorx head screws for solar is a newly design for solar panel mounting. It is mostly used for fastfix solar clamp fastening. Special design for the screw with a long dog point is use to insert into the clamp when fasted tight, the end of the clamp is forced to expand and Jam tightly on the mounting rail.
The torx head cap is also a special design from our torx drive head screws factory. It is design as anti-thief solution, it will also need special torx wrench to fix them. It is made of high quality A2-70 material, highly anti-corrosion and long life service,suitable for out door service.
Torx drive head screw customized factory manufacture not only the torx head screws, but also hexagon socket head and various types of anti-thief screws and backstop screws.
Torx head screws for solar professional OEM&ODM manufacture factory in China. Our factory has years of rich experience at customized many different types of screws for our customers.
If you have any special requirement for the screws, please contact us for further communication, our factory would customized for you as your request. SolarPartsComponents factory accept OEM & ODM customized for all kinds of solar mounting accessories. Welcome visit our website: www.SolarPartsComponents.com
Brief Descriptions:
Solar Mounting Components –Torx head screws for solar
Item type:
Solar Panel Components
Type:
Solar Panel Fasten Hardware
Installation Site:
Ground/Roof solar Panel Mounting
Profile Material:
Stainless Steel A2-70
Color:
Silvery/customer requirements
PV Modules:
Frame/Frameless
Module Orientation:
Landscape and Portrait
Standards:
AS/NZS 1170
DIN 1055
GB50009-2012
IBC2009
TUV
JIS C 8955 : 2011
International   Building Code IBC 2009
California   Building Code CBC 2010
Warranty
10 years
Designed Lifespan
25 years
Packing Details:
Inner:
Bubble bag+inner box+Carton
Outer:
Wooden Box, Steel Pallet, MDF, etc
Production Description:

This model ofTorx head screws for solar is a newly design for solar panel mounting. It is mostly used for fastfix solar clamp fastening. Special design for the screw with a long dog point is use to insert into the clamp when fasted tight, the end of the clamp is forced to expand and Jam tightly on the mounting rail.

The torx head cap is also a special design from our torx drive head screws factory. It is design as anti-thief solution, it will also need special torx wrench to fix them. It is made of high quality A2-70 material, highly anti-corrosion and long life service,suitable for out door service.

Torx drive head screw customized factory manufacture not only the torx head screws, but also hexagon socket head and various types of anti-thief screws and backstop screws.

Torx head screws for solar professional OEM&ODM manufacture factory in China. Our factory has years of rich experience at customized many different types of screws for our customers.

If you have any special requirement for the screws, please contact us for further communication, our factory would customized for you as your request. SolarPartsComponents factory accept OEM & ODM customized for all kinds of solar mounting accessories. Welcome visit our website: www.SolarPartsComponents.com

Brief Descriptions:
Solar Mounting Components –Torx head screws for solar
Item type:
Solar Panel Components
Type:
Solar Panel Fasten Hardware
Installation Site:
Ground/Roof solar Panel Mounting
Profile Material:
Stainless Steel A2-70
Color:
Silvery/customer requirements
PV Modules:
Frame/Frameless
Module Orientation:
Landscape and Portrait
Standards:
AS/NZS 1170
DIN 1055
GB50009-2012
IBC2009
TUV
JIS C 8955 : 2011
International   Building Code IBC 2009
California   Building Code CBC 2010
Warranty
10 years
Designed Lifespan
25 years
Packing Details:
Inner:
Bubble bag+inner box+Carton
Outer:
Wooden Box, Steel Pallet, MDF, etc