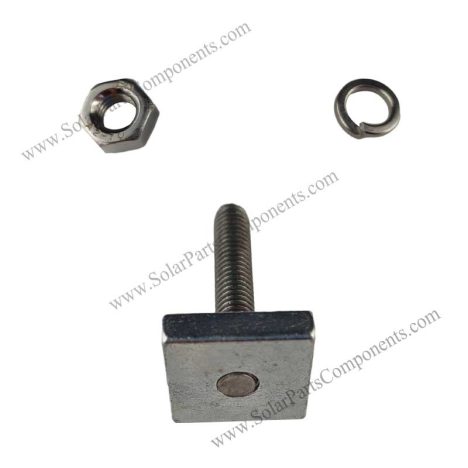 M6 square head screw for solar mounts
Product Type: Solar Mounting Components

Product Model: M6 bolts

Material: Stainless stell

Max Wind Load : 60 m/s

Max Snow Load : 1.4 KN / M 2

Solar Module Orientation: Landscape / Horizontal

Application:  Solar mounting
Contact by Email
Product Description:
Our M6 square head bolts for solar are ideal in construction of solar panel installation.They can be inserted vertically into the slot and slid flexible. During tightening,the bolt is force into the crosswise position and thus anchored in the slot.
SS A2-70 M6 square head screw for solar mounts has a square shape head. Its a common used fastener that supply with a nut to joint the target object which has a T shaped slot and with its square T shaped head sit flush or below the surface of the surrounding material.
M6 square head nut for PV mounting is used in a range of applications- such as the fastening of solar mounting rails.They are able to be placed flexibly in required positions within anchor channels.
Features of this M6 square head bolts for solar:
Stainless steel, anti-rust;
Highly corrosion resistance;
Easy toinsert into T slot of profile;
Both Metric and British standard thread are available;
The length of this M6 square head bolt is available to be customized.
Our engineer can issue proper drawings to match section profile given by clients .
As a professional solar bolts and screw manufacturer, we carry various types of bolts and screws in different sizes.All our products are appreciated for their features like longer life, easy to use, sturdy designs, corrosion resistance, high strength, high functionality, and crack-free nature. For more information visit our website: www.SolarPartsComponents.com.
Brief Descriptions:
Solar Mounting Components –M6 square head bolts for solar
Item type:
Solar rail mounting accessory
Type:
Solar mounting bolts
Installation Site:
PV Modules Mounting
Profile Material:
Stainless steel
Color:
Plain
PV Modules:
Framed/frameless
Module Orientation:
Landscape and Portrait
Standards:
AS/NZS 1170
DIN 1055
GB50009-2012
IBC2009
TUV
JIS C 8955: 2011
International   Building Code IBC 2009
California   Building Code CBC 2010
Warranty
10 years
Designed Lifespan
25 years
Packing Details:
Inner:
Bubble bag + inner box + Carton
Outer:
Wooden Box, Steel Pallet, MDF, etc

Packing Details:
Inner:
Bubble bag+inner box+Carton
Outer:
Wooden Box, Steel Pallet, MDF, etc
Product Description:

Our M6 square head bolts for solar are ideal in construction of solar panel installation.They can be inserted vertically into the slot and slid flexible. During tightening,the bolt is force into the crosswise position and thus anchored in the slot.

SS A2-70 M6 square head screw for solar mounts has a square shape head. Its a common used fastener that supply with a nut to joint the target object which has a T shaped slot and with its square T shaped head sit flush or below the surface of the surrounding material.

M6 square head nut for PV mounting is used in a range of applications- such as the fastening of solar mounting rails.They are able to be placed flexibly in required positions within anchor channels.

Features of this M6 square head bolts for solar:

 

Stainless steel, anti-rust;

Highly corrosion resistance;

Easy toinsert into T slot of profile;

Both Metric and British standard thread are available;

The length of this M6 square head bolt is available to be customized.

Our engineer can issue proper drawings to match section profile given by clients .

As a professional solar bolts and screw manufacturer, we carry various types of bolts and screws in different sizes.All our products are appreciated for their features like longer life, easy to use, sturdy designs, corrosion resistance, high strength, high functionality, and crack-free nature. For more information visit our website: www.SolarPartsComponents.com.

Brief Descriptions:
Solar Mounting Components –M6 square head bolts for solar
Item type:
Solar rail mounting accessory
Type:
Solar mounting bolts
Installation Site:
PV Modules Mounting
Profile Material:
Stainless steel
Color:
Plain
PV Modules:
Framed/frameless
Module Orientation:
Landscape and Portrait
Standards:
AS/NZS 1170
DIN 1055
GB50009-2012
IBC2009
TUV
JIS C 8955: 2011
International   Building Code IBC 2009
California   Building Code CBC 2010
Warranty
10 years
Designed Lifespan
25 years
Packing Details:
Inner:
Bubble bag + inner box + Carton
Outer:
Wooden Box, Steel Pallet, MDF, etc

Packing Details:
Inner:
Bubble bag+inner box+Carton
Outer:
Wooden Box, Steel Pallet, MDF, etc