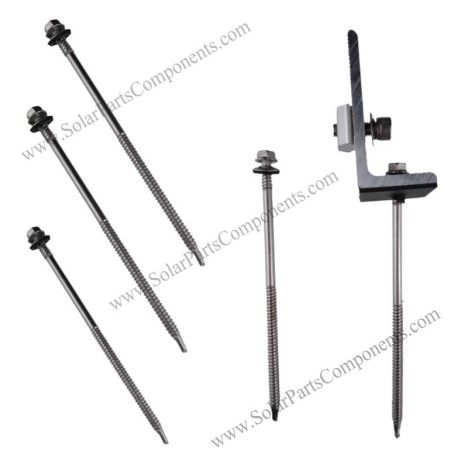 Self Tapping Screws for Solar Installation,M6*150MM
Product Type:Solar Mounting Accessories

Product Model:SPC-STS-Z6150

Material: Stainless steel 410

Max Wind Load : 60 m/s

Max Snow Load : 1.4 KN / M 2

Solar Module Orientation: Landscape / Horizontal

Application:  Solar Mounting
Contact by Email
Product Description:
Self-tapping screws factory, SPC carry various size of screws for solar mounting, this model self-tapping screws for solar mounts, M6×150MM is made of stainless steel 410 material,the sharp drilling tip is designed for metal structure.It usually work with L feet for solar metal roof mounting.
Self tapping screws for solar installation,M6*150MM,in general, have a point that plays the role of a drill bit and a sharp tapping screw that drills a hole in the hole during installation. Self-drilling screws are commonly used screws for quickly drilling metal or wood. Self-drilled screws are usually identifiable by their tip and groove (notch) tip.
With the tip of the self tapping screws for pv mounting,M6 size, these screws create holes and threads in a single operation.They make the solar mounting more simple and save labor cost.
Features of this self-tapping screws for solar mounts, M6×150MM:
Drilling, thread-forming and fastening in one step
Corrosion resistance and durable;
Reduces assembly time;
Connect components in one step;
Pre-assembled sus304 EPDM rubber pad.
More other sizes of our self-tapping screws: M6 x 25mm /80mm/ 100mm/ 150mm, M5.5 x 90mm ,M8 x100mm……
Our factory also accept customize, just let us know that is the size you need, we provide one stop service for solar mounting solutions.
self-tapping screws manufacture factory, with more than 12 years experience, we produce various types of self tapping screws with different size to meet different requirement.Welcome contact us for more details about solar mounting screws/bolts/accessories…
Do not feel hesitate to contact us , our company website: www.solarpartscomponents.com.
Brief Descriptions:
Solar Mounting Accessories –self-tapping screws for solar mounts
Item type:
Solar Metal Roof mounting
Type:
SPC-STS-Z6150
Installation Site:
Solar Mounting
Profile Material:
SUS410
Fasten Parts
Stainless Steel
Color:
Plain
PV Modules:
Frameless or Framed
Wind Load:
60m/s
Snow Load:
1.4KN/M2
Modules Orientation:
Landscape/Portrait
Standards:
AS/NZS 1170
DIN 1055
GB50009-2012
IBC2009
TUV
JIS C 8955: 2011
International   Building Code IBC 2009
California   Building Code CBC 2010
Warranty
10 years
Designed Lifespan
25 years
Packing Details:
Inner:
Bubble bag + inner box + Carton
Outer:
Wooden Box, Steel Pallet, MDF, etc
Product Description:

Self-tapping screws factory, SPC carry various size of screws for solar mounting, this model self-tapping screws for solar mounts, M6×150MM is made of stainless steel 410 material,the sharp drilling tip is designed for metal structure.It usually work with L feet for solar metal roof mounting.

Self tapping screws for solar installation,M6*150MM,in general, have a point that plays the role of a drill bit and a sharp tapping screw that drills a hole in the hole during installation. Self-drilling screws are commonly used screws for quickly drilling metal or wood. Self-drilled screws are usually identifiable by their tip and groove (notch) tip.

With the tip of the self tapping screws for pv mounting,M6 size, these screws create holes and threads in a single operation.They make the solar mounting more simple and save labor cost.

Features of this self-tapping screws for solar mounts, M6×150MM:

Drilling, thread-forming and fastening in one step
Corrosion resistance and durable;
Reduces assembly time;
Connect components in one step;
Pre-assembled sus304 EPDM rubber pad.

More other sizes of our self-tapping screws: M6 x 25mm /80mm/ 100mm/ 150mm, M5.5 x 90mm ,M8 x100mm……

Our factory also accept customize, just let us know that is the size you need, we provide one stop service for solar mounting solutions.

self-tapping screws manufacture factory, with more than 12 years experience, we produce various types of self tapping screws with different size to meet different requirement.Welcome contact us for more details about solar mounting screws/bolts/accessories…

Do not feel hesitate to contact us , our company website: www.solarpartscomponents.com.

Brief Descriptions:
Solar Mounting Accessories –self-tapping screws for solar mounts
Item type:
Solar Metal Roof mounting
Type:
SPC-STS-Z6150
Installation Site:
Solar Mounting
Profile Material:
SUS410
Fasten Parts
Stainless Steel
Color:
Plain
PV Modules:
Frameless or Framed
Wind Load:
60m/s
Snow Load:
1.4KN/M2
Modules Orientation:
Landscape/Portrait
Standards:
AS/NZS 1170
DIN 1055
GB50009-2012
IBC2009
TUV
JIS C 8955: 2011
International   Building Code IBC 2009
California   Building Code CBC 2010
Warranty
10 years
Designed Lifespan
25 years
Packing Details:
Inner:
Bubble bag + inner box + Carton
Outer:
Wooden Box, Steel Pallet, MDF, etc