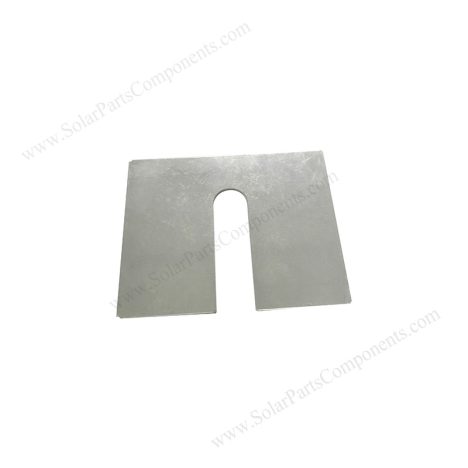 Grounding earth clip for solar panel
Product Type: Ground Mounting Racking

Product Model: SPC-GW-26

Material: stainless steel

Max Wind Load : 60 m/s

Max Snow Load : 1.4 KN / M 2

Solar Module Orientation: Landscape / Horizontal

Application:  PV panel mounting
Contact by Email
Product Description:
Grounding earth clip for solar is one of the most important accessory for PV modules mounting.SUS304 Steel material, high anti rust and corrosion resistance, long life service.Furthermore,its good conductivity feature,provide a well conductive for solar modules. Special designed teeth of the grounding earthing clip embed the anode coating, form a grounded electrical path, prevent the PV modules from thunder and lightning.
Eliminating the need for old, expensive grounding methods, our grounding earth clip for solar panel are lightweight, affordable, quick to install and greatly reduce the amount of labor and materials involved in installation.
SUS304 stainless steel grounding earth clip for pv module, the most popular system mounting accessory.
Features of this grounding earth clip for solar:
Reduce the labor and materials cost for PV installation;
Innovative design;
Eliminate anodic oxidation;
Universal sliding fixed design;
High corrosion resistance;
Installation steps:
Take out the required solar grounding clip;
Mounted the clips on the rail, used to Pierce the anodizeoxidation layer on the surface of the guide rail;
Introduce lightning current from solar module to guide rail;
We are a professional manufacturer of solar grounding earth clips, providing various types of earthing clips to
meet the needs of different types of clamps.  Welcome to contact us.  Our professional engineers and sales team provide the best service for your solar installation, please visit our website for more information: www.SolarPartsComponents.com.
Brief Descriptions:
Single Pile Ground Mounts, SPC-JA-4H-PCW
Item type:
Photovoltaic Ground Mounting
Type:
SPC-JA-4H-PCW
Installation Site:
Flat Ground Terrain
Profile Material:
Aluminum alloy 6005-T5 / Galvanized Steel
Fasten Parts:
Stainless Steel
Color:
Silvery
Wind Load:
60 m / s
Snow Load:
1.4 KN / M2
PV Modules:
Framed, Frameless
Module Orientation:
Landscape / Portrait
Standards:
AS/NZS 1170
DIN 1055
GB50009-2012
IBC2009
TUV
JIS C 8955: 2011
International   Building Code IBC 2009
California   Building Code CBC 2010
Warranty
10 years
Designed Lifespan
25 years
Packing Details:
Inner:
Bubble bag+inner box+Carton
Outer:
Wooden Box, Steel Pallet, MDF, etc
Manual book for solar single pile ground mounting system, SPC-JA-4H-PCW
Product Description:

Grounding earth clip for solar is one of the most important accessory for PV modules mounting.SUS304 Steel material, high anti rust and corrosion resistance, long life service.Furthermore,its good conductivity feature,provide a well conductive for solar modules. Special designed teeth of the grounding earthing clip embed the anode coating, form a grounded electrical path, prevent the PV modules from thunder and lightning.

Eliminating the need for old, expensive grounding methods, our grounding earth clip for solar panel are lightweight, affordable, quick to install and greatly reduce the amount of labor and materials involved in installation.

SUS304 stainless steel grounding earth clip for pv module, the most popular system mounting accessory.

Features of this grounding earth clip for solar:

Reduce the labor and materials cost for PV installation;

Innovative design;

Eliminate anodic oxidation;

Universal sliding fixed design;

High corrosion resistance;

Installation steps:

Take out the required solar grounding clip;

Mounted the clips on the rail, used to Pierce the anodizeoxidation layer on the surface of the guide rail;

Introduce lightning current from solar module to guide rail;

We are a professional manufacturer of solar grounding earth clips, providing various types of earthing clips to

meet the needs of different types of clamps.  Welcome to contact us.  Our professional engineers and sales team provide the best service for your solar installation, please visit our website for more information: www.SolarPartsComponents.com.

Brief Descriptions:
Single Pile Ground Mounts, SPC-JA-4H-PCW
Item type:
Photovoltaic Ground Mounting
Type:
SPC-JA-4H-PCW
Installation Site:
Flat Ground Terrain
Profile Material:
Aluminum alloy 6005-T5 / Galvanized Steel
Fasten Parts:
Stainless Steel
Color:
Silvery
Wind Load:
60 m / s
Snow Load:
1.4 KN / M2
PV Modules:
Framed, Frameless
Module Orientation:
Landscape / Portrait
Standards:
AS/NZS 1170
DIN 1055
GB50009-2012
IBC2009
TUV
JIS C 8955: 2011
International   Building Code IBC 2009
California   Building Code CBC 2010
Warranty
10 years
Designed Lifespan
25 years
Packing Details:
Inner:
Bubble bag+inner box+Carton
Outer:
Wooden Box, Steel Pallet, MDF, etc

Manual book for solar single pile ground mounting system, SPC-JA-4H-PCW