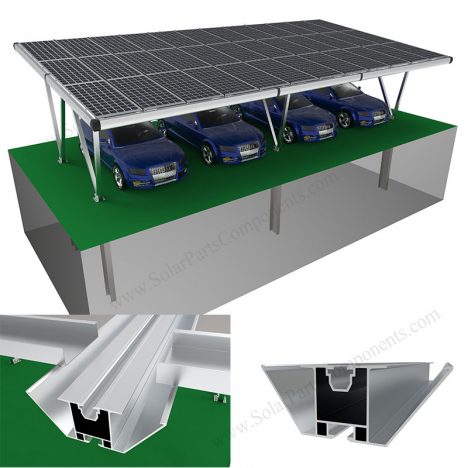 Solar Carport Mounting Systems
Product Type: Ground Mounting Systems for Car Vehicle

Product Model:SPC-GPA-V3-RW

Material: luminium, Steel

Max Wind Load : 60 m/s

Max Snow Load : 1.4 KN / M 2

Solar Module Orientation: Portait or Landscape

Application:  Ground
Contact by Email
Product Description:
As new energy vehicles are more and more popular, it's great idea to build waterproof solar carports and combine an electric mobility together.
Our solar shelter canopy are made of aluminum and galvanized rails, no welding required which it's suitable for DIY or large scale installation.
SPC carport structure can be modular for large erea for clean power generation to save fuel costs.
Investment solar carports for business project or home application generate significant more than 30 years' return.
Our experienced team support all details of this waterproof solar canopy carport (SPC-GPA-V3-RW) : structure analysis, drawings, manual book, color option …
Features of this weather-proof Carport PV Module racking system:
– Anti-rusty, durable construction;
– Various foundation compatible: drilling with piles, concrete ballasted, drilled shafts…
– 10 years warranty, 30 years' life span design;
– Simplified / cost effective / flexible places to installation;
– Vibration of wind loads, earth quake simulation optional;
– Convenient logistics for pre-fabrication, direct site delivery;
– Accessories: advertising boards, lighting, electric mobility…
Our engineer and sales person will offer supports for every steps to make your solar power station come true !
We'll offer professional recommendation for Module sizes, orientation, inclination angle, foundation types …
Welcome choosing SPC for waterproof carport with solar power whatever single or double rows parking.
Brief Descriptions:
Solar Mounting Systems – Waterproof Carport
Item type:
Solar Ground Mounts for car park
Type:
SPC-GPA-V3-RW
Installation Site:
Garage for home, car parking for commercial …
Profile Material:
Aluminum Alloy
Fasten Parts:
Stainless Steel / Aluminum T Sliding Nut
Color:
Anodized Silvery
Wind Load:
60 m / s
Snow Load:
1.4 KN / M2
PV Modules:
Framed, Frameless
Module Orientation:
Portrait and Landscape
Standards:
AS/NZS 1170
DIN 1055
GB50009-2012
IBC2009
TUV
JIS C 8955: 2011
International   Building Code IBC 2009
California   Building Code CBC 2010
Warranty
10 years
Designed Lifespan
25 years
Packing Details:
Inner:
Bubble bag+inner box+Carton
Outer:
Wooden Box, Steel Pallet, MDF, etc
How much for Waterproof Solar Carport Mounting System?
Q:
Hi dear,
I am interested in your waterproof solar carport mounting system SPC-GPA-V3-RW, How much for this waterproof carport racking?
Project information as below:
1.Information of  PV panel: Dimension: 2256 mm Length x 1133 mm Width x 35 mm Thickness
                                                      Array:  2 Nos. in a row x   6 Nos. in a column
                                                      Mounting direction: Horizontal or Vertical? Vertical
2. Ground clearance: 2.5 meters
3.Mounting tilt angle: 30°
4. Anit-wind speed:  65 km/h; KN/m2 snow load: does not apply
Thank you.
A:
Hi friend, thank you for your inquiry on our waterproof carport mounting system.
Please refer to our design according to your information:
If need any modification, please let me know.
Q:
Thank you for your design for the carport mounting system waterproof.
It looks great, can you send me BOM list and quotation.
A:
Please refer to BOM list for this waterproof carport, and kind find our price as file attached.
Q:
Appreciated for your quick respond. We will place this order.
We wil arrange the payment today.
A:
Well received your payment, thank you so much.
The solar carport mounting system waterproof is ready for loading
Waterproof aluminum solar carport
Waterproof aluminum solar carport is added with wind deflectors, waterproof sheet and water channel to play the function of waterproof and wind-resistance.With great flexibility, the solar carport can be applicated for both commercial and residential areas.
The solar carport is a garage with solar panels installed on the roof. Only composed of pillars and roof. The waterproof solar carport is equipped with waterproof components to guide rainwater to flow out and achieve the purpose of sheltering the rain and preventing water leakage.
Waterproof aluminum solar carport system Features:
1.Waterproof and wind-resistance:
Add wind deflectors,waterproof sheet and water channel to play the function of waterproof and wind-resistance.
2.Easy Installation:
Parts have been high pre-assembly on factory to save your installation time.
3.Safety and Reliability:
Check and test the structure strictly to against the extreme weather condition.
4.Flexibility and Adjustable:
Smart design reduce the difficulties of the installation on the most conditions.
2 Cars Solar Canopy drawing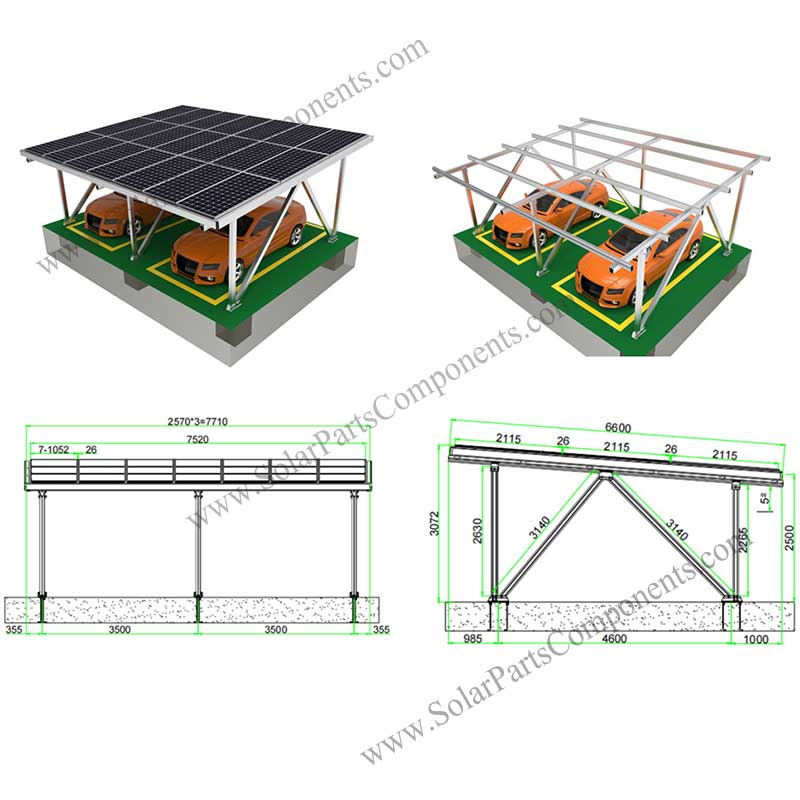 Installation guide and components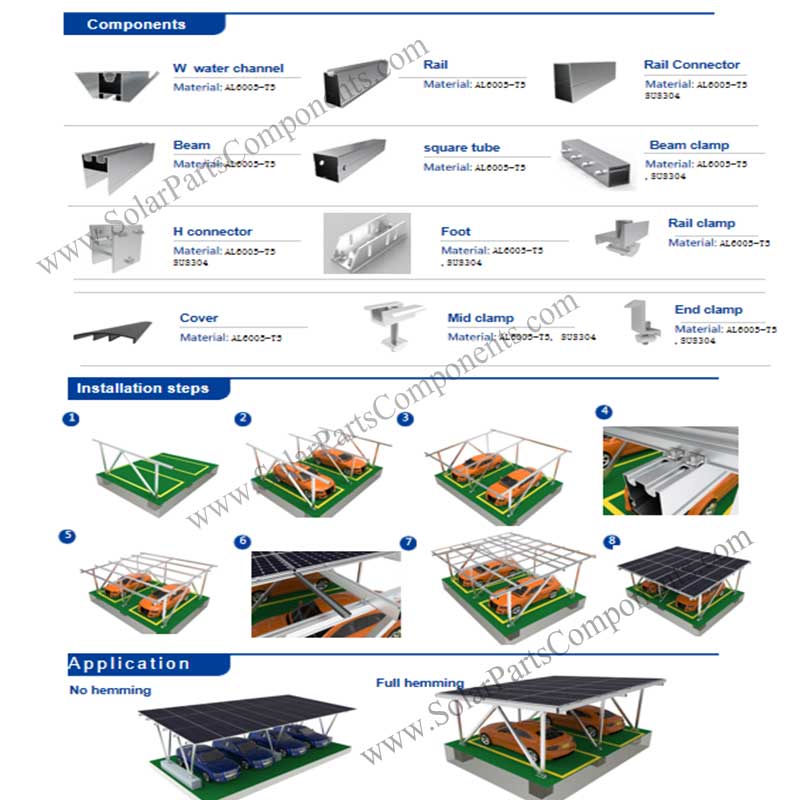 Solar Carport Mounting System Waterproof
Q:
BUENOS DÍAS,
ESTAMOS INTERESADOS EN CONOCER MÁS DATOS TÉCNICOS Y ECONÓMICOS SOBRE SUS PERFILES PARA INSTALACIONE DE PANELES SOLARES PARA INSTALACIONES IMPERMEABLES QUE SE PUEDEN VER EN SU WEB: Waterproof Solar Carport Mounting System, SPC-GPA-V3-RW.
MUCHAS GRACIAS!
Atentamente,
A:
Thank you for your interested in our Carport mounting system SPC-GPA-V3-RW.
If you have project in hand, please share me the details.
I will let our engineer check it out for you.
Q:
GOOD MORNING,
ATTACHED IN THIS EMAIL YOU CAN FIND A 3D MODEL OF CARPORT FOR WHICH WE WANT YOU TO BE ABLE TO OFFER US AND SEND A LIST OF PROFILE AND PANEL FIXING ELEMENTS.
THE PROFILE MUST BE FOR A GUARANTEED WATERPROOF SYSTEM.
YOU CAN SEND US A LIST OF YOUR REFERENCES APPLICABLE TO THE SET.
WE ARE LOOKING FOR SUPPLIERS WHO CAN GET TO SATISFY THE NEEDS THAT WE FORESEE WE MAY HAVE.
IF YOU NEED ANY CLARIFICATION IN THIS RESPECT, DO NOT HESITATE TO REPLY TO THIS MAIL.
CHEERS
Sincerely,
A:
Well received your carport 3D Model,please refer to our design as below:
If need any change please let me know.
Thank you.
Waterproof Solar Carport Mounting System Factory
Q:
Dear Sir/madam,
I have interest on Solar Carport Mounting System, whereby to get supply material from SPC.
Then I and my team will setup design & installation (destination:- Malaysia) for upcoming customize projects.
We need the complete mounting structure which connect panels
refer attached inquiry , please list /points down the component list that requires and quotes:
Aluminum carport (3 row x 3 column solar panel array)
(a)waterproof modular frame
(b)normal modular frame
**if any pls includes all accessories like grounding kits, thin film, clamps , rubber strips , profile joints, end cap and so on
dimension could same as this link, but for one car.
Next to be further discuss on next purchase for MOQ material bulk sale quotes.
Look to heard you soon.
Thanks
Best regards,
Tony Tnay
A:
Glad to know you are interested in our Solar Carport Mounting System,Please refer to our design and BOM for your solar carport system as your required.
1. Waterproof Solar Carport Mounting System 
2. Normal, non waterproof solution:
Can I know how may sets of this carport system you would need?
Q:
Need 100 sets for this project at present.May need more soon in the near future.
A:
Well understand, I have sent quotation base on 100 sets to your email.
Thank you.
can you offer more details of frame and water drain for this waterproof solar carports?
Q:
Dear Sir
We from iEnergy are interested in the carport frame.
What we need is more information about stock and location of stock.
Regards
Nadeem Ishaak
A:
Hi Nadeem
For Paramaribo Suriname area, we have no any distributors.
You can buy directly from our factory from China.
Please refer to details for one of our clients with the frame and water drain,
hope it can help you better understanding our waterproof carport mounting system.
If you have some project need our assists, feel free send me related information like:
(1) What is your pv panels dimension?___mm Length x___mm Width x__mm Thickness
(2)  What is the base ? concrete block / sanding ground / flat concrete ground …
(3) What's the nearest seaport to your company ?
(4)How is weather there,such as wind speed and snow load?
     ___m/s wind speed and____KN/m2 snow load.
(5) How about the oriention the solar panels :
Landscape / Portrait
More details of your project would be favorable for our engineers.
Have a great day.
Solar Parts & Components Factory
I am interested in 3 carport with waterproof mounting system
"
Hi,
I am interested in your solar carport Waterproof Solar Carport Mounting System, SPC-GPA-V3-RW
I need 3 carport
2  for parking long 14 m x 6 meter
Panels size 2008mm × 1002mm × 35mm; panels  370 Watt
Height from ground to lowest part of roof is 250 cm.
Tilt is 15 degrees.
Panels in landscape or picture choose which one is the cheapest.
1 carport
long 6.30 m
height from ground to lowest part of roof is 250 cm.
tilt is 10 degrees.
Panels in landscape 6 rows of 3 panels
Could you please give me your price FOB?
The carport must be strong for windspeed is 60m/s.
I need something better to park more cars.
I am in Barbados and it is for Barbados
Kind regards,
Desmond
"
"
Dear Desmond
Appreciated for your interested in our carport mounts waterproof type.
Please refer to our design & factory price for 60m/s wind speed loading.
We adding more aluminum supporting poles and shorten span range from two cars to one car.
Since your wind speed is 60m/s which equal to 134 mph (categroy 4), we have had to use 3300mm wide.
Don't hesitate contact us if you need more information of this Waterproof Solar Carport Mounting System.
Thank you
PV Carport Racking System Sales Team
"
can you only sell Waterproof Carport Parts ?
Yes, as waterproof solar carport racking system factory.
We can sell components and parts seperately,
following is what we communicated with one of clients for Waterproof Carport Upper Part only.
waterproof carport needs how many solar panes ?
How many solar panels do I need for a carport ?
It is equipped with reinforced concrete support bases as standard, no need for expensive foundations. This system is made of anodized aluminum alloy and stainless-steel fasteners, featured with lightweight, high strength and reusable material. It provides a secure carport structure, available to hold all size solar panels.
Our talented engineer will calculate how much quantity you will need for a solar carport.
As a professional solar parts component factory, we carry a number of PV modules mounting system which are meet for different installation site like car park…  Welcome to contact us from our website: www.SolarPartsComponents.com.