Waterproof solar carport for 2 cars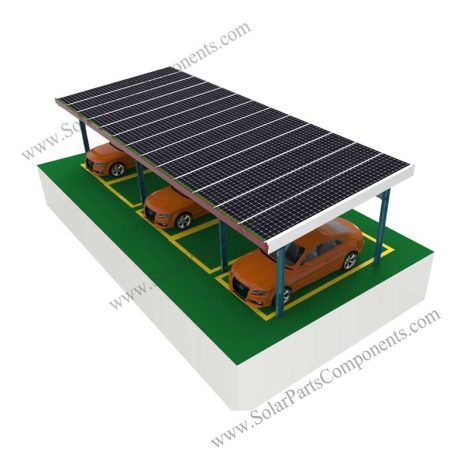 Waterproof solar carport for 2 cars
Product Type: Frame, Frameless solar Module

Product Model: SPC-FPC

MaterialZAM&hot dip galvanized steel

Max Wind Load : 60 m/s

Max Snow Load : 3.2 KN / M 2

Solar Module Orientation: Landscape / Horizontal

Application: open area, Garage for home, car parking for commercial
Contact by Email
Descriptions
The solar carport for 2 cars is easy installed and save space which can be used for commercial and residential installation. The four poles carport function as mini power plants, designed for diverse tasks from charging electric vehicles to powering household devices or commercial devices. These carports can be connected to the local power grid or run off-grid, constructed as free-standing structures, or as additions to existing structures.
The solar carport for 2 cars is a garage with solar panels installed on the roof. Only composed of pillars and roof. The waterproof solar carport is equipped with waterproof components to guide rainwater to flow out and achieve the purpose of sheltering the rain and preventing water leakage.
We offer customized service for single, double, triple, four or N carports together to meet your request.
This solar carport for 2 cars is configured with two columns every bay " two / four car spaces".
Features of the solar carport for 2 cars
1.This solar carport with functions of parking, producing green power , waterproof, meeting different needs.
2.Pole carport has more space and flexible for parking from every sides.
Save the cost of roof laying and renovation, and greatly reduce the construction cost
Waterproof and non-waterproof carport solar mounting are alternative.
The integrated design of light, storage and charging has both power generation and waterproof functions.
Welcome to contact us anytime, our company website: www.solarpartscomponents.com
Datasheet
Four Poles waterproof Solar Carport
Item type:
Carport solar structure
Type :
SPC-FPC
Installation Site :
open area, Garage for home, car parking for commercial
Installation Angle :
5° ~ 15°
Profile Material :
ZAM&hot dip galvanized steel
Fasten Parts :
SUS 304 / A2-70 Stainless Steel
Small Components :
AL & Stainless Steel
Color :
Silvery or according to customer requirements
Wind Load :
60 m / s ( 130 mph )
Snow Load :
1.4 KN / M2  ( 30 psf )
PV Modules :
Frame, Frameless solar Module
Module Orientation :
Portait and Landscape
Warranty
10 years
Designed LifeSpan
25 years
Packing Details :
Inner :
Bubble bag+inner box+Carton
Outer :
Wooden Box, Steel Pallet, MDF, etc
Descriptions

 

The solar carport for 2 cars is easy installed and save space which can be used for commercial and residential installation. The four poles carport function as mini power plants, designed for diverse tasks from charging electric vehicles to powering household devices or commercial devices. These carports can be connected to the local power grid or run off-grid, constructed as free-standing structures, or as additions to existing structures.

The solar carport for 2 cars is a garage with solar panels installed on the roof. Only composed of pillars and roof. The waterproof solar carport is equipped with waterproof components to guide rainwater to flow out and achieve the purpose of sheltering the rain and preventing water leakage.

 

We offer customized service for single, double, triple, four or N carports together to meet your request.

This solar carport for 2 cars is configured with two columns every bay " two / four car spaces".

Features of the solar carport for 2 cars

1.This solar carport with functions of parking, producing green power , waterproof, meeting different needs.

2.Pole carport has more space and flexible for parking from every sides.

Save the cost of roof laying and renovation, and greatly reduce the construction cost
Waterproof and non-waterproof carport solar mounting are alternative.
The integrated design of light, storage and charging has both power generation and waterproof functions.

Welcome to contact us anytime, our company website: www.solarpartscomponents.com

Datasheet
Four Poles waterproof Solar Carport
Item type:
Carport solar structure
Type :
SPC-FPC
Installation Site :
open area, Garage for home, car parking for commercial
Installation Angle :
5° ~ 15°
Profile Material :
ZAM&hot dip galvanized steel
Fasten Parts :
SUS 304 / A2-70 Stainless Steel
Small Components :
AL & Stainless Steel
Color :
Silvery or according to customer requirements
Wind Load :
60 m / s ( 130 mph )
Snow Load :
1.4 KN / M2  ( 30 psf )
PV Modules :
Frame, Frameless solar Module
Module Orientation :
Portait and Landscape
Warranty
10 years
Designed LifeSpan
25 years
Packing Details :
Inner :
Bubble bag+inner box+Carton
Outer :
Wooden Box, Steel Pallet, MDF, etc