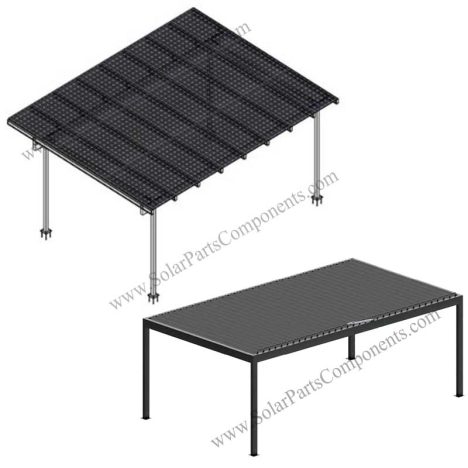 Waterproof Solar pergola
Product Type: Unframed / Framed Solar Racking

Product Model: SPC-SPCP

Material: ZAM275 & Steel/Aluminum

Max Wind Load : 60 m/s

Max Snow Load : 3.6KN / M 2

Solar Module Orientation: Landscape / Horizontal

Application: open area

Installation angle: 5-15 degrees
Contact by Email
Product Description:
Solar pergola system is a typical  solar pergola with solar PV panels mounted on top to serve as a roof shade and solar power system. They are a type of solar shade structure that combines the beautiful design of traditional pergolas with solar panels.
If you're looking for a way to enjoy your backyard space while also harnessing the power of the sun, then look no further than our metal pergola with solar panels!
Not only will our Solar pergola system with solar PV panels provide shade and a comfortable outdoor space for you to relax and entertain in, but it will also allow you to do your part in reducing your carbon footprint.
Empty spaces can be of use now with solar pergola.
It can supply your home with the needed energy to run efficientl
Our new Solar pergola system , When roof mount systems are not viable this adaptable and flexible solution will provide as much if not more power for your home or business.
Some customers also use this as a waterproof carport, which is very popular among the public.
Solar Pergola Advantages:
A solar pergola offers both aesthetic and functional benefits—providing shelter, defining outdoor spaces, and serving as a structure for climbing plants—while also generating renewable energy.
Enhance outdoor living spacesProvides cover for relaxing outdoors
Minimalistic & modern design aesthetics
Economic advantagesReduce monthly electricity bills
Increase property value
Environmental benefitsClean energy system
Helps fight climate change
Customize Your Solar pergola system
Our Solar pergola system are tailored to fit your needs and budget. We work with you to understand your solar energy and design needs letting you personalize your pergola.
Materials
Metal: Aluminum or ZAM steel
Size & Shape
We deliver custom designs and square footages based on your energy production needs and the available space of your property.
Welcome to contact us anytime, our company website: www.solarpartscomponents.com
Datasheet
Description:
BIPV double support steel waterproof carport
NO.:
SPC-SPCP
Product Type:
Solar pergola
Installation location:
open area
Installation angle:
5-15 degrees
Material :
ZAM275 & Steel/Aluminum
Module:
Frame/frame less solar Module
Warranty:
10 Years
Lifetime:
20 Years
Orientation:
Landscape,Portrait
Wind speed:
60 M/s
Snow load:
3.6 KN / M2
Height;
Above 2m
Standard:
AS/NZS1170 & DIN 1055
[contact-form-7 id="4″]
Product Description:

Solar pergola system is a typical  solar pergola with solar PV panels mounted on top to serve as a roof shade and solar power system. They are a type of solar shade structure that combines the beautiful design of traditional pergolas with solar panels.

If you're looking for a way to enjoy your backyard space while also harnessing the power of the sun, then look no further than our metal pergola with solar panels!

Not only will our Solar pergola system with solar PV panels provide shade and a comfortable outdoor space for you to relax and entertain in, but it will also allow you to do your part in reducing your carbon footprint.

Empty spaces can be of use now with solar pergola.

It can supply your home with the needed energy to run efficientl

Our new Solar pergola system , When roof mount systems are not viable this adaptable and flexible solution will provide as much if not more power for your home or business.

Some customers also use this as a waterproof carport, which is very popular among the public.

Solar Pergola Advantages:

A solar pergola offers both aesthetic and functional benefits—providing shelter, defining outdoor spaces, and serving as a structure for climbing plants—while also generating renewable energy.

Enhance outdoor living spacesProvides cover for relaxing outdoors
Minimalistic & modern design aesthetics
Economic advantagesReduce monthly electricity bills
Increase property value
Environmental benefitsClean energy system
Helps fight climate change

Customize Your Solar pergola system

Our Solar pergola system are tailored to fit your needs and budget. We work with you to understand your solar energy and design needs letting you personalize your pergola.

Materials

Metal: Aluminum or ZAM steel

Size & Shape

We deliver custom designs and square footages based on your energy production needs and the available space of your property.

 

Welcome to contact us anytime, our company website: www.solarpartscomponents.com

Datasheet
Description:
BIPV double support steel waterproof carport
NO.:
SPC-SPCP
Product Type:
Solar pergola
Installation location:
open area
Installation angle:
5-15 degrees
Material :
ZAM275 & Steel/Aluminum
Module:
Frame/frame less solar Module
Warranty:
10 Years
Lifetime:
20 Years
Orientation:
Landscape,Portrait
Wind speed:
60 M/s
Snow load:
3.6 KN / M2
Height;
Above 2m
Standard:
AS/NZS1170 & DIN 1055

[contact-form-7 id="4″]