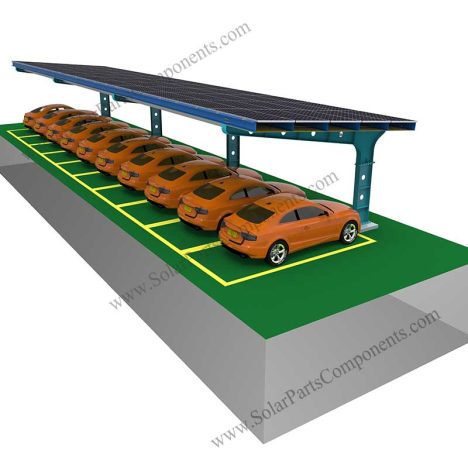 BIPV Waterproof Solar Galvanized Carport
Product Type:BIPV waterproof solar carport

Product Model: SPC-BIPVWCS

Material:ZAM275 & Steel &Q235

Max Wind Load : 60 m/s

Max Snow Load : 3.6 KN / M 2

Solar Module Orientation: Landscape / Horizontal

Application:  Unframed / Frameless modules
Contact by Email
Product Details:
The BIPV Waterproof Solar Carport is one of the advanced version to provide fully waterproof solution for parking lot shade.
The Waterproof Solar Galvanized Carport develops under various market's feedback. Solar Carports are an ideal solution for energy generation on big surfaces, otherwise unused. Besides energy production, they bring maximum convenience by providing cool, shady parking spaces in summer & also protection during rainy days, can become charging stations for electric bicycles, scooters and cars.
Advantages of our BIPV Waterproof Solar Carport :
Waterproof solutions including gutters
Solar PV carports for projects of all sizes
Robust design – perfect to areas with heavy wind, snow or rain
Perfect for EV charging stations
The BIPV Waterproof Solar steel Canopy is also suitable for commercial and residential solar carport projects. It can be designed to be waterproof as BIPV solution.A new carport bracket system integrating power generation and its own characteristics
The single cantilever orientation is an ideal solar carport choice for sites that are limited in space. It is best utilized when shading a single row of parking spaces in a confined area such as residential complexes or restaurants. The single cantilever solar carport design is available in two orientations that can be chosen from depending on site location and orientation in order to maximize the productivity of your PV Modules. It is easily scalable and can fit any locations needs.
The double cantilever is the standard orientation for covering large areas. It is ideal for maximizing your solar presence and looks great while doing it. Double cantilevers cover two rows of parking spaces at the same time and can be scaled to fit any size lot due to its modular design. The solar panels can be oriented so the incline faces either direction to best fit the site's location according to the sun.
Welcome to contact us anytime, our company website: www.solarpartscomponents.com
Datasheet
Description:
BIPV waterproof solar Galvanized carport
NO.:
SPC-BIPVWCS
Product Type:
BIPV waterproof solar carport
Installation location:
open area
Installation angle:
5-15 degrees
Material :
ZAM275 & Steel &Q235
Module:
Frame solar Module
Warranty:
10 Years
Lifetime:
20 Years
Orientation:
Landscape,Portrait
Wind speed:
60 M/s
Snow load:
3.6 KN / M2
Height;
Above 2m
Standard:
AS/NZS1170 & DIN 1055
Waterproof Carport Installation
1. Pre-embed all the anchor bolts M16*500 in sequence according to the position of the construction drawing.
2. Install the columns
Fixed the base of the column. According to the location of the anchor bolts determined on the construction drawings, fix the base on the anchor bolts and Fix the stringer. According to the fixed column, fix the longitudinal beam with 12 pcs M20*70 bolts.
3. Install purlins and M water channel
After installing the columns, install the purlins according to the holes on the longitudinal beams, and fix the bolts on the purlins and the longitudinal beams with fixing parts and than Install the M water channel. Install the M water channel according to the position on the construction drawing, and fix the M water channel and the purlins with the left and right two M water channel pressing blocks.
4. Install solar panel and U-water channel
Start installing solar panels. Use self-tapping screws to support and fix the components before installing the solar panel and
Install U-water channel. Before installing the solar panels, place the U-water channel horizontally between the solar panels.
5.  Install the end clamp and mid clamp
The side of the solar panel is fixed with two end clamps, and Horizontal solar panels and solar panels are fixed with mid clamp.
6. Install solar panels
Install solar panels one by onesequentially according to the solar panel array.
7. Installing all the solar panels
Solar carport waterproof carport system.
Q:
"I am building a carport. I wound like the BIPV Waterproof Solar Carport, perhaps compatible with two-side solar panels. Roughly the dimensions are 16 x 20'. I'm wondering if you could send me the schematics on such a thing so I can get them on my drawing for permitting. Please, I would like the water proof system, and the bracketing for solar panels.
A:
Appreciated for your inquiry for our solar waterproof carport system.
We are solar waterproof carport system manufacturer. 
Can you provide us more information about your carport project.
Like: 1. Demension of your solar panel
What is the weather there: wind speed & snow load
Any requirement for the mounting tile angle…….
Is this carport for commercial use or personal?
I if you can introduce more about you or your company:Name/web site/address…..would be grateful.
I will let our engineer check it out for you.
FYI.
One design for one of our client
Q:
Thank you for your reply. I am totally interested in your waterproof system on the top. I'll be willing to do the framing underneath and show you the schematics of what I have for now, but we want to check out your schematics to add it to our drawings. it is a residential place the tilt angle will be 30°, there is no snow. It gets windy in the area a couple Pacific storms.I look forward to putting together your system with a Frankland battery and probably two-sided solar cells I don't know the exact configuration exactly what I'm going to buy yet but our roof space is roughly 14 x 22.
A:
That's great!
For details, see attached.
Hot Sale Steel Solar Carport
The hot sale Steel Solar Carport Structures(also known as Canopy Structures) is designed solar panel installation on parking areas, its single column design allows higher clearances an
wider column spacing which ensures more space for car parking. And the material of Carport structures made of high grade steel with corrosion-resistant finishes which putting it at the top
its class in durability,reliability and safety.
Features
Most Cost- effective Structures
No on-site Welds
Fast and easy Installation
Maximize Parking Space
Double column Options
High Corrosion- Resistant
Fully waterproof
We engineer and design Solar Racking/Mounting Hardware for specific solar projects, please don't hesitate to contact
us for more details for your specific projects.
INSTALL .ATION VIDEO REFERENCE:
Solar carport waterproof model factory
Solar carport waterproof model factory
Q:Hello. I recently found on Google and was impressed with your carport waterproof model . I intend to install multiple carports in my enterprise and I was wondering if your products suit me. I send you an Autocad file showing my available space and I ask from you to propose the best way to fill that space with carports.
A: Glade to receive your inquiry. For this carport, it is used for the arrangement and combination of multiple solar panels. According to the Autocad file you provided, if use 2172*1303*32mm panel, It can only place a maximum of 40pcs panels one array
Q:Ps I care more about filling all the available carport space than having the best optimized solar power produced . So be free to propose what you think is best. Also waterproofing is a must.
A:For the number of parking spaces and the best way for a carport to fill that space, we need to know how you intend to park your car and an orientation of the car park in order to assess the available carport space for you.
Q:In addition, I hope our carport can support both electric vehicles Motorcycle  and  cars, please give the best suggestion.
A: Please refer to our design according to your information:
And for the projects, use our Highly strength and High quantity BIPV carport solar system, the material is ZM275 zinc aluminum magnesium and aluminum. These Waterproof BIPV carports are the most popular and economical systems currently on the market.
Any question, please feel free contact me.
Steel Solar Carport Waterproof System
Steel solar carport waterproof system is the most common solar garage solutions on the market, our can design reasonable height, width and rain-proof characteristics according to customer's needs and actual conditions, so as to meet customer's higher demand for the Carport.we providing a variety of different design options for single row and double row parking lots. They are suitable for frames and membrane modules of any size.
Steel solar carport waterproof system Advantages
Constructed from high strength structural or high tensile steel;
5.0-6.0m Span for two car, can meet demand for most of market;
Single and double parking;
Highly pre-assemble, Save Labor time at sight;
Fully waterproof
Waterproof Galvanized Steel Solar Carport
The waterproof galvanized steel solar carport offer simplified and economical alternatives to complex and expensive roof mount systems.
There are Single column single and double cantilever style
Single column single cantilever style carport support one row car parking space. Single column double cantilever style can support 2 rows car parking space.
For details, please refer to the link below
Galvanized Steel Solar Carport
Best steel solar carport structure
For more than a decade, SPC has been a reliable partner for the supply of steel solar carport structure.
An overview of our Best steel solar carport structure:
Complete Carport system
Custom-designed carport for large commercial and industrial car parks. The Best steel solar carport structure mounting system is engineered for your specific project.
Many companies feel the need to join the environmental movement. Do you have an existing parking lot? How can you upgrade your existing building and parking lot?
Our steel solar carport structure is the ideal solution to give your premises a green revamp! Just install the whole steel solar carport structure system on the ground by bolts
This picture is an electric vehicle charging station integrating our Best steel solar carport structure and solar modules. The electricity generated by photovoltaic power can be directly used by the charging station to charge the majority of electric vehicles cars.
We are SOLAR PARTS COMPONENTS FACTORY, we can support both project-based EPC, developer, installer and distributors. Our customers range widely, excellent internal design team designed more than 3000 kinds of solutions for our customers, which can be well matched with customer projects. We are happy to have a look at your specific project and co-engineer the best solution for you. We have more than a decade of experience in engineering solar and carport projects!
Do you have a new project or a question to ask us? Don't hesitate to contact us
Solar PV carports for industry, retail and business: Park vehicles securely, sustainably and under shelter
Rows of cars glisten in the blazing sun on hot summer days while parked on your company car park or at your business premises. We all know the situation. You get into your car at the end of the working day or shopping trip but are reluctant to touch the steering wheel because it will burn your fingers. In the bitter cold of winter, car drivers are often faced with different problems. Everyone would rather not be endlessly scraping ice from the windscreen. This is where carports can help. They protect cars from the effects of the weather. They have other benefits as well: Carport surfaces are particularly suitable for photovoltaics.
Advantages of a PV system on carport
Weather protection for your vehicles
Pleasing external appearance
Scope for customised design
Integration of e-charging facilities
Optimum use of available surfaces
Independence from electricity prices
Long-term contribution to the energy turnaround
Do you wanna a solar PV carport? Welcome to inquiry.
solar residential and comercial carports
What are solar carports?
Solar carports are ground-mounted canopy constructions that stretch out over your car parking spaces. The canopy roof area is slightly tilted – offers a perfect platform for solar panels to be seamlessly mounted, which also adds to the aesthetics of the structure.
The tilted roof is not only beneficial for optimising the angle of the solar panels for energy generation, but it also offers natural drainage for rainwater which is then collected by guttering and channelled away. Electricity generated by the carports' solar panels is immediately available to be used onsite.
How are solar carports built?
Many carport solutions on the market today are 'modular', however, our technical team designs each project from scratch, bespoke to the client's needs and energy requirements; at SPC, one size doesn't fit all. Our leading, innovative energy solutions can seamlessly blend uniquely designed solar carports into your current premises to make sure that the carport is something you can be proud to display.
What are the benefits of solar carports?
Adds capacity for onsite generation if roofs are unusable.
Financial benefits | benefit from reduced energy bills and government subsidy
Reduced CO2 output | enhances your CSR and green credentials
Electric vehicle charging | option to connect EV charging points for staff and visitors to charge their electric vehicles with electricity generated by the PV system, in addition to company EV's
Staff & visitor benefits | in addition to the above, solar carports canopies also protect cars from the elements and keep staff and visitors sheltered when getting out of their vehicle and walking to the site
Visual appeal | positively transforms the look of your carpark
Can solar panels be used as a carport?
Yes,  Residential and commercial solar panels can be used as a carport for vehicles. Residential and Commercial solar carports protect vehicles from the extreme sun and harsh winter weather, thus making it easy for people to use their vehicles.
How tall are solar carports?
Not all Residential and commercial solar carports will be sized the same. The size is a good balance between the cost to install, the space that's available in the lot, and how much electricity you're able to generate. The clearance should support vehicles that will be under the structure. If large trucks and delivery vehicles will be using the structure, the height should be at least 2.5m.
How much is a solar carport?
Commercial solar carport cost is dependent on many factors, like the cost to install, space that's available in the lot, and how much electricity you're able to generate, so costs will vary per parking lot. However, most 100kWh solar carports generally run anywhere from $18,000 to $25,000.
How much is a solar canopy?
The average cost of a commercial solar canopy is $0.15 to $0.25 per watt.
The average cost of a Residential solar canopy is $0.22 to $0.32 per watt.
PS:The final price is subject to the specific project.
[contact-form-7 id="4″]
Product Details:

The BIPV Waterproof Solar Carport is one of the advanced version to provide fully waterproof solution for parking lot shade.

The Waterproof Solar Galvanized Carport develops under various market's feedback. Solar Carports are an ideal solution for energy generation on big surfaces, otherwise unused. Besides energy production, they bring maximum convenience by providing cool, shady parking spaces in summer & also protection during rainy days, can become charging stations for electric bicycles, scooters and cars.

Advantages of our BIPV Waterproof Solar Carport :

Waterproof solutions including gutters
Solar PV carports for projects of all sizes
Robust design – perfect to areas with heavy wind, snow or rain
Perfect for EV charging stations

The BIPV Waterproof Solar steel Canopy is also suitable for commercial and residential solar carport projects. It can be designed to be waterproof as BIPV solution.A new carport bracket system integrating power generation and its own characteristics

The single cantilever orientation is an ideal solar carport choice for sites that are limited in space. It is best utilized when shading a single row of parking spaces in a confined area such as residential complexes or restaurants. The single cantilever solar carport design is available in two orientations that can be chosen from depending on site location and orientation in order to maximize the productivity of your PV Modules. It is easily scalable and can fit any locations needs.

The double cantilever is the standard orientation for covering large areas. It is ideal for maximizing your solar presence and looks great while doing it. Double cantilevers cover two rows of parking spaces at the same time and can be scaled to fit any size lot due to its modular design. The solar panels can be oriented so the incline faces either direction to best fit the site's location according to the sun.

Welcome to contact us anytime, our company website: www.solarpartscomponents.com

Datasheet
Description:
BIPV waterproof solar Galvanized carport
NO.:
SPC-BIPVWCS
Product Type:
BIPV waterproof solar carport
Installation location:
open area
Installation angle:
5-15 degrees
Material :
ZAM275 & Steel &Q235
Module:
Frame solar Module
Warranty:
10 Years
Lifetime:
20 Years
Orientation:
Landscape,Portrait
Wind speed:
60 M/s
Snow load:
3.6 KN / M2
Height;
Above 2m
Standard:
AS/NZS1170 & DIN 1055

Waterproof Carport Installation

1. Pre-embed all the anchor bolts M16*500 in sequence according to the position of the construction drawing.

2. Install the columns

Fixed the base of the column. According to the location of the anchor bolts determined on the construction drawings, fix the base on the anchor bolts and Fix the stringer. According to the fixed column, fix the longitudinal beam with 12 pcs M20*70 bolts.

3. Install purlins and M water channel

After installing the columns, install the purlins according to the holes on the longitudinal beams, and fix the bolts on the purlins and the longitudinal beams with fixing parts and than Install the M water channel. Install the M water channel according to the position on the construction drawing, and fix the M water channel and the purlins with the left and right two M water channel pressing blocks.

4. Install solar panel and U-water channel

Start installing solar panels. Use self-tapping screws to support and fix the components before installing the solar panel and

Install U-water channel. Before installing the solar panels, place the U-water channel horizontally between the solar panels.

5.  Install the end clamp and mid clamp

The side of the solar panel is fixed with two end clamps, and Horizontal solar panels and solar panels are fixed with mid clamp.

6. Install solar panels

Install solar panels one by onesequentially according to the solar panel array.

7. Installing all the solar panels

Solar carport waterproof carport system.

Q:

"I am building a carport. I wound like the BIPV Waterproof Solar Carport, perhaps compatible with two-side solar panels. Roughly the dimensions are 16 x 20'. I'm wondering if you could send me the schematics on such a thing so I can get them on my drawing for permitting. Please, I would like the water proof system, and the bracketing for solar panels.

A:

Appreciated for your inquiry for our solar waterproof carport system.

We are solar waterproof carport system manufacturer. 

Can you provide us more information about your carport project.

Like: 1. Demension of your solar panel

What is the weather there: wind speed & snow load
Any requirement for the mounting tile angle…….

Is this carport for commercial use or personal?

I if you can introduce more about you or your company:Name/web site/address…..would be grateful.

I will let our engineer check it out for you.

FYI.

One design for one of our client

Q:

Thank you for your reply. I am totally interested in your waterproof system on the top. I'll be willing to do the framing underneath and show you the schematics of what I have for now, but we want to check out your schematics to add it to our drawings. it is a residential place the tilt angle will be 30°, there is no snow. It gets windy in the area a couple Pacific storms.I look forward to putting together your system with a Frankland battery and probably two-sided solar cells I don't know the exact configuration exactly what I'm going to buy yet but our roof space is roughly 14 x 22.

A:

That's great!

For details, see attached.

Hot Sale Steel Solar Carport

The hot sale Steel Solar Carport Structures(also known as Canopy Structures) is designed solar panel installation on parking areas, its single column design allows higher clearances an

wider column spacing which ensures more space for car parking. And the material of Carport structures made of high grade steel with corrosion-resistant finishes which putting it at the top

its class in durability,reliability and safety.

Features

Most Cost- effective Structures

No on-site Welds

Fast and easy Installation
Maximize Parking Space
Double column Options
High Corrosion- Resistant
Fully waterproof

We engineer and design Solar Racking/Mounting Hardware for specific solar projects, please don't hesitate to contact

us for more details for your specific projects.

INSTALL .ATION VIDEO REFERENCE:

Solar carport waterproof model factory

Solar carport waterproof model factory

Q:Hello. I recently found on Google and was impressed with your carport waterproof model . I intend to install multiple carports in my enterprise and I was wondering if your products suit me. I send you an Autocad file showing my available space and I ask from you to propose the best way to fill that space with carports.

A: Glade to receive your inquiry. For this carport, it is used for the arrangement and combination of multiple solar panels. According to the Autocad file you provided, if use 2172*1303*32mm panel, It can only place a maximum of 40pcs panels one array

Q:Ps I care more about filling all the available carport space than having the best optimized solar power produced . So be free to propose what you think is best. Also waterproofing is a must.

A:For the number of parking spaces and the best way for a carport to fill that space, we need to know how you intend to park your car and an orientation of the car park in order to assess the available carport space for you.

Q:In addition, I hope our carport can support both electric vehicles Motorcycle  and  cars, please give the best suggestion.

A: Please refer to our design according to your information:

And for the projects, use our Highly strength and High quantity BIPV carport solar system, the material is ZM275 zinc aluminum magnesium and aluminum. These Waterproof BIPV carports are the most popular and economical systems currently on the market.

Any question, please feel free contact me.

Steel Solar Carport Waterproof System

Steel solar carport waterproof system is the most common solar garage solutions on the market, our can design reasonable height, width and rain-proof characteristics according to customer's needs and actual conditions, so as to meet customer's higher demand for the Carport.we providing a variety of different design options for single row and double row parking lots. They are suitable for frames and membrane modules of any size.

Steel solar carport waterproof system Advantages

Constructed from high strength structural or high tensile steel;
5.0-6.0m Span for two car, can meet demand for most of market;
Single and double parking;
Highly pre-assemble, Save Labor time at sight;
Fully waterproof

Waterproof Galvanized Steel Solar Carport

The waterproof galvanized steel solar carport offer simplified and economical alternatives to complex and expensive roof mount systems.
There are Single column single and double cantilever style
Single column single cantilever style carport support one row car parking space. Single column double cantilever style can support 2 rows car parking space.

For details, please refer to the link below

Galvanized Steel Solar Carport

Best steel solar carport structure

For more than a decade, SPC has been a reliable partner for the supply of steel solar carport structure.

An overview of our Best steel solar carport structure:

Complete Carport system

Custom-designed carport for large commercial and industrial car parks. The Best steel solar carport structure mounting system is engineered for your specific project.

Many companies feel the need to join the environmental movement. Do you have an existing parking lot? How can you upgrade your existing building and parking lot?

Our steel solar carport structure is the ideal solution to give your premises a green revamp! Just install the whole steel solar carport structure system on the ground by bolts

This picture is an electric vehicle charging station integrating our Best steel solar carport structure and solar modules. The electricity generated by photovoltaic power can be directly used by the charging station to charge the majority of electric vehicles cars.

We are SOLAR PARTS COMPONENTS FACTORY, we can support both project-based EPC, developer, installer and distributors. Our customers range widely, excellent internal design team designed more than 3000 kinds of solutions for our customers, which can be well matched with customer projects. We are happy to have a look at your specific project and co-engineer the best solution for you. We have more than a decade of experience in engineering solar and carport projects!

Do you have a new project or a question to ask us? Don't hesitate to contact us

Solar PV carports for industry, retail and business: Park vehicles securely, sustainably and under shelter

Rows of cars glisten in the blazing sun on hot summer days while parked on your company car park or at your business premises. We all know the situation. You get into your car at the end of the working day or shopping trip but are reluctant to touch the steering wheel because it will burn your fingers. In the bitter cold of winter, car drivers are often faced with different problems. Everyone would rather not be endlessly scraping ice from the windscreen. This is where carports can help. They protect cars from the effects of the weather. They have other benefits as well: Carport surfaces are particularly suitable for photovoltaics.

Advantages of a PV system on carport

Weather protection for your vehicles
Pleasing external appearance
Scope for customised design
Integration of e-charging facilities
Optimum use of available surfaces
Independence from electricity prices
Long-term contribution to the energy turnaround

Do you wanna a solar PV carport? Welcome to inquiry.

solar residential and comercial carports

What are solar carports?

Solar carports are ground-mounted canopy constructions that stretch out over your car parking spaces. The canopy roof area is slightly tilted – offers a perfect platform for solar panels to be seamlessly mounted, which also adds to the aesthetics of the structure.

The tilted roof is not only beneficial for optimising the angle of the solar panels for energy generation, but it also offers natural drainage for rainwater which is then collected by guttering and channelled away. Electricity generated by the carports' solar panels is immediately available to be used onsite.

How are solar carports built?
Many carport solutions on the market today are 'modular', however, our technical team designs each project from scratch, bespoke to the client's needs and energy requirements; at SPC, one size doesn't fit all. Our leading, innovative energy solutions can seamlessly blend uniquely designed solar carports into your current premises to make sure that the carport is something you can be proud to display.

What are the benefits of solar carports?
Adds capacity for onsite generation if roofs are unusable.
Financial benefits | benefit from reduced energy bills and government subsidy
Reduced CO2 output | enhances your CSR and green credentials
Electric vehicle charging | option to connect EV charging points for staff and visitors to charge their electric vehicles with electricity generated by the PV system, in addition to company EV's
Staff & visitor benefits | in addition to the above, solar carports canopies also protect cars from the elements and keep staff and visitors sheltered when getting out of their vehicle and walking to the site
Visual appeal | positively transforms the look of your carpark

Can solar panels be used as a carport?

Yes,  Residential and commercial solar panels can be used as a carport for vehicles. Residential and Commercial solar carports protect vehicles from the extreme sun and harsh winter weather, thus making it easy for people to use their vehicles.

How tall are solar carports?

Not all Residential and commercial solar carports will be sized the same. The size is a good balance between the cost to install, the space that's available in the lot, and how much electricity you're able to generate. The clearance should support vehicles that will be under the structure. If large trucks and delivery vehicles will be using the structure, the height should be at least 2.5m.

How much is a solar carport?

Commercial solar carport cost is dependent on many factors, like the cost to install, space that's available in the lot, and how much electricity you're able to generate, so costs will vary per parking lot. However, most 100kWh solar carports generally run anywhere from $18,000 to $25,000.

How much is a solar canopy?

The average cost of a commercial solar canopy is $0.15 to $0.25 per watt.

The average cost of a Residential solar canopy is $0.22 to $0.32 per watt.

PS:The final price is subject to the specific project.

[contact-form-7 id="4″]