20KW solar carport kits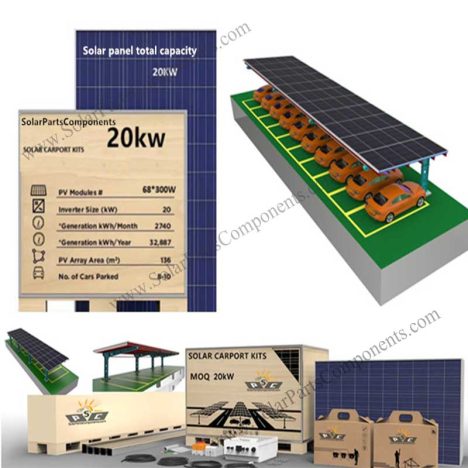 Waterproof Solar carport PV Kits
Product Type: Unframed/ framed Solar Racking

Product Model: SPC-SCK

Material: ZAM275 & Steel

Max Wind Load : 60 m/s

Max Snow Load : 3.5 KN / M 2

Solar Module Orientation: Landscape / Horizontal

Application:  Unframed/ framed / Bifacial / Frameless modules
Contact by Email
Product Details:
SPC are designed to utilize new or existing parking areas and generate power without sacrificing valuable real estate.  Typically offered as an On-Grid PV solution, our innovative design delivers a cross-platform solution combining solar energy generation and an elegant substitute to shading/weather protection for vehicles.
It is this multi-purpose characteristic that makes new Solar carport PV kits ideal for sites that are restricted in space and serve as an economical alternative to traditional carport structures.  SPC use solar panels for the roofing canopy and are structurally engineered to guarantee optimum corrosion and wind resistance that ensures a good as gold performance to price ratio.  These kits are offered with single steel column configurations.
Solar carport PV kits has been appeared in order to save customers' time and cost, it is convenient for customers to purchase, transport, construct and install. .A full set of complete solar carport PV kits including solar carports, solar panels, inverters, batteries, etc. We can support both off-grid and on-grid kits
Our grid tie systems are compatible with most electric vehicle charging stations, making them an innovative, clean and environment-friendly fuel source platform.  Turn your existing parking lot into a solar energy generating system and provide shaded parking at the same time.  Its a win win design with almost any parking area.
Off Grid Solar carport PV kits are designed for easy installation and low maintenance.   Off Grid Solar carport PV kits are noiseless, produce zero emissions, and offer grid independence.
 Solar carport PV kits Benefits
Multi functionality including solar energy and covered parking.
Simple and elegant design
Easily scalable from 20kW to 5MW
Increases the value of your parking area
Can be integrated with electric vehicle charging stations
SPC Solar Carport PV Kits include:
Crystalline silicon solar panels in poly-crystalline or mono-crystalline
Inverters in single or three phase configuration
Steel waterproofsolar carport structure
DC and AC safety disconnects for added functionality
Solar wire designed for extreme weather and UV
Ground wire and PV array grounding system
Wire management system to keep everything neat and tidy
WiFi system monitoring so you can check performance anytime
MC4 Connecters and other components you need.
The difference is clear,get better results with our all in a box packaging solutions. SPC care design not only protects the contents during international shipping but also ensures that the solar kits arrive to their destination site undamaged and ready for installation.
Welcome to contact us anytime, our company website: www.solarpartscomponents.com
Datasheet
Description:
BIPV double support steel waterproof carport
NO.:
SPC-SCK
Product Type:
Solar carport PV Kits
Installation location:
open area
Installation angle:
5-15 degrees
Material :
ZAM275 & Steel
Module:
Frame solar Module
Warranty:
10 Years
Lifetime:
20 Years
Orientation:
Landscape,Portrait
Wind speed:
60 M/s
Snow load:
3.6 KN / M2
Height;
Above 2m
Standard:
AS/NZS1170 & DIN 1055
[contact-form-7 id="4″]
Product Details:

SPC are designed to utilize new or existing parking areas and generate power without sacrificing valuable real estate.  Typically offered as an On-Grid PV solution, our innovative design delivers a cross-platform solution combining solar energy generation and an elegant substitute to shading/weather protection for vehicles.

It is this multi-purpose characteristic that makes new Solar carport PV kits ideal for sites that are restricted in space and serve as an economical alternative to traditional carport structures.  SPC use solar panels for the roofing canopy and are structurally engineered to guarantee optimum corrosion and wind resistance that ensures a good as gold performance to price ratio.  These kits are offered with single steel column configurations.

Solar carport PV kits has been appeared in order to save customers' time and cost, it is convenient for customers to purchase, transport, construct and install. .A full set of complete solar carport PV kits including solar carports, solar panels, inverters, batteries, etc. We can support both off-grid and on-grid kits

Our grid tie systems are compatible with most electric vehicle charging stations, making them an innovative, clean and environment-friendly fuel source platform.  Turn your existing parking lot into a solar energy generating system and provide shaded parking at the same time.  Its a win win design with almost any parking area.

Off Grid Solar carport PV kits are designed for easy installation and low maintenance.   Off Grid Solar carport PV kits are noiseless, produce zero emissions, and offer grid independence.

 Solar carport PV kits Benefits

Multi functionality including solar energy and covered parking.
Simple and elegant design
Easily scalable from 20kW to 5MW
Increases the value of your parking area
Can be integrated with electric vehicle charging stations

SPC Solar Carport PV Kits include:

Crystalline silicon solar panels in poly-crystalline or mono-crystalline
Inverters in single or three phase configuration
Steel waterproofsolar carport structure
DC and AC safety disconnects for added functionality
Solar wire designed for extreme weather and UV
Ground wire and PV array grounding system
Wire management system to keep everything neat and tidy
WiFi system monitoring so you can check performance anytime
MC4 Connecters and other components you need.

The difference is clear,get better results with our all in a box packaging solutions. SPC care design not only protects the contents during international shipping but also ensures that the solar kits arrive to their destination site undamaged and ready for installation.

Welcome to contact us anytime, our company website: www.solarpartscomponents.com

Datasheet
Description:
BIPV double support steel waterproof carport
NO.:
SPC-SCK
Product Type:
Solar carport PV Kits
Installation location:
open area
Installation angle:
5-15 degrees
Material :
ZAM275 & Steel
Module:
Frame solar Module
Warranty:
10 Years
Lifetime:
20 Years
Orientation:
Landscape,Portrait
Wind speed:
60 M/s
Snow load:
3.6 KN / M2
Height;
Above 2m
Standard:
AS/NZS1170 & DIN 1055

[contact-form-7 id="4″]