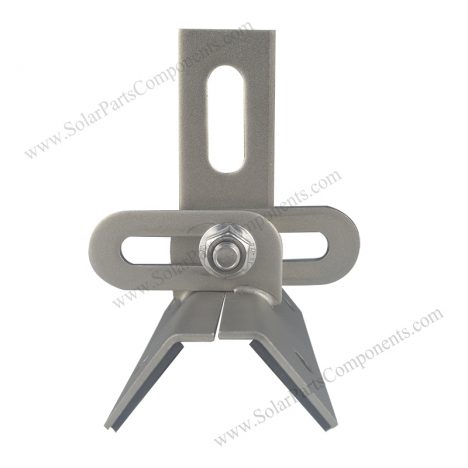 Universal Trapezoidal Metal Roof Brackets for side mounted
Product Type: Solar Metal Roof Clamps

Product Model:SPC-CK-02A

Material: Stainless Steel

Max Wind Load : 60 m/s

Max Snow Load : 1.4 KN / M 2

Application: Trapezoidal Metal Sheet Roofing Installation
Contact by Email
Product Description :
Universal metal roof bracket is an adjustable clamp for side mounted.
Fix the roof clip on the trapezoidal roof joint by tightening the four self-tapping screws against the joint material.
The fixing screw fixes the clamp to the iron roof by pre-punching.
The threaded holes on the fixture and the stainless steel hardware provided make it easy to connect various auxiliary items to the fixture.
The time and materials saved are sufficient to cover the installation cost of the entire kit and fixture!
Our kit is the easiest and most cost-effective way to install solar panels directly onto a metal roof.
Advantages :
1.With adjustable fixed base
2.Adapt to different widths and heights
3.Quick installation and weatherproof
4.No need to fasten to the roof substructure
5.pre-assembled
Accessories for this trapezoidal roofing bracket:
Photo
Item No. / Technical Data
4 pieces of 1/4″ (6.3mm) Diameter – 1″ (25mm)

Length – Stainless Steel Self Tapping Screw with Hardened

Steel Piercing Point – 5/16″ (8mm) Hex Head – 5/8″ (16mm)

Stainless Steel / EPDM Sealing Washer
Installation Instruction for versatile roof clamps:
The Multifunctional Bracket is designed to fit most trapezoidal sheet shapes. This product may not be suitable for snow retention or pv installations in snow country.
No surface preparation is necessary.
1. Wipe away excess oil and debris;
2. Peel off adhesive release paper;
3. Align and mount bracket directly onto crown of metal roof sheet, straddling the profile;
4. Secure the bracket through pre‑punched holes, using the hardened drill point our screws;
5. When Multifunctional Bracket is used in conjunction with the PV Kit, an additional nut is required during installation.
Item No:
SPC-CK-02A
Item type:
Solar universal bracket
Installation Site:
trapezoid metal roof
Installation Angle:
0°~60°
Profile Material:
SUS 304 Stainless Steel
Fasten Parts:
Stainless Steel self-tapping screw
Color:
Silvery or according to customer requirements
PV Modules:
Framed, Frameless
Module Orientation:
Portrait and Landscape
Warranty
10 years
Designed Lifespan
25 years
Packing Details
Unit size:
Unit weight:
Carton size:
Carton weight:
Installation Manual of roof mounting clamp,SPC-CK-02A
installation instructions for universal hook 02A
installation instructions for universal hook 02A
universal brackets for metal roof
SPC universal brackets for metal roof is specially designed for trapezoid metal roof,it can be well fit with most trapezoid roofing on market.
Solar universal metal roof clamp for side mounted
The universal metal roof bracket is a fixing screw that fixes the fixture to the iron roof through pre-punched holes. Adjustable clamp for side mounting. The accessories provided have undergone strength testing to ensure the safety of the device, save time and cost, and are the simplest, most cost-effective method.
Feature:
Adjustable
High strength
Quick installation, simple steps
Directly fixed on the roof
full pre-assembly
universal solar roof brackets for side mounted
Our universal solar roof brackets provide convenience for different trapezoidal metal roofs, with adjustable height and base width.