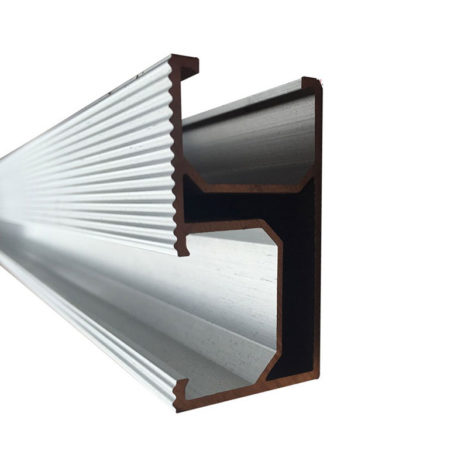 Solar Panel Mounting Rail SPC-R001
Product Type: Solar Panel Mounting Components

Product Model: Solar-Mounting-Rails-SPC-R001

Material: Aluminium, Anodized

Max Wind Load : 60 m/s

Max Snow Load : 1.4 KN / M 2

Application: Solar Panels Installation
Contact by Email
Specification:
Item : Solar PV Mounting Rail Model – SPC-R001
Weight(kg/m) : 0.7 kg / meter ;
Packing : 500 Pieces / Carton ;
1. SPC-R001 Mounting Rail has 3 sides for installing, top side for Solar Panel , Bottom
and Side for tile hook , Top and Side are for Bolts, bottom side is for T-Bolt or ordinary bolt.
2. Tilt in Nut Bolt is esay for installing, labor, time, cost effective .
3. Rail splice kit can be convenient to connect together for this solar mounting rail model : SPC-R001,
it's light in weight, easy for transportation, fast installation .
4. Section profile and drawing of Solar PV Mounting Rail SPC-R001 as below .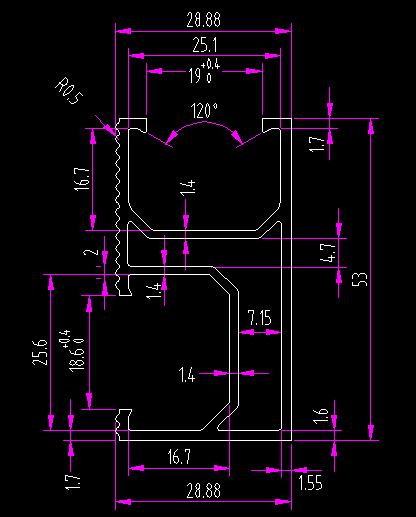 Standard size of this solar panel mounting rails SPC-R001 series:
(1) Rail Model :SPC-R001-2560
Standard length 2560 mm, suitatable for 3 units of 808 mm- 826 mm width PV modules mounting;
(2) Rail Model :SPC-R001-3405
Standard length 3405 mm, suitatable for 4 units of 808 mm- 826 mm width PV modules mounts;
(3) Rail Model :SPC-R001-4200
Standard length 4200 mm, suitatable for 4 units of 990 mm- 996 mm width PV modules mounted;
Cusmomized length aluminum rails are acceptable for solar installing projects ,
sizes can from 50 cm to 600 cm .
Our mounting rails SPC-R001 can support solar panels with stronge strength when install on tile roofs .
Optional matched components you may used are :
1. Inner Hexagon bolt : M8 X 25 mm ;
2. Alum T sliding nuts ;
3. Mid Clamps / end clamps ;
4. Rail Splice ;
…
Brief Descriptions :
Solar Mounting Components – Solar Mounting Rails SPC-R001
Item type:
Solar Aluminum Rails
Type :
Mounting Constructure Parts
Installation Site :
Tile Roof
Profile Material :
AL 6005 – T5 Alum
Fasten Parts :
Mid & End Clamps
Color :
Silvery or according to customer requirements
Wind Load :
60 m / s
Snow Load :
1.4 KN / M2
PV Modules :
Framed, Frameless
Module Orientation :
Portait and Landscape
Standards :
AS/NZS 1170
DIN 1055
GB50009-2012
IBC2009
TUV
JIS C 8955 : 2011
International   Building Code IBC 2009
California   Building Code CBC 2010
Warranty
10 years
Designed Life Span
25 years
Packing Details :
Inner :
Bubble bag+inner box+Carton
Outer :
Wooden Box, Steel Pallet, MDF, etc
Features of Solar Mounting Rails
Features of Solar Mounting Rails:
Good corrosion resistance: Due to the material of aluminum and anodized treatment on surface, it's safe and durable, which could be used for very long time.
High-quality aluminum: It has advantages of good toughness and light texture, so that the installation can be easy and fast.
Strong strength: Can be used in extremely harsh conditions. It must meet your target strength, such as wind load and snow load.
Stable internal structure: Support the solar panel safely.
High Pre-assembly: Save labor costs and time at the installation site.
Simple to install and easy to use, bring much convenience to you. With high construction efficiency.
Factory direct sales, higher cost performance.
Wide variety to meet the pv mounting installation.
Easy Installation PV module rails SPC-R001, well design for wide flexibility mounting structures .
PV module mounting Aluminum Rail SPC-R001
Anodized PV Modules Aluminum Rails (SPC-R001) for compatible mounting systems .
Following is specification details for PV module grounding clip model No. SPC-R001 :
– AL6005-T5 , anodized material;
– 1 / 2 / 3 / 4 / 5 Meters in length ;
– Widly used for carport / roof top / ground mounting systems ;
– Mill finishing / black color can be choosing ;
– Core components with premium quanity aluminum extrusion ;
– Factory direct PV module mounting aluminum rails, light-weight, anodized finished .
Installation for this PV module mounting kits including :
– PM module Aluminum Rails (SPC-R001) ;
– Tile roof bracket / solar hooks / L foot / fold tripod legs …
– Mid / End clamps ;
– Earthing washer ( grounding plate) ;
– Rail joiner ;
– Earthing lugs;
– Roofing Screws ;
Welcome to purchase PV panel rails for your solar energy system.
SolarPartsComponents.com are manufacturing of solar module mounting accessories & structures .
Can you ship Solar Mounting Rails to Ontario, Canada?
Q:
Hello,
Can you ship Solar Mounting Rails to Ontario, Canada?
If yes, how much for 400 x SPC-R001-3405?
For shipping purposes, can you ship half sections with splices?
Thank you
François Méthot
A:
Hi Francois, nice to get your inquiry for our solar mounting rail SPC-R001-2405.
Yes, we can ship the solar PV mounting rails to Canada.
We are solar mounting rail manufacturer with 12 years experience.
Our products sell well in Canadian market in the past 8 years.
I have sent our factory price with freight cost to your email.
Thank you.
Solar Mounting Rail Manufacturer
PV module mounting rails, aluminum AL6005-T5, Anodized, side-mounting structure .
PV module mounting rails are one of key components for many kinds of solar mounting structure expecially on grounding
and roof installation .
Our PV moudule aluminum rail is 4200 mm in length and can be cutted in any sizes according to mounting project required
.
This aluminum rail is made of high quality material and thick profile which can keep sturdy in bad storm / heavy snowfall
weathers .
Features :
– Anti-buckle , safe structure ;
– Suitable for curve tile / iron roofing ;
– Corrosive resistant in anodized aluminum alloy;
– Very suitable for snowless area ;
Factory direct PV module rails, AL-6005-T5 aluminum anodized finishes, side mounted, SPC-001
How to hold firmly PV modules after laying on the top of rail racking ?
With our matched solar mounting mid / end clamps , you can quick and easy to install PV modules on our #1 alu rails :