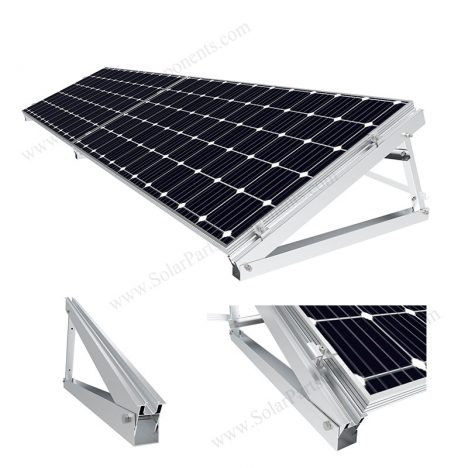 Solar Triangle Bracket Mounting Systems
Product Type: Solar Mounting Systems for Flat Terrain

Product Model:SPC-TR15-NR-U1000

Material: Aluminium, Steel

Max Wind Load : 60 m/s

Max Snow Load : 1.4 KN / M 2

Solar Module Orientation: Portait or Landscape

Application:  Flat roof / flat ground
Contact by Email
Product Description:
Triangle brackets for solar panel mounts are very easy and versatile for both flat roof / pitch tin roof / concrete roofing…
Foldable design can help reducing freight cost and packing sizes with preassembling triangle brackets.
Strength analysis report can be rendered base on local climate standard.
Features of this aluminum triangle bracket for solar mounts, SPC-TR15-NR-U1000:
– Folding bracket packing before shipping;
– Fixed angle optional: 10°,15°,20°,25°,30°…
– Application: flat residential / industrial roof, flat ground, boat, rv …
– No on-site cutting, welding required, quick pv installation;
– Best tilt angle and highest solar power investment return;
Parts and Components for solar triangle bracket mount:
– Aluminum alloy rail;
– Triangle Frame;
– Rail splice;
– Mid / end clamps;
– Bolts / screws;
Simple and quick installation steps for solar folding triangle bracket system, SPC-TR15-NR-U1000:
(1) Open pre-assembled tripod bracket;
(2) Fix brackets with expansion bolt / tap screws;
(3) Install aluminum rails;
(4) Install PV modules;
Welcome to purchase triangle bracket kit with fix angle: 15° / 30° / 45°… for your pv module mounts.
Customized fixed angle available for best solar panel mounting installation, simple and cost-effective.
Brief Descriptions:
Solar Mounting Systems – Triangle Bracket Racking
Item type:
Solar Panel Mounts
Type:
SPC-TR15-NR-U1000
Installation Site:
Flat Roofing / Ground 10°/15°/25°/30°/35° customized
Profile Material:
Aluminum Alloy
Fasten Parts:
Stainless Steel / Aluminum T Sliding Nut
Color:
Anodized Silvery
Wind Load:
60 m / s
Snow Load:
1.4 KN / M2
PV Modules:
Framed, Frameless
Module Orientation:
Portrait and Landscape
Standards:
AS/NZS 1170
DIN 1055
GB50009-2012
IBC2009
TUV
JIS C 8955: 2011
International   Building Code IBC 2009
California   Building Code CBC 2010
Warranty
10 years
Designed Lifespan
25 years
Packing Details:
Inner:
Bubble bag+inner box+Carton
Outer:
Wooden Box, Steel Pallet, MDF, etc
Solar Panel Triangle Ballasted Roof Bracket Mounting
Solar Panel Triangle Ballasted Roof Bracket Mounting is specifically engineered for non-penetration roofs, which secures the array without damaging the flat roof. This economical system requires no roof penetration and made from
lightweight and strong aluminum construction and come with pre-assembled components, they are just require few tools, it is quick and easy to install.
Benefits of Solar Panel Triangle Ballasted Roof Bracket Mounting
1, Minimize Roof Space Limitation
The double -sided design of this ballasted mounting system let the solar module mounted in"shoulder by
shoulder" which maximize roof arrays due to no shading spaces, therefore it optimize high power production.
2, Minimize Orientation Limitation
It is specially engineered with double-sided configuration to ensure solar module to expose sunshine as long as
possible in any directions. It's suitable for all orientations installations.
3, Fast Installation
It is highly engineered and simplified ballasted mounting system, which reduced number of components without
module carrier rail, just direct clamping with ballasted base and tighten the bolts, everything is been done.
4, Economical
The mounting structure is a cost effective mounting solution. The quantity of components can be required and
sold according to project specific calculations. The various components can be kept in stock to shorten time
between planning and installation.
5, Long lifespan
All mounting structural components are made of high class stainless steel and anodized aluminum alloy, their
high resistance to corrosion and complete recyclability, they are designed for twenty-year service life and backed by ten years warranty.
solar panel triangle bracket mounting: SPC-TR15-NR-U100 ?
Client:
Could you provide me with the installation details for the proposed solar mounting system and the respective costs?
SPC reply:
Yes, please refer to design and price as email I sent.
Client:
Hi Mr William,
Well noted for your design and price offer.
Please be informed that we are currently in the midst of getting builders to submit their tender for this building project, hence it is too early for us to place the order now.
It is most likely that we will need the mounting kits upon the completion of the said building, and when the installers are about to install the solar panels. I will definitely get in touch with you again when it is nearer to the date of installation then.
Thanks and kind regards,
Edwin Tay
How many mounting brackets does a solar panel need SPC-TR15-NR-U1000?
Q:
Dear Janet,This is Mirko from Peru
How many mounting brackets does a solar panel need with the solar Panel Triangle Bracket Mounting: SPC-TR15-NR-U1000
Please send us a CIF quotation (Callao Port – Lima – Peru) for solar triangle bracket mount with a 15° ANGLE (similar model to the attached pictures)
Number of 2*1m rigid panels to be considered: 800pcs.
Prices must include rack accessories.
Also include technical data sheets.
Thank you!
Best regards
A:
Hi Mirko, appreciated for your inquiry on our  triangle bracket for solar mounts, SPC-TR15-NR-U1000
Well understand about your 800 pcs panels solar mounting.
Please refer to our desin and BOM of brackets below:
Need any change, kindly let me know.
If they are workable, I quote you price with freight cost for you in next email.
Thank you.
Solar Mounting Systems for Flat Terrain
Solar Mounting Systems for Flat Terrain
"
Greetings,
I would like to purchase the below system
Product Type: Solar Mounting Systems for Flat Terrain
Product Model:SPC-TR15-NR-U1000
Material: Aluminium
How much does it cost? For 30 panels for Panel size 2182*1029 mm
The location is Alhasa, Saudi Arabia.
BR,
Abdulmohsen
"
Dear Abdulmohsen
Base on Flat Terrain Solar Mounting Systems information given,
Please refer to our design for this project.
(1) Landscape Array for 2182*1029*35 mm 30 PV panels;
(2) Portrait Array for 2182*1029*35 mm 30 PV panels;
Feel free let me know which is workable for you.
Thank you !
Solar Mounting Parts & Componets Supplier
Solar Panel Triangle Bracket for ground mounting
Solar Panel Triangle Bracket for ground mounting
Q:
Good morning,
Hope my email finds you well,
Kindly provide me with 2 price quotations urgently for 1521 Solar Panel Triangle Brackets for ground mounting at
the two wind speeds below,
Wind speed 1=160km/h
Wind speed 2=140km/h
…………………………………..
Panel weight=33.3kg
Tilt angle=24
Every 23panels have 26 concrete bases
Kindly, provide us with the minimum possible Weight & Dimensions of the Concrete Foundation with the price
quotation.
Regards,
A:
Hi Ghadeer
Nice to get your inquiry for the Solar Panel Triangle Brackets, please refer to our design and BOM price for the trangle brackets which can meet both of your wind speed as your required.
Thank you.
Solar Panel Triangle Brackets Factory