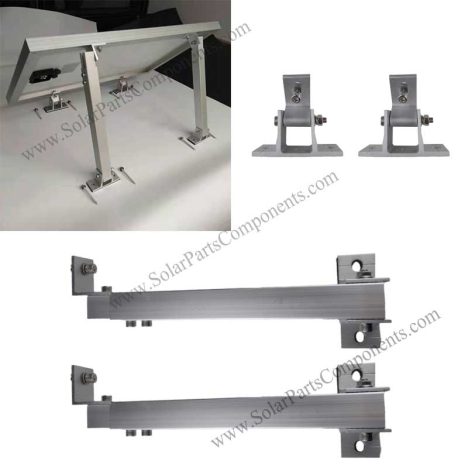 Solar Panel Mount Brackets with Adjustable Tilt Legs
Product Type: Solar Racking

Product Model: SPC-AD-FRL

Material: Aluminum alloy

Max Wind Load : 60 m/s

Max Snow Load : 1.4 KN / M 2

Solar Module Orientation: Landscape / Horizontal

Application:  Solar mounting system
Contact by Email
Product Description:
Solar Panel Mount Brackets with Tilt Legs is a turn-key solution suitable for flat roof,pitched tin roof,boat and any off-grid solar panels mounting. The tilt mounting angle can be adjustable to meet project specific to optimize the solar output and get higher power conversion.
This Solar Panel Mount Brackets with Adjustable Tilt Legs is an simple,fast and cost effective installation.It is especial suitable for residential solar mounting,easy to be installed personally, can use each 2 pairs of this solar Panel Mount Brackets with front and rear Legs to hold one solar panel. The front and rear legs bolted directly on the roof or ground surface, another end  bolted  to the frame of solar panel and finish installation.So that everybody can be happy DIY your solar panel mounting system.
Adjustable Solar Panel Mount Brackets with Tilt Legs are made of anodized Aluminum, anti-rust,light weight and reasonable sturdy.It is long-lasting and endure all climate condition, lightweight for portable design.
Features of this Solar Panel Mount Brackets with Tilt Legs:
Tilt angle can be adjustable;
AL6005-T5 material, high corrosionresistance;
Highly pre-assembled, easy for packing and freight;
Suitable for DIY solar mounting system;
Durable and strong.
Easy to fast to install.
Solar mounting rack manufacturer with 12 years exprience,wholesale price and best service for you.welcome to purchase from us. For more other requirement or more details about Adjustable Solar Panel Mount Brackets with Tilt Legs,feel free contact us any time.  Please do not hesitate to go through our company website: www.solarpartscomponents.com.
Brief Descriptions:
Solar Roof Mounting Systems –Solar Panel Mount Brackets with Tilt Legs
Item type:
Solar Panel Mount Brackets
Type:
SPC-AD-FRL
Installation Site:
Flat Rooftop, Ground
Profile Material:
Aluminum Alloy
Fasten Parts
Stainless Steel,Aluminum
PV Modules:
Frameless or Framed
Wind Load:
60m/s
Snow Load:
1.4KN/M2
Modules Orientation:
Landscape/Portrait
Standards:
AS/NZS 1170
DIN 1055
GB50009-2012
IBC2009
TUV
JIS C 8955: 2011
International   Building Code IBC 2009
California   Building Code CBC 2010
Warranty
10 years
Designed Lifespan
25 years
Packing Details:
Inner:
Bubble bag + inner box + Carton
Outer:
Wooden Box, Steel Pallet, MDF, etc
Product Description:

Solar Panel Mount Brackets with Tilt Legs is a turn-key solution suitable for flat roof,pitched tin roof,boat and any off-grid solar panels mounting. The tilt mounting angle can be adjustable to meet project specific to optimize the solar output and get higher power conversion.

This Solar Panel Mount Brackets with Adjustable Tilt Legs is an simple,fast and cost effective installation.It is especial suitable for residential solar mounting,easy to be installed personally, can use each 2 pairs of this solar Panel Mount Brackets with front and rear Legs to hold one solar panel. The front and rear legs bolted directly on the roof or ground surface, another end  bolted  to the frame of solar panel and finish installation.So that everybody can be happy DIY your solar panel mounting system.

Adjustable Solar Panel Mount Brackets with Tilt Legs are made of anodized Aluminum, anti-rust,light weight and reasonable sturdy.It is long-lasting and endure all climate condition, lightweight for portable design.

Features of this Solar Panel Mount Brackets with Tilt Legs:

Tilt angle can be adjustable;
AL6005-T5 material, high corrosionresistance;
Highly pre-assembled, easy for packing and freight;
Suitable for DIY solar mounting system;
Durable and strong.
Easy to fast to install.

Solar mounting rack manufacturer with 12 years exprience,wholesale price and best service for you.welcome to purchase from us. For more other requirement or more details about Adjustable Solar Panel Mount Brackets with Tilt Legs,feel free contact us any time.  Please do not hesitate to go through our company website: www.solarpartscomponents.com.

Brief Descriptions:
Solar Roof Mounting Systems –Solar Panel Mount Brackets with Tilt Legs
Item type:
Solar Panel Mount Brackets
Type:
SPC-AD-FRL
Installation Site:
Flat Rooftop, Ground
Profile Material:
Aluminum Alloy
Fasten Parts
Stainless Steel,Aluminum
PV Modules:
Frameless or Framed
Wind Load:
60m/s
Snow Load:
1.4KN/M2
Modules Orientation:
Landscape/Portrait
Standards:
AS/NZS 1170
DIN 1055
GB50009-2012
IBC2009
TUV
JIS C 8955: 2011
International   Building Code IBC 2009
California   Building Code CBC 2010
Warranty
10 years
Designed Lifespan
25 years
Packing Details:
Inner:
Bubble bag + inner box + Carton
Outer:
Wooden Box, Steel Pallet, MDF, etc